Trotter Pleads Guilty to Lesser Charge, Court Supervision and Community Service
citizen | 5/2/2013, 12:28 p.m.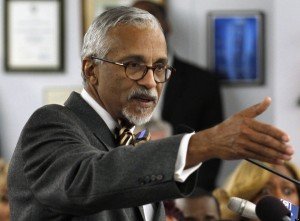 Following a series of hearings and court appearances that began last December, Ill. State Sen. Donne Trotter (Dist.-17th), accused of trying to board a Washington, D.C.-bound flight with a hand-gun and ammunition, pleaded guilty last Wednesday to a misdemeanor and was sentenced to one year court supervision and 60 hours community service for the one count of reckless conduct..
As part of the plea deal, Cook County prosecutors dropped the Class 4 Felony charge of seeking to board an aircraft with a weapon. A felony conviction could have cost Trotter, 63, his Senate job and pension.
"He is very relieved," Trotter's attorney, Thomas Durkin, was quoted saying, calling the sentence "fair and appropriate."
Trotter's journey down this long, legal path began Dec. 5 when security screeners at O'Hare International Airport stopped him after detecting a .25-caliber gun in his carry-on bag. Trotter has responded saying he worked a part-time security job and forgot the weapon was in the bag.
Durkin, throughout, has maintained his client unknowingly, attempted to board an airplane with a gun in his bag and that they were confident and looking forward to having their day in court.
Following the Jan. 17 hearing, Durkin said that he'd hoped the judge would dismiss the case and that he didn't think prosecutors would be able to prove that Trotter knew the gun was in the bag when he headed to the airport.
The case wasn't dismissed and a plea agreement was ultimately reached.
What exactly is a plea deal? According to information from the American Bar Association's website, in a plea deal, both sides are spared the uncertainty of going to trail and plea bargaining usually involves the defendant pleading guilty to a lesser charge, or to only one of several charges.
It also may involve a guilty plea as charged, with the prosecution recommending leniency in sentencing. The judge, however, is not bound to follow the prosecution's recommendation.
A lot of plea bargains are subject to the approval of the court, but some may not be (e.g., prosecutors may be able to drop charges without court approval in exchange for a "guilty" plea to a lesser offense).
Hugh Mundy, Assistant Professor of Law at the John Marshall Law School, Chicago, said he has followed the Trotter situation.
"I believe the motivation for the plea was the case was up for a misdemeanor and not a felony," Mundy said. "A felony conviction is much more serious in length and consequences. The senator would not have been able to ever possess a firearm again if he'd been convicted on a felony charge."
Mundy said he considers Trotter's sentence very lenient.
As for the difference between court supervision and probation, Mundy said it's less supervision.
"Under court supervision, he wouldn't have to report to a probation officer or have one looking over his shoulder," Mundy said. "The only way he can be found in violation is if he fails to complete his community service. If that happened he would have to go back to court and answer for it."
Before the incident, Trotter was a front-runner in the race to replace ex-U.S. Rep. Jesse Jackson Jr. but withdrew, saying he didn't want the gun charge to be a distraction.
Telephone calls to Trotter and his attorney were not returned by Chicago Citizen Newspaper's press-time.
By Deborah Bayliss