Trotter Arraigned on Gun Charges, Status Hearing Set for April
citizen | 3/14/2013, 11:39 a.m.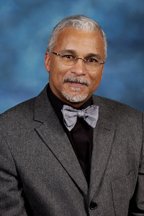 Illinois State Sen. Donne Trotter seemed upbeat as he sat on the front row of a court room at 26th and California Tuesday morning for arraignment on a Class 4 Felony charge for trying to board a flight at Chicago's O'Hare International Airport Dec. 5 with a weapon and ammunition in a carry-on bag.
Wearing a grey suit and polka dot bow-tie, Trotter arrived at about 10:05 a.m., seemingly less somber than when he appeared before Judge Ann O'Donnell Jan. 17--even laughing and talking at times with what appeared to be a male family member who sat next to him.
Appearing Tuesday before Judge Charles Burns, in Court Room 202, Trotter listened as Judge Burns sternly told him he had to appear in person for each hearing as he set an April 18 status hearing date.
Leaving the court room, Trotter's attorney, Thomas Durkin said he maintains the defense that his client did not knowingly, attempt to board a plane at the airport with a gun in his bag.
"We're confident and we're looking forward to our day in court," Durkin told reporters on Tuesday, reiterating what he's said previously. "Someone doesn't go to an important meeting with the Congressional Black Caucus, knowing he has a gun in his bag."
Trotter, 62, was charged Dec. 6, 2012 with the felony count for allegedly trying to board a flight at O'Hare International Airport with a .25-caliber Beretta handgun and ammunition in a carry-on bag.
During the Jan 17 hearing, Judge O'Donnell found probable cause to continue the case against Trotter and set the March 12 arraignment.
Durkin said after the Jan. 17 hearing that he'd hoped the judge would dismiss the case but said he believes prosecutors won't be able to prove that Trotter knew the gun was in the bag when he headed to the airport.
"We're very confident going forward. We'll just take it to the next step," Durkin said previously.
Trotter, had been considered a front-runner to replace former U.S. Rep. Jesse Jackson Jr. in Congress, but withdrew from the 2nd Congressional District Democratic race, won by Robin Kelly, saying he didn't want the gun charge to detract from the district's important issues.
Arrested, Dec. 5 after security screeners at O'Hare found an unloaded Beretta in his bag as he attempted to board a flight to Washington, D.C., Trotter told airport security that he uses the handgun for his job with a security company and had forgotten it was in his bag.
Chicago Police Officer Vince Bielicki testified Jan. 17 that airport security called him after an outline of a gun was seen in a screened bag. Bielicki told the judge he initially couldn't locate the weapon in the bag but eventually found it in an outer zipped pocket. Bielicki said Trotter cooperated with authorities at the airport.
After the Jan. 17 hearing, Durkin told reporters the officer's testimony helped his client saying, "The most telling fact was the police officer said when he went to look for it he couldn't even find it," Durkin said. "He didn't even find it the first time he looked for it."
By Deborah Bayliss