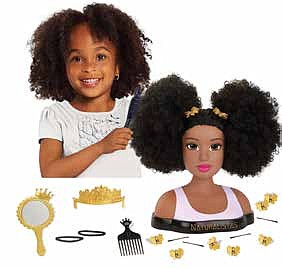 The Amazon Exclusive Naturalistas "Crown and Coils" Styling-Head Set was created to celebrate children with coily and curly hair. PRNEWSFOTO.
Stories this photo appears in:

DeeDee Wright-Ward, creator of viral "Naturalistas" Fashion Doll line and CEO of one of the largest Black-owned toy start-ups, Purpose Toys, has announced the expansion of the Naturalistas brand with the release of the Amazon Exclusive "Crown and Coils" Natural Hair Styling-Head set.