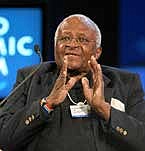 Desmond Tutu- Wikipedia
Stories this photo appears in:

South Africa's anti-apartheid leader, Archbishop Desmond Tutu, has transitioned to eternity and joins colleagues like Nelson Mandela and Martin Luther King. The worldwide outpouring of tributes to Archbishop Tutu must cause us to embrace his preaching Christ's salvation and ensure that social justice prevails simultaneously. Rightly, South Africa's president, Cyril Ramaphosa, called him a "leader of principle and pragmatism who gave meaning to the Biblical insight that faith without works is dead."