MIELLE LAUNCHES FIRST AD CAMPAIGN 'FROM ONE QUEEN TO ANOTHER,' DISMANTLING BEAUTY SECRET 'GATEKEEPING,' AND FORGING SISTERHOOD THROUGH AWARD-WINNING TEXTURED HAIR PRODUCTS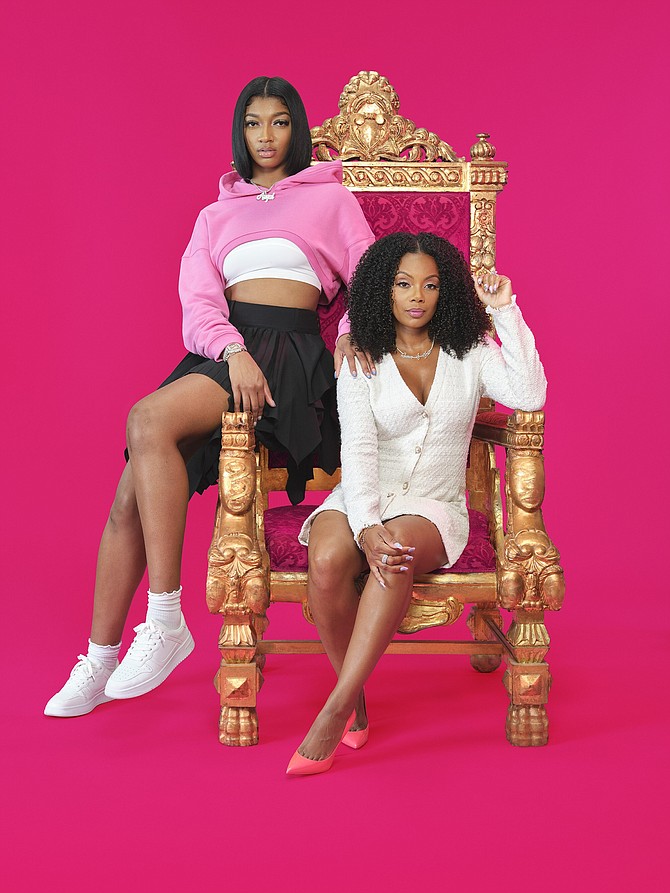 ---
MIELLE LAUNCHES FIRST AD CAMPAIGN 'FROM ONE QUEEN TO ANOTHER,' DISMANTLING BEAUTY SECRET 'GATEKEEPING,' AND FORGING SISTERHOOD THROUGH AWARD-WINNING TEXTURED HAIR PRODUCTS    
Founder & CEO, Monique Rodriguez, and Brand Ambassador and Basketball Champion Angel Reese Featured 'Passing the Crown' as a Symbol of One Queen Recognizing Another
Recently Announced Partnerships with the WNBA, and Now with Howard University's Swimming and Diving Team, Address Unique Hair Needs of Athletes with Textured Hair
MERRILLVILLE, Ind., PRNewswire -- In a nod to the power of a good hair product referral and who really is the IT girl when it comes to having the best-kept beauty secrets, Mielle, an award-winning textured hair care brand, launches the brand's first-ever ad campaign, "From One Queen to Another." The campaign features CEO and Founder Monique Rodriguez – as Queen of the Textured Haircare Category – and women's basketball champion, Angel Reese – as Queen of the Court. From today's launch through 2024, the campaign will celebrate and inspire queens to step into their greatness with a presence at key cultural events, on-site activations, and panels, while spotlighting the award-winning Mielle Pomegranate & Honey collection.
"From One Queen to Another '' encourages a sisterhood-in-beauty where women share their beauty knowledge over "gatekeeping" it. Like the forward-thinking content creators who profess that "hot girls don't gatekeep," loyal Mielle customers will always choose to recommend Mielle products as their best (not so) kept secret.
"I started Mielle from my kitchen, trying out different ingredients to help address hair challenges I was experiencing," said Monique Rodriguez, CEO and Founder of Mielle. "When our Mielle Mavens are excited about their favorite Mielle "IT" product, they put their friends and family onto it. 'From One Queen to Another' reflects the community we've built," she adds.
To create space for beauty in women's sports, Mielle brand ambassador and women's college basketball champion, Angel Reese, curated her own "Queen of the Court" bundle, featuring her favorite products. The exclusive bundle includes Mielle Pomegranate & Honey Shampoo and Mielle Pomegranate & Honey Conditioner, Mielle Pomegranate & Honey Edge Gel, Mielle Mongongo Oil Thermal Heat Spray, Mielle Pomegranate & Honey Leave-in Conditioner, Mielle Rosemary Mint Oil, and a limited-edition edge scarf. The "Queen of the Court" bundle will be available just in time for the tip-off of Angel's season this fall for a limited time exclusively at mielleorganics.com at a retail price of $54.99.
"As the Bayou Barbie, I love to look my best on and off the court! It can be difficult maintaining my hair as an athlete and student with a tight schedule, but Mielle has always been there for me," said Angel Reese. "Mielle is part of my daily haircare routine, so I want to share with my fans what I've been using to keep my hair healthy," she continued.
Through its partnerships with the WNBA as the league's first textured hair partner and collaboration with Howard University's swimming and diving team, Mielle is highlighting the importance of maintaining healthy hair while leading an active lifestyle and making the statement that women in sports are beautiful and will be embraced in the beauty industry. The multi-year partnerships include exclusive sponsorship rights, free products for players and coaching staff, and student events for occasions including Homecoming.     
Intentional about highlighting Black and brown women in front of and behind the camera, "From One Queen to Another" was produced and led by Fela, a culture-defining production company that celebrates inclusion and diversity. The campaign was directed by Kajal, who previously worked with hip-hop superstar Nas and poet Amanda Gorman and includes a creative team of women of color.
Visuals from the campaign feature the fan favorite Mielle Pomegranate & Honey Collection curated for Type 4 hair. The Collection is available for purchase at Walmart, Target and Sally Beauty. For more information about Mielle, visit: www.mielleorganics.com.
---