Dream Exchange CEO Speaks at Historic National Black Business Conference, Forges Transformative Partnership with National Black Chamber of Commerce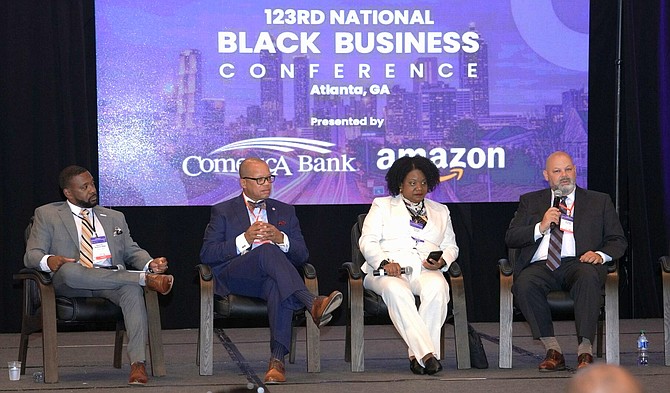 ---
Dream Exchange CEO Speaks at Historic National Black Business Conference, Forges Transformative Partnership with National Black Chamber of Commerce
CHICAGO, PRNewswire -- Joe Cecala, Founder and CEO of Dream Exchange, was invited to speak at the National Black Business Conference which took place in Atlanta, Georgia on Aug. 24-26. With a resounding commitment to empowering a new generation of entrepreneurs, a historic agreement that marked the beginning of an unprecedented partnership between Dream Exchange and the National Black Chamber of Commerce ® (NBCC) was solidified and signed.
Beyond the historic signing, Joe Cecala lent his expertise to the conference through dynamic panel discussions. Drawing upon his experience as a trailblazer in the financial and technology sectors, Cecala engaged in thought-provoking conversations about the challenges and opportunities that minority-owned businesses encounter in their pursuit of capital.
Namely, since the late 1990's not only has the total number of public companies declined by nearly 50%, the number of small initial public offerings (IPOs) has declined from 70-90% of the IPO market to just 20-30%, according to a white paper written by Dream Exchange in 2018. A proposed solution to this problem is the Main Street Growth Act, a new legislation that will allow for the creation of a new type of stock exchange specifically designed for small and emerging early-stage businesses providing access to capital for more underrepresented businesses.
"Participating in the National Black Business Conference has been an incredible honor. The historic signing ceremony symbolized the fusion of Dream Exchange's cutting-edge technology and NBCC's unwavering dedication to economic advancement. Our two entities have united under a shared vision to amplify the voices and opportunities of minority-owned enterprises, creating a powerful alliance that aims to bridge the gap in access to capital."- said Founder and CEO, Joe Cecala
"The National Black Business Conference served as the backdrop for these historic moments, uniting visionaries and changemakers in a collective journey towards economic empowerment and progress. Through the partnership between Dream Exchange and NBCC, a new chapter is being written in the narrative of minority-owned businesses' access to capital." -said Managing Member of DX Capital, Dwain Kyles.
The Dream Exchange is preparing its application and operations to become registered as the first minority-governed and owned company to operate a stock exchange in the history of the United States.  Dream Exchange's mission is to create access and equality of opportunity for all people in a fair marketplace that instils ethics, integrity, and humanity. In furtherance of that mission, Dream Exchange will be championing the creation of a new type of stock exchange called a venture exchange, to list and trade smaller, early-stage company stock.
---