Comcast Announces $250,000 Grant to fund Digital Navigators at 26 Chicago Public Library branches, Plans to Donate 1,000 Laptops to 10 City Non-profits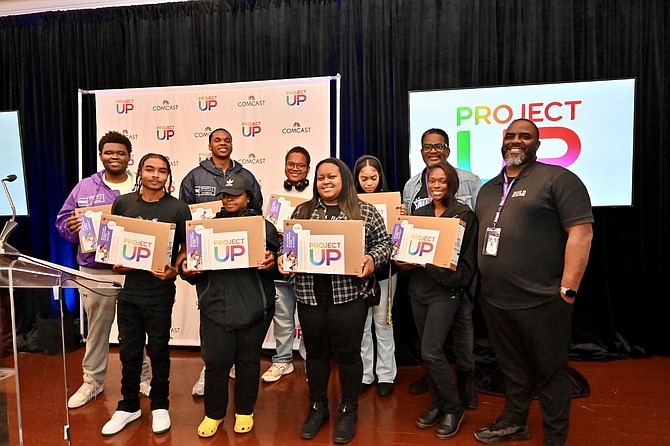 ---
Comcast Announces $250,000 Grant to fund Digital Navigators at 26 Chicago Public Library branches, Plans to Donate 1,000 Laptops to 10 City Non-profits
Company leaders join Chicago Mayor Brandon Johnson and Chicago Public Library Commissioner Chris Brown to announce the next phase of its more than decade-long initiative to make digital equity a reality in Chicago
CHICAGO (September 19, 2023) –
National and local Comcast leaders joined Chicago Mayor Brandon Johnson and Chicago Public Library (CPL) Commissioner Chris Brown today to announce a $250,000 donation to the Chicago Public Library Foundation to fund digital navigators at 26 city library branches. Digital navigators are professionals who link Chicagoans to resources that can help them build the digital skills needed to succeed in school, participate in the workforce and connect to programs that can help them access and pay for broadband Internet service at home, including:
Affordable Connectivity Program (ACP), a federal program which can provide up to $30 per month toward the cost of eligible households' Internet and mobile bills;
Chicago Connected, which provides Internet service for free to eligible households with Chicago Public Schools students; and
Internet Essentials, a Comcast program that provides low-cost Internet service at home to eligible low-income households with students of all ages, seniors, veterans, people with disabilities and public housing residents. Internet Essentials has helped nearly 900,000 Chicagoans connect to the Internet at home since it launched in 2011. The ACP can cover the full cost of Internet Essentials, making it free for eligible households.


"The digital divide disproportionately impacts Chicago's South and West side communities and has a severe, detrimental impact on our youth and our students," said Mayor Brandon Johnson. "I am proud to stand here alongside Chicago Public Library, Comcast and our community partners to announce additional efforts to address this longstanding barrier to achievement and employment, and help Chicagoans thrive well into the 21st century."
"More than a decade ago, Comcast set out to close the digital divide. We envisioned a network of community partners and programs that would empower Chicagoans with the tools to be exceptional in the 21st century: broadband internet, a computer and digital skills training," said Broderick Johnson, Comcast's Executive Vice President of Public Policy and Digital Equity. "Since then, the city, the libraries, Comcast and hundreds of community-based organizations have been on a journey to make digital equity a reality in Chicago, and we've made significant progress."
"In Chicago today, our libraries aren't just about books – they're gateways to the digital world. Everyone deserves the skills to thrive online," said Commissioner Chris Brown. "With Comcast's invaluable support, we're making strides to ensure that. Beyond technology, it's about equipping every Chicagoan with the tools and confidence for a promising future."
This latest donation is on top of $500,000 in grants Comcast made to the foundation from 2017 through 2019 to establish "experience labs" at 11 CPL branches. Experience labs are designated spaces where community organizations and other providers can deliver digital skills training and other services to library patrons.
Comcast also to donate 1,000 laptops to 10 Chicago non-profit organizations 
In line with the city's recent efforts to help more residents get computers, Comcast also announced plans to donate 1,000 laptops to 10 community-based non-profit organizations in Chicago to provide to people they serve.
Following is a list of the CPL branches that will use funding from Comcast to support digital navigators and the city non-profits that will receive laptop donations.
| | |
| --- | --- |
| CPL Branch | Neighborhood |
| Austin | Austin |
| Back of the Yards | Back of the Yards |
| Chicago Lawn | Chicago Lawn |
| Douglass | Douglass |
| Edgewater | Edgewater |
| Greater Grand Crossing | Greater Grand Crossing |
| Harold Washington Library Center | Chicago Loop |
| Humboldt Park | Humboldt Park |
| Kelly | Englewood |
| King | Bronzeville |
| Legler Regional | West Garfield Park |
| Little Village | Little Village |
| North Austin | North Austin |
| Pullman | Pullman |
| Richard M. Daley | Humboldt Park |
| Rogers Park | East Rogers Park |
| Sherman Park | Englewood |
| South Chicago | South Chicago |
| South Shore | South Shore |
| Sulzer Regional | Lincoln Square |
| Thurgood Marshall | Auburn-Gresham |
| Toman | Little Village |
| West Chicago Avenue | Austin |
| West Englewood | West Englewood |
| West Pullman | West Pullman |
| Woodson Regional | Washington Heights |
|   |   |
| Non-Profit | Neighborhood |
| Access Living | Near North Side |
| Boys & Girls Clubs of Chicago CC's Little Village Club | Little Village |
| Bright Star Community Outreach | Grand Boulevard |
| BUILD Chicago | Austin |
| Chicago Urban League | Grand Boulevard |
| Chinese American Service League | Chinatown |
| Obama Foundation | Hyde Park |
| PODER | Gage Park |
| YMCA of Metropolitan Chicago | West Rogers Park |
| YWCA Metropolitan Chicago | Woodlawn |
The grant funding and laptop donations announced today are part of
Project UP
, Comcast's 10-year, $1 billion commitment to help make digital equity a reality in communities the company serves in Chicago and elsewhere across its footprint. To that end, Comcast has made more than $91 million in cash and in-kind donations to community-based organizations in Illinois over the last three years, mostly to initiatives designed to foster digital equity. In addition, Comcast partnered with community-based organizations starting in 2020 to create Lift Zones, safe places where kids and adults can access free high-speed WiFi and learn digital skills. Today, there are Lift Zones in 48 community centers across the city and more than 1,250 nationwide.
"Comcast serves all 77 Chicago neighborhoods, and we provide the same services and the same level of service in each and every one of them, regardless of the zip code." said Carl Jones, Jr., Comcast's Regional Vice President of External and Government Affairs. "This has allowed us to bring Internet Essentials, Lift Zones and our other digital equity programs to neighborhoods across the city and help hundreds of thousands of Chicagoans harness the power of the Internet."
For more information about Internet Essentials and ACP and its eligibility requirements, visit
www.xfinity.com/free
, call 1-855-8INTERNET (1-855-846-8376) or visit a
local Xfinity Store
. Click
here
for information about Comcast's local digital equity efforts and presence in Chicago.
---