Head Omar Bailey launches FCTRY LAb's second shoe the 'FCTRY MOCC'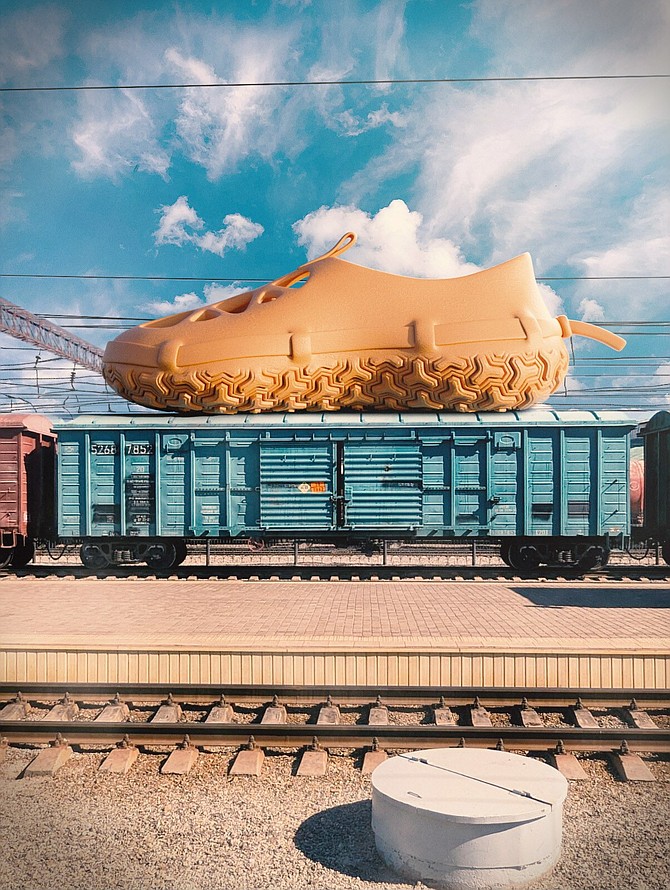 ---
Head Omar Bailey launches FCTRY LAb's second shoe the 'FCTRY MOCC'     
LOS ANGELES, PRNewswire -- FCTRY LAb, the venture capital backed footwear innovation lab launches the FCTRY MOCC, a combination of modern design and ancient inspiration.
Building on its extensive expertise making iconic shoes, FCTRY LAb successfully launched and sold-out its debut shoe the Knight RNR earlier this year and has launched the FCTRY MOCC. This will be followed by its third shoe the STMPR later in Q4. FCTRY LAb is BIPOC owned, and aspires to celebrate and integrate the richness of diverse cultures in its creations.
Tan MOCC: On a Soviet-era train bogie in Uzbekistan Background shot by: Abhi Som - Post-production by: FCTRY LAb
"The FCTRY MOCC represents a blend of timeless cultural influences and cutting-edge technology," said Omar Bailey, co-founder of FCTRY LAb. "Inspired by the intricate beauty of the Juti from Rajasthan and the rich traditions of Native American cultures, we've reimagined footwear in a way that combines comfort and style. My journey from rural India to the Yeezy team in Cody, Wyoming, played a pivotal role in shaping this innovative concept."
The FCTRY MOCC a mono-material product, boasts a removable soft sole with an open design combining comfort and breathability. The recycled suede-microfiber tie running through the shoe reflects traditional threading practices of indigenous North American cultures.
FCTRY LAb also took an unconventional approach to the photography and visual documentation of the shoe. "Being bored of traditional product photography we decided to go a little crazy" said Abhi Som, co-founder of FCTRY LAb. "We hired friends who had shot several Time Magazine covers, specializing in war and disaster. With no product photography experience, we sent them to remote Trans-Himalayan landscapes, rainforests in Goa, the Thar Desert and ancient cities in Uzbekistan." Combining these alien landscapes with giant shoes in post-production FCTRY LAb has shaken up the norm. Some of these photos are included in this release.
Co-Founded by Omar Bailey (Former Head of the Yeezy-Adidas Innovation Lab) and Abhi Som (Former Finance Professional), FCTRY LAb's mission is to help creators and brands of all sizes to make shoes in America. In addition to its own shoes, FCTRY LAb has also created shoes this year with top design and brand partners and a reigning Super-Bowl winner. FCTRY LAb is a high-tech footwear innovation facility based in Los Angeles. FCTRY LAb's ability to design, prototype and create footwear, shrinks new product development to 1-3 months instead of 8-12 months. The innovation lab is a bridge between product creation and large-scale manufacturing.
FCTRY LAb is funded by a diverse group of venture capital firms, top professional athletes and angel investors. Investors include the Co-Founder of Tinder (via Time Zero Capital), Co-Founder of WeWork, the West Coast Head of Warburg Pincus and a consortium of NBA & NFL stars via Chicago based Aurelien Capital. Venture capital investment was led by the LA-based, Pay-Pal backed Slauson & Co, with additional investment from Relay Ventures, Elysian Ventures, Level One Fund and Fog City Capital.
For more information, visit fctrylab.com. Follow @fctrylab on Instagram for updates.
---