RAIN-E MAKES HER GRAND DEBUT TO MUSIC WITH 'BIG SPENDA'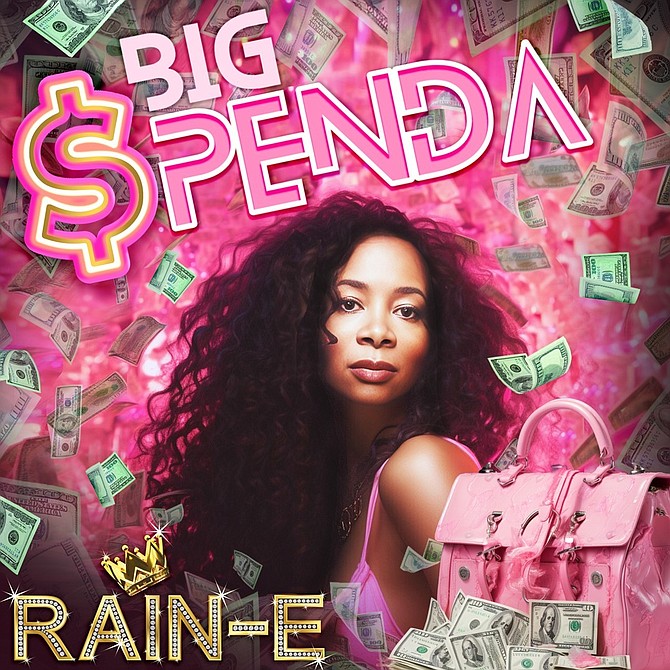 ---
RAIN-E MAKES HER GRAND DEBUT TO MUSIC WITH 'BIG SPENDA'
Repping the Midwestern city of Chicago, fierce female lyricist and emcee cashes-in with newly released single
The city of Chicago, and indeed the entire Midwest region of the U.S., have always enjoyed a rich and diverse heritage when it comes to its hard-earned identity as the "mid coast"—the center of the art and culture of Hip-Hop. Ranging from inspired, impactful musical expressions incorporating lyricism, rhyming, deejaying and stage presence, the "second city" is truly second to none as among those who know, as great female rap artists continue to be consistently bred and launched to success from here.
The obviously best-known female Chicago emcees include a broad diversity of names and styles, ranging from Da Brat, Shawnna, Noname and Dreezy, to Lady XO, Queen Key and more. But today, another name to be added to that distinguished list is that of fast-rising artist RAIN-E (pronounced Ray-Knee), whose new track "Big Spenda" is now in full release and available on all streaming platforms nationwide.
RAIN-E, a proud windy city native, wants women to feel empowered and uplifted by her work and proudly reps her hometown with refreshingly substantive and confident lyricism. RAINE's powerful message of honesty, candor, pride and independence comes through loud and clear in "Big Spenda," an anthem that she expects will resoundingly resonate with audiences of women who enjoy Hip-Hop.
And, just whom is she talking about here? Well, defiant, yet bold and unashamedly feminine women just like RAIN-E herself. "I love it when a man pursues, pampers and spoils a woman that he admires," she says. "I believe that all women can benefit from having a 'Big Spenda/Big Tipper' in their lives—someone who cherishes them and isn't modest about letting others know how much they care for them. A 'Big Spenda' is always in a good woman's corner," RAIN-E adds.
"The women I'm speaking to with this song are the living example of the woman Teddy Riley and Blackstreet used to sing about in unforgettable tracks like 'No Diggity.' She's that classy, smart playette that all of the men are checking for and want to spoil, but they must come correct with her, though."
"Big Spenda's" arrival rings as a Hip-Hop 50th Anniversary nod to the female emcees of lore, revisiting the original fun and braggadocio of the genre, but adding ample doses of sexiness and substance. RAIN-E's no-nonsense Midwestern sensibility shines through in abundance on the track, staying true to her roots and doing both her city and rap peers justice, and it's not by accident.
"People usually think of the East and West coasts first when it comes to rap, but Chicago, music-wise, is known more for Blues and Gospel artists, and House music. Given its increasing crime headlines and the flight of the Black middle-class population in recent years, I want folks to remember that great things still come from Chicago," RAIN-E relates. "Chicago, with one of the nation's largest concentrations of Black residents—has been a capital city for Black millionaires and businesses for generations. It was once the epitome of Black wealth, style and sophistication. I want to represent that legacy of Chicago in my music and bring it back to the fore."
To achieve this objective, RAIN-E's vision for the near future is to capture the momentum of "Big Spenda" and leverage it to complete a forthcoming EP. She also has the launch of high-end apparel and merchandise under the brands "I RAINE SUPREEM" and "Wrist-on-Lit" bracelets" in the planning stages. Each of these extensions to her music are the facets of an identity that she has been carefully and patiently crafting.
"My goal is to appeal to an audience who still loves their baddies, even without as many bad words." Far from the more overtly sexual nature of most modern women rappers, RAIN-E reminds everyone that there are many more layers to her appeal. She aims to fill a lane for female rappers that don't only revolve around sexuality or the streets, focusing instead on verbal charisma, female empowerment, and independence.
 "Big Spenda" is available for listen and download now on Spotify, SoundCloud, Apple Music and other streaming music platforms such as Amazon Prime, YouTube, Tidal and others.
For more information about RAIN-E and the new single, "Big Spenda," visit and follow her on her Facebook, Instagram and Twitter/X channels. There's also a deejay pack available for radio and online radio air personalities' use, which can be accessed using the link at left.
---