Barclays Donates $300,000 to the HBCU Week Foundation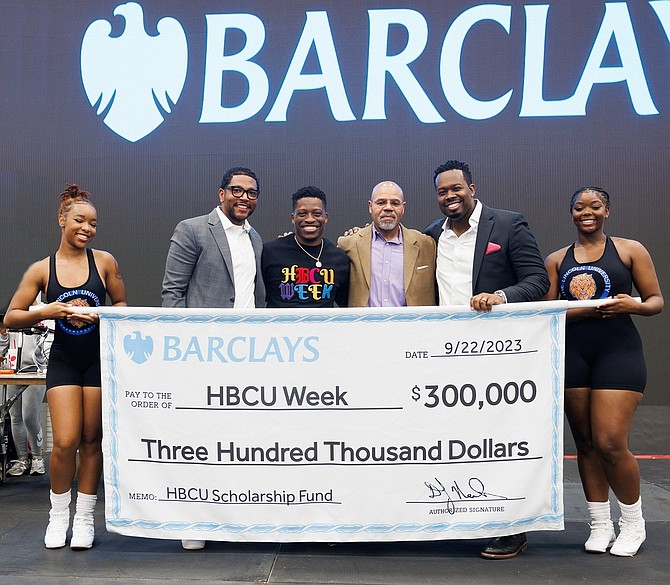 ---
Barclays Donates $300,000 to the HBCU Week Foundation
WILMINGTON, Del., PRNewswire -- The HBCU Week Foundation, Inc., a nonprofit organization, announced today it has received support from Barclays US Consumer Bank to further its mission to close the education-to-employment gap in higher education. Barclays is endowing a $300,000 scholarship fund that will support the HBCU Week Foundation and students attending five historically black colleges and universities (HBCUs): Delaware State University, Hampton University, Spelman College, Morehouse College, and Howard University.
The endowment is being made as part of the seventh annual HBCU Week. The bank's continued partnership with HBCUs is helping Barclays deliver on its ambition to enable young people to develop the skills and opportunities they need to obtain college degrees. It is another example of the bank's commitment to promote social equity in local communities and beyond.
"We are incredibly grateful for Barclays' generous donation and continued support," said Ashley Christopher, Esq., founder and CEO of the HBCU Week Foundation and a double HBCU alumna herself. "As we work to widen our impact in the US, these scholarship funds will help many more college students on their path to economic success."
HBCU Week helps underrepresented high school students with the support of organizations like Barclays. The mission of HBCU Week is to encourage high school-aged students to enroll in HBCUs, provide scholarship dollars for matriculation, and sustain a pipeline for employment. To date, the HBCU Week Foundation has awarded more than 6,000 on-the-spot college acceptances and more than $60 million in scholarships directly from HBCUs and corporate partners.
"We are proud to partner with the HBCU Week Foundation, an organization working to make college education more accessible to thousands of high school students across the country," said Omar McNeill, Head of Compliance at Barclays US Consumer Bank. "By equipping more high school students to attend HBCUs, they will acquire the skills and networks to help them successfully secure employment upon graduation. We are proud to support HBCU Week Foundation's quest to build a more equitable talent pipeline ready to enter the workforce."
The mission of the HBCU Week Foundation is to encourage high-school aged youth to enroll into HBCUs, provide scholarship dollars for matriculation and sustain a pipeline for employment from undergraduate school to corporate America. The most impactful event during HBCU Week is the HBCU College Fair. HBCU Week Foundation, Inc. is a 501(c)(3) charitable organization.
Barclays US Consumer Bank is a leading co-branded credit card issuer and financial services partner in the United States that creates highly customized programs to drive customer loyalty and engagement for some of the country's most successful travel, entertainment, retail, and affinity institutions. The bank offers co-branded, small business, and private label credit cards, installment loans, online savings accounts, and CDs. For more information, please visit www.BarclaysUS.com.
---