Comcast awards Chicago Public Library Foundation grant money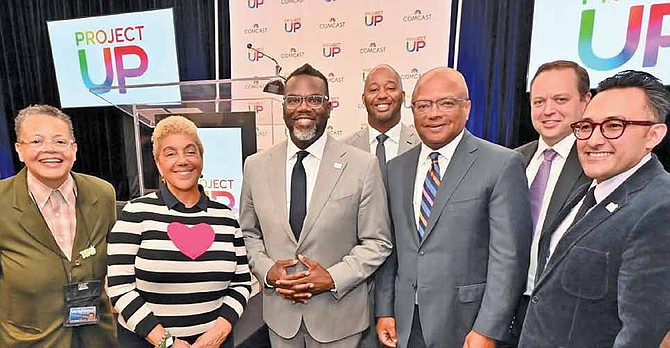 ---
Comcast awards Chicago Public Library Foundation grant money

By Tia Carol Jones

Comcast recently awarded the Chicago Public Library Foundation $250,000 to support Digital Navigators at 26 Chicago Public Libraries. Comcast also donated 1,000 laptops to 10 Chicago nonprofit organizations.

Broderick Johnson, Executive Vice President of Public Policy and Digital Equity for Comcast, said the contribution was made because it ties into the company's overall commitment to digital equity and closing the digital divide. It is something Comcast has been doing for more than a decade.

"What we've learned over the course of that decade is the importance of providing resources to community-based organizations, to organizations and entities like the Chicago Public Library, that are fundamental to the trust that is built in communities across the country," Johnson said.

Johnson added, it is important to have individuals and organizations that are trusted in the local communities that are able to spread the word about the importance of signing onto the internet and how to use the internet effectively.
Digital navigators are professionals who will connect people to resources and help them build digital skills. Those skills include help with school projects and connecting them to programs that can help them pay for internet services at home.

"It's extremely important to be able to get people to sign up for the internet, to sign up to the Affordable Connectivity Program, for example, to sign up to a product we've been offering for a decade, Internet Essentials," Johnson said.

The 26 library locations include Austin, Back of the Yards, Chicago Lawn, Douglass, Edgewater, Greater Grand Crossing, Harold Washington Library Center, Humboldt Park, Kelly, King, Legler Regional, Little Village, North Austin, Pullman, Richard M. Daley, Rogers Park, Sherman Park, South Chicago, South Shore, Sulzer Regional, Thurgood Marshall, Toman, West Chicago Avenue, West Englewood, West Pullman and Woodson Regional.

"The Chicago Public Library Foundation is deeply grateful to Comcast for both its long history of support as well as this exceptional new commitment to bringing the digital divide. It is an honor to work with partners so aligned with our mission and so thoughtful in their approach to philanthropic investment. This grant will help to ensure that more than 8,000 hours of 1:1 assistance can be provided over the next year to Chicagoans looking to improve their skills and confidence online so that they can find jobs, identify healthcare resources, and stay connected to their communities and loved ones. Comcast and our other partners make the Digital Navigator program possible," Brenda Langstraat Bui, President & CEO Chicago Public Library Foundation, said in a statement.

The Chicago nonprofit organizations Comcast donated 1,000 laptops to are Access Living, Boys & Girls Club of Chicago CC's Little Village Club, Bright Star Community Outreach, BUILD Chicago, Chicago Urban League, Chinese American Service League, Obama Foundation, PODER, YMCA of Metropolitan Chicago and YWCA Metropolitan Chicago.

Johnson said the nonprofit organizations were chosen because they have great credibility and reach within the city of Chicago. They also are important to the type of collaboration in Comcast's goal of closing the digital divide.

"It's not just access to the internet that is important, but it's also having a device. Laptops are among the most important devices for folks to have to use the internet effectively," Johnson said.

For more information about Comcast, visit https://chicago.comcast.com.
---