ESSENCE Girls United Enters Into The Era of Disruption for its 2023 Summit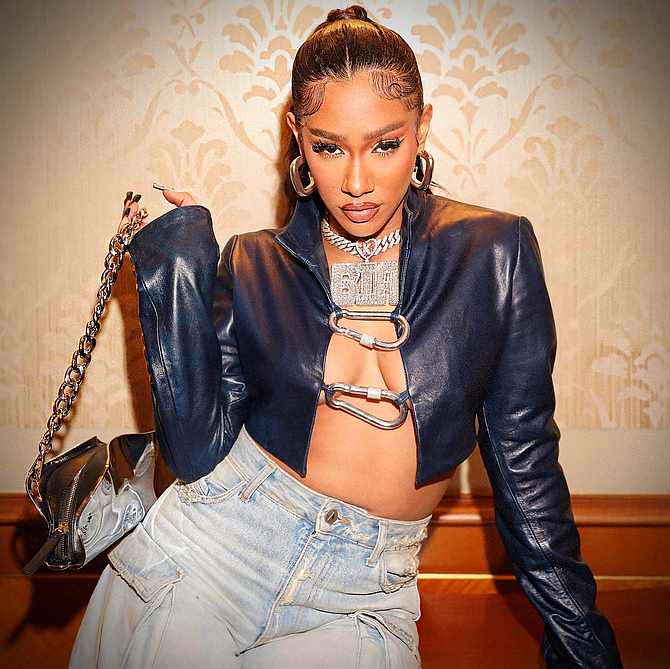 ---
ESSENCE Girls United Enters Into The Era of Disruption for its 2023 Summit
NEW YORK - The fourth annual ESSENCE Girls United (GU) Disruptor Summit, returns on Nov. 11 in Atlanta, GA, the premier cultural & creative hub of the South and home to the largest consortium of HBCUs in the country. This year's summit will be a safe space for young Black women, girls, and gender-expansive youth to come together and fellowship for a day filled with panels, networking, activations and more. "The Era of Disruption" serves as this year's theme, and an invitation to Zillenials to continue to use their voices to break the mold by utilizing their individual paths, ideas and trends to celebrate all aspects of the Black experience.

As the leading destination for young Black women, ESSENCE Girls United, is bringing notable speakers, influencers and creatives and musical performers to the 2023 summit such as dynamic sister-duo Jordyn Woods and Jodie Woods, South African singer-songwriter Tyla, If Not for My Girls cast members BIA, Muni Long & Pretty Vee, alongside many more! This year's GU Disruptor Summit will touch down in the ATL for a full day of conversations, workshops and on-site activities such as photo experiences throughout, the kick-off of GU Office Hours, speed mentoring sessions to get connected with key industry players, and the Soko Marketplace where attendees can shop & support a mix of Black-owned businesses. The one-day event is set to take place at the PC&E sound stage (2235 Defoor Hills Rd. NW, Atlanta, GA 30318) from 10:00am - 5:30pm ET featuring:

Live taping of the Season 5 cast of If Not for My Girls including BIA (Chart-Topping Artist), Muni Long (Grammy-Award Winning Singer-Songwriter) and Pretty Vee (Media Personality, Comedian & Actress)
Disrupt or Be Disrupted with Caroline Wanga (ESSENCE Ventures President & CEO)
Partner in Prime with Jordyn Woods (Model and CEO & Founder of Woods by Jordyn) and Jodie Woods (Influencer & Entrepreneur)
Backstage Pass with Aleali May (Fashion Blogger, Model & Sneaker Designer) and Anifa Mvuemba (Fashion Designer and Founder & Creative Director of Hanifa)
Cut the Dupe with Aliyah's Interlude (Fashion Creator) and YungBBQ (Comedian)
Industry Talk with Shawna Spears (Vice President of Brand Marketing at Venice Music), Ebonie Ward (CEO/Chairwoman, Founder of Eleventh & Co), Baroline Diaz (Founder & Chairwoman of Great Day Records), Brandra Ringo (Executive Vice President & Co-Head of A&R at Quality Control Music)
Medical Mania with Dr. Jess (Mental & Health Awareness Expert)
On Strike, a conversation with changemakers in the activism space, in preparation for the upcoming 2024 election year, to discuss how the reversal of affirmative action, the residential housing crisis, and the failed promises of student loan repayment will impact current and future students and Black women in college and more!

"The 2023 summit will celebrate and highlight the powerful voices and creativity among today's youth, as we come together to fellowship around topics & issues ranging from wellness to fashion and culture. The Era of Disruption aims to bring GU audiences to the forefront, as we collectively amplify the power of unity", said Rechelle Dennis, Co-Creator of ESSENCE Girls United. "ESSENCE GU continues to embrace the values of empowerment and leadership. With a strong focus on personal development, intellectual growth, and societal change, our initiative has been meticulously curated to inspire young women and girls, creating a ripple effect of disruptors."
Attendees can register for complimentary tickets to attend the 2023 ESSENCE Girls United Disruptor Summit and learn more at https://www.essence.com/gusummit2023, which will also be available for virtual attendees at ESSENCE.com and GirlsUnited.ESSENCE.com. GU fans can join the conversation on social media at @ESSENCEGU, as well as by using the hashtag #GUDisruptorSummit. The 2023 GU Disruptor Summit is sponsored by Coca-Cola® Zero Sugar and McDonald's USA.
---