Trilogy hosting capital campaign for its Chatham Support Center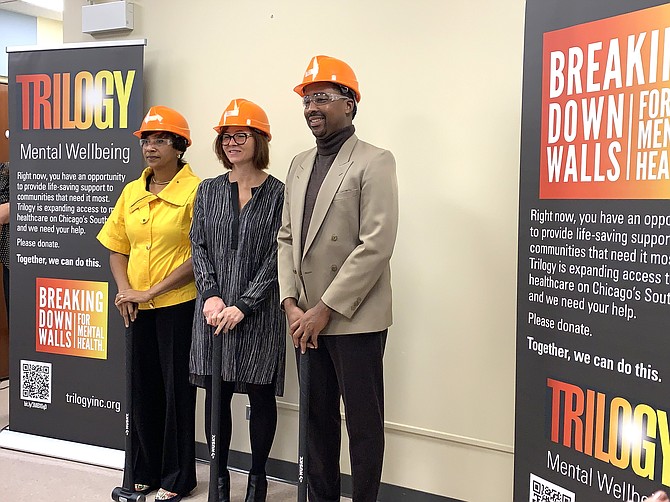 ---
Trilogy hosting capital campaign for its Chatham Support Center

By Tia Carol Jones

Trilogy recently purchased the building at 8541 S. State St. The site is set to become its new support center, which will help provide mental health services to those in the community who desperately need it.

Trilogy has been serving Chicago and the surrounding areas for more than 50 years. Its mission is to provide integrated care that enables people in mental recovery to build independent and meaningful lives. The organization provides its clients with essential services and ongoing support with the goal that those clients can thrive independently in the communities where they live. Some of those services include integrated healthcare, occupational therapy, supported employment and residential programs, as well as a drop-in center.

The site was formerly the Mercy Hospital Medical Center. Currently, Trilogy is hosting its Ujima Point drop-in program at the center. Trilogy has three additional on-site locations in the city: 1400 W. Greenleaf Ave., 3737 W. Lawrence Ave., and 2551 W. Peterson Ave. Their aim is to meet clients where they are to provide services.

Susan Doig, President and CEO of Trilogy, has been with the organization for more than 15 years. She has seen the impact mental health services had on people's lives.

"We really are the bridge to care for so many people who would never have access. Without Trilogy's intensive approach, people may not even realize they need the care they do, we meet people where they are," she said.

Trilogy has been able to create safety and community for the people it serves, and has been doing so since 1971. With Black and brown people experiencing mental health issues at higher rates than others and the South side of Chicago being a mental health desert, the services Trilogy will provide to the community are greatly needed.

Doig acknowledged there is a disparity when it comes the access to life saving mental health services; and a huge gap between services needed and the services that are available. Since the COVID-19 pandemic, mental health providers have had an uphill battle to serve clients.

Trilogy has started a capital campaign to complete the new support center. It made a $2.3 million investment in Chatham when it purchased the building. It has made another $1 million commitment to improve the space, but it needs another $1.7 million to create the space necessary for its staff, clients and the community.

Sixth Ward Alderman William Hall spoke about how Trilogy is filling the mental health gap that exists in the city. He referred to mental health care as compassionate care and said it is very much needed in the city and in the 6th Ward.

"Breaking down the wall that has been built, through poverty and trauma unjustly, is what we're here to do. Your presence here today is fulfilling a promise that you made, which is to care for all people," he said.

Kim Casey, Trilogy Board Member, has been involved with the organization for four years. She shared statistics from a Chicago Urban League report about the impact of crime and trauma. She said those statistics show that there is a great need for mental health services on the South side.
She said the community cannot wait any longer, and encouraged people to support Trilogy and other organizations that provide mental health services to people in the community.

"I believe that if we support Trilogy in getting over this hurdle, and closing the gap on the resources that we need to make this building a place where the community wants to be, as well as our staff, I believe we're  going to see a shift in mental health services on the South side of Chicago, and we're going to see a lot of other organizations coming to the South side to provide the services that we've been asking for for a long time," Casey said.

For more information about Trilogy, visit www.trilogyinc.org.
---