One Solution, Urban One's award-winning integrated marketing, strategic partnerships, and branded content studio division, in collaboration with AT&T Dream In Black has returned for a continuation of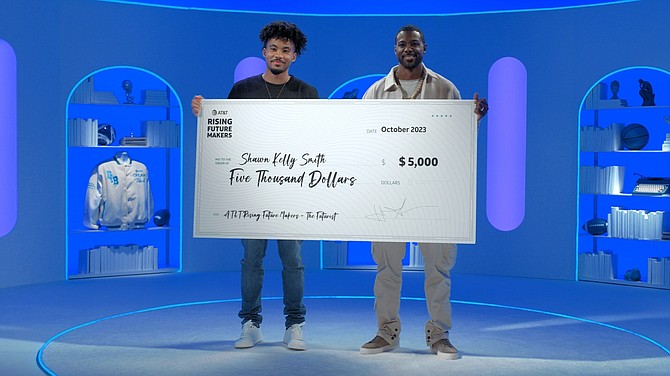 ---
ONE SOLUTION AND AT&T DREAM IN BLACK COLLABORATE ON BRAND NEW CONTENT OFFERING "THE FUTURIST" FEATURING LANCE GROSS, MELISSA BUTLER, AND KIMBERLY BRYANT
The integrated marketing and branded content studio division of Urban One
and vested brand collaborator usher in an exciting, three-part series that highlights the AT&T Rising Future Makers Showcase and pairs HBCU students with established leaders in their respective fields.

NEW YORK, PRNewswire -- One Solution, Urban One's award-winning integrated marketing, strategic partnerships, and branded content studio division, in collaboration with AT&T Dream In Black has returned for a continuation of exciting and community-impacting content offerings. Amplifying the 2023 AT&T Rising Future Makers Showcase, the collaborative partners will release "The Futurist" – a three-part series that pairs HBCU students in the fields of STEM, tech, and entrepreneurship with established leaders in their respective fields for a compelling and rich conversation through the lens of mentorship.

This year's content release features in-depth dialogue with Actor Lance Gross, Melissa Butler (Founder of The Lip Bar), and Kimberly Bryant (Founder and CEO Ascend Ventures and the Black Innovation Lab) – tackling introspective and conversational points between the aspiring leaders and the experts.
Black college students find their network through their time at HBCUs. The connections they make with their professors, fellow students, guidance counselors and others provide a great basis for their lives beyond the hallowed halls. With today's need to have a stronger connection in order to solidify one's professional future, opportunities for a student to connect with a leader in their desired industry is invaluable for anyone to find their purpose and greater possibility.

Together, AT&T Dream In Black and One Solution have curated conversations between notable HBCU alumni and current students that will advance a greater connection to support their goals and inspire viewers around the mindset that connecting changes everything. Following the conversation, these featured students will be awarded with a monetary grant and tech package courtesy of AT&T Dream in Black Rising Future Makers. Click here for approved campaign images.

For more information pertaining to the 2023 AT&T Rising Future Makers Showcase for HBCU students looking to take their dream to new heights, please see below and visit att.com/rfmshowcase.

AT&T Rising Future Makers Showcase, under the Dream In Black platform, is a program that recognizes and celebrates an esteemed class of 25 HBCU students making a difference in their community and campus, by giving them the connections, networks, and opportunities to support their dreams and ambitions. Each student receives $5k (5Gs), a technology package, as well as access to various networking and career development opportunities throughout the year. You can find out more about Rising Future Makers Showcase by visiting https://www.att.com/rfmshowcase/..

What is a Rising Future Maker?
An HBCU student who is making waves and doing incredible things in their community and on campus.

Who can enter? All currently enrolled HBCU students, ages 18-25.
How do I enter? All you have to do is upload a video (under a minute) or complete a written submission on the AT&T Rising Future Makers microsite that explains how you are pursuing your dreams and making an impact!

What is the call to action for the submission period? Apply today for a chance to become a Rising Future Maker and take your dreams to new heights, with support, empowerment, and life-changing connections.
Video Submission period will continue through Nov. 6.
---