Mariah Carey Teams up with The Children's Place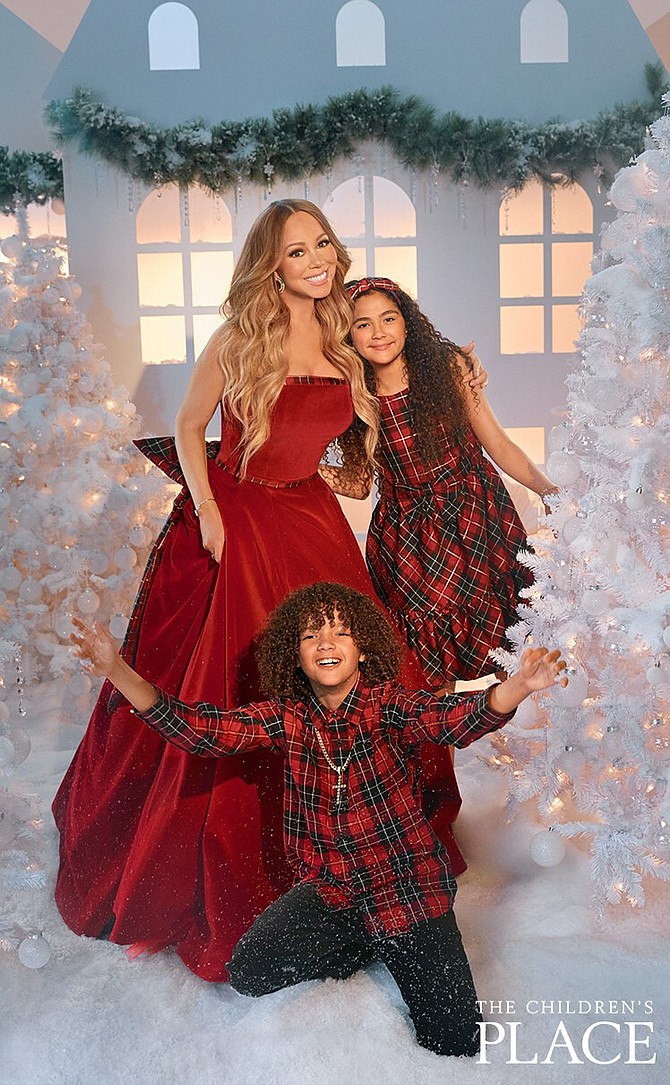 ---
 Mariah Carey Teams up with The Children's Place
Leading Children's Apparel Brand celebrates the holiday season and closes its iconic trilogy campaign aimed at captivating its millennial customers through music, family and fashion

SECAUCUS, N.J., PRNewswire -- The Children's Place, Inc. (Nasdaq: PLCE), an omni-channel children's specialty portfolio of brands with an industry-leading digital-first model, is thrilled to unveil the finale of its holiday campaign with the Queen of Christmas and music icon Mariah Carey. She joins Snoop Dogg and former Boy Band members, AJ McLean, Lance Bass, Joey Fatone and Wanya Morris, in a three-part holiday campaign appealing to and celebrating the brand's core millennial mom customer.

Part three of the trilogy features Mariah Carey and her twin children, Moroccan and Monroe Cannon, marking their first-ever debut in a joint campaign. Outfitted in The Children's Place's new Holiday collection, the brand video; "An Iconic Holiday: Part 3", features the award-winning artist's and songwriter's holiday anthem, "All I Want for Christmas is You," and spotlights the family in festive Mama Claus and Santa's Helper coordinating graphic tees as well as the brand's famed matching family pajamas. The campaign also features Mariah Carey in a custom-made dress that inspired "The Dress by Mariah Carey", a limited-edition dress, designed by the icon, herself, and exclusively available for $149.99 at childrensplace.com. Delicately crafted in a rich red velour, the strapless A-line dress is complete with a plaid oversized bow at the back that matches to the brand's signature family holiday plaid collection worn by Moroccan and Monroe.

"This year's blockbuster three-part holiday campaign has been spectacular. And, for our final holiday launch, nothing says Christmas like Mariah Carey starring in our matching family Christmas pajamas and matching family outfits, while listening to one of the greatest holiday hits of all time, her iconic 'All I Want for Christmas Is You,'" said Maegan Markee, Brand President at The Children's Place. "Mariah is a Christmas icon and will be for generations to come, bringing families together through her music. We are incredibly excited to partner with Mariah and her kids on this magical holiday campaign. From our family at The Children's Place to yours, we wish everyone a happy and healthy holiday season!"

"The holidays are all about family – spending time with each other and making memories that will last a lifetime. Holiday traditions are big for us at the Carey house. There is nothing sweeter than baking Christmas cookies and cuddling around the fireplace and matching in The Children's Place pajamas together!" said Mariah Carey. "I've always been a fan of The Children's Place… they are a household name and dominate the children's apparel space. Also, as someone who absolutely loves the holidays, and specifically, Christmas, I've been watching what The Children's Place has been doing for the last few years and they have my stamp of approval for the place to shop for all matching family Christmas pajamas and outfits!"

The Children's Place is the go-to holiday destination. Offering over 30 festive matching family collections, The Children's Place 2023 Holiday Dressy Assortment, Festive Graphic Tees and Family Pajama Collection have something for every member of the family, including your pet! Available in newborn sizes to adult XXXL, and made with ultra-soft, quality fabrics, all styles are available at affordable price points, making them the perfect addition to holiday family celebrations and traditions. The new collection is available for purchase on www.childrensplace.com, in The Children's Place stores nationwide and in Canada, and on The Children's Place Amazon storefront at www.Amazon.com/TheChildrensPlace..

For more information about The Children's Place 2023 Holiday Campaign and to shop the brand's Holiday product collections, please visit www.childrensplace.com and follow @ChildrensPlace on Instagram and Facebook.
---