Calumet City native serves aboard forward-deployed Navy warship in Japan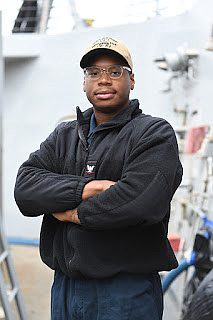 ---
By Mass Communication Specialist 1st Class Jerry Jimenez, Navy Office of Community Outreach
YOKOSUKA, Japan - Petty Officer 3rd Class Keenan Taylor, a native of Calumet City, Illinois, serves in Japan aboard a forward-deployed U.S. Navy warship.
Taylor joined the Navy 2019 years ago. Today, Taylor serves as an operations specialist aboard USS Dewey.
"I wanted to be a part of something bigger than myself," said Taylor. "It's something I have been interested in since a field trip to the USS Midway."
Growing up in Calumet City, Taylor attended Thornwood High School. Today, Taylor relies upon skills and values similar to those found in Calumet City to succeed in the military.
"My papa always instilled in me that 'people don't plan to fail, they fail to plan,'" said Taylor. "It taught me to always have a plan and a sense of structure. Although things might always go as planned, it's a step in the right direction."
Modern U.S. Navy surface ships provide a wide range of warfighting capabilities in multi-threat air, surface and subsurface environments.
A Navy surface ship is capable of operating independently or as part of carrier strike groups, surface action groups or expeditionary strike groups.
Jobs aboard a U.S. Navy ship are highly specialized, requiring both dedication and skill, according to Navy officials. The jobs range from maintaining engines to handling weaponry along with a multitude of other assignments that keep the ship mission-ready at all times.
As a member of the Navy, Taylor is part of a world-class organization focused on maintaining maritime dominance, strengthening partnerships, increasing competitive warfighting capabilities and sustaining combat-ready forces in support of the National Defense Strategy.
"The Navy contributes to national defense by being present and capable," said Taylor. "Our mission is to ensure freedom of navigation."
Taylor serves in Japan as part of the Forward Deployed Naval Forces. These naval forces operate with allies and partners to preserve a free and open Indo-Pacific region. Service members in this region are part of the U.S. Pacific Fleet, which has the largest area of responsibility in the world.
"As the largest force in our nation's front line against revisionist actors, U.S. Pacific Fleet meets this great responsibility with strength, resolve and confidence," said Adm. Samuel Paparo, U.S. Pacific Fleet Commander. "Together with our joint and combined partner operations, we are positioned to defend - across all domains - any attempts to threaten our nation, our allies and partner's security, freedom and well-being."
Taylor and the sailors they serve with have many opportunities to achieve accomplishments during their military service.
"I'm proud of putting on the rank of petty officer third class and being knowledgeable in my job," said Taylor.
As Taylor and other sailors continue to train and perform missions, they take pride in serving their country in the United States Navy.
"Serving gives me a chance to be a part of something that most people are not part of," said Taylor. "It's serving something bigger than myself and continuing the great Navy traditions."
Taylor is grateful to others for helping make a Navy career possible.
"I would like to thank my uncle Chief Johnson," added Taylor. "Listening to his experience inspired me to join the Navy."
---