BUSINESS PROVIDES CPR, AED AND FIRST AID TRAINING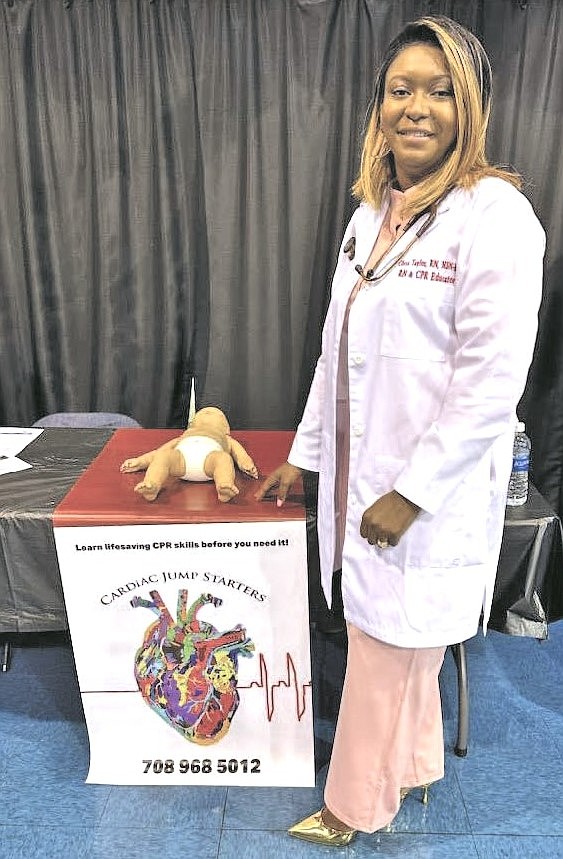 ---
BUSINESS PROVIDES CPR, AED AND FIRST
AID TRAINING

BY TIA CAROL JONES

Christina Bolton Taylor started Cardiac Jump Starters because of her father. He was a nurse and Bolton Taylor followed in his footsteps. She started Cardiac Jump Starters in March 2021, with her father in mind. He passed away in 2018 after a choking incident led to cardiac arrest. Bolton Taylor believes his life could've been spared if her
mother had received training in proper resuscitation procedures.

Bolton Taylor has been a nurse for 24 years. Cardiac Jump
Starters is a mobile business that will bring Cardio Pulmonary Resuscitation (CPR) and First Aid training to people. Throughout her nursing career, Bolton Taylor
has become well-versed in-patient education. With Cardiac
Jump Starters, she tailors her trainings to her audience, taking care to include those diverse learners.

She incorporates lectures and powerpoint, in addition to
the hands-on training. She also incorporates videos and video games to capture all the diverse learners who are taking the training. Bolton Taylor believes having CPR and First Aid training is important. According to the American
Heart Association 350,000 people die each year from cardiac arrest.

"That is a big number allowing for a big opportunity for us to go out and train," she said. The main focus is to start with compressions, which will get the blood circulating. Once the blood is circulating, there is a better chance to revive the person. The chances of survival can double,
or triple, according to how the person responds.

Bolton Taylor said people should also recognize when it is
time to start CPR, as well as calling 911, and continuing those efforts until the medical-trained emergency services arrives on the scene.

In addition to CPR training, Cardiac Jump Starters also provides First Aid training – how to stop bleeding and treat burns, as well as training on how to use the Automated
External Defibrillator (AED) that is available at airports, restaurants and hotels. Cardiac Jump Starters also trains on foreign body airway obstruction – choking – and how to
perform the Heimlich Maneuver on adults, children and infants.

Bolton Taylor gets the word out about Cardiac Jump Starters by going out into the community and leaving flyers and business cards about the business with residents,
at churches, libraries, daycare centers and nursing homes.

Recently, Cardiac Jump Starters participated in a community baby shower event to give a training on
infant CPR and choking. They were able to engage with people and provide demonstrations. The response to the trainings from those who have participated has been positive. Because Bolton Taylor has made sure the
content for the trainings is relatable, simple and understandable, while people are nervous and hesitant at first, they leave with an understanding of how to provide life sustaining emergency situations and they feel comfortable.

Cardiac Jump Starters is available to come out and train people on CPR, AED and First Aid. For more information about Cardiac Jump Starters, call 708-968-5012, email cardiacjumpstarters@gmail.com, or visit www.cardiacjumpstarters.com.
---