Local chapter of national organization strives to inspire girls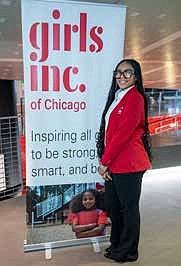 ---
 Local chapter of national organization strives to inspire girls

BY TIA CAROL JONES
Girls Inc. of Chicago was founded in 2017 as the local chapter of Girls Inc, a national organization that was founded in 1865. The mission is to inspire all girls to be strong, smart and bold, which is done through direct advocacy.

Locally, the organization started with 65 girls at Ruggles Elementary School, which is located at 7831 S. Prairie. Now
Girls Inc. of Chicago serves 800 girls across six schools: Ruggles, Clay, Aldridge, Langston Hughes, Arthur A. Libby and
Mildred Lavizzo. At those schools, Girls Inc. of Chicago's programs take place Monday- Thursday.

There also are citywide programs which are available to any girl at any school. Those programs take place during the school day, after school and on the weekends. The aim is to provide exposure that allow the girls to get outside their neighborhoods
to meet with high achieving women. Through the citywide program, Girls Inc of Chicago provides leadership, entrepreneurship and advocacy training.

Yani Mason is the CEO of Girls Inc. of Chicago. What really
shaped her personal, professional and career trajectory was
attending selective enrollment schools. It has provided her with a different set of educational experiences.

"We know in Chicago, your zip code determines your access
to opportunities. So, I've really been driven to do something about that and to provide and to pour into youth," Mason said. A lot of the girls come from working class households and engaging with high achieving women, especially women of color, inspires them he added. It enables those young girls to connect what they're doing in the classroom with their future careers, which expands those girls' horizons and closes the opportunity gap.

Intersectional barriers that can pose challenges to girls who participate in Girls Inc. of Chicago programs include gender, race and socioeconomic status. The programs the organization hosts help the girls overcome those barriers. "We want our young ladies to make healthy choices that are in alignment
with their personal values; thinking about what they personally value and the future they want to have as independent young women," Mason said.

Mason acknowledged the adultification bias that girls of color, especially Black girls, face, which results in them being suspended and expelled at higher rates, not given the same grace or opportunities to be young women and treated
as adults at an early age. Girls Inc. of Chicago provides opportunities for the girls in the program to express themselves, learn how to cope with stress and how to get along with other girls. The hope is the girls in the program are inspired to live up to their full potential, as well as break down gender and racial stereotypes that can be limiting to them.

Recently, Girls Inc. of Chicago hosted its Bold Expressions Fest, in collaboration with Youth Guidance, at Olive-Harvey College. During that event, the young women learned about the
beauty and STEM sciences. Girls Inc. of Chicago also hosts
a summer camp, for girls in kindergarten through eighth grade. The camp runs from June 26th to Aug. 3rd. The camp will feature golf lessons through First Tee and dance lessons
through the Joffrey Ballet.

On Wednesday, May 10th, Girls Inc. of Chicago hosted a Period Packing Party, as part of programming focusing on Menstrual Equity. Nominations for the She Shines Event are still open. For more information about Girls Inc. of Chicago, visit girlsincofchicago.org.
---