Peace, Unity & Love Tour inspires young people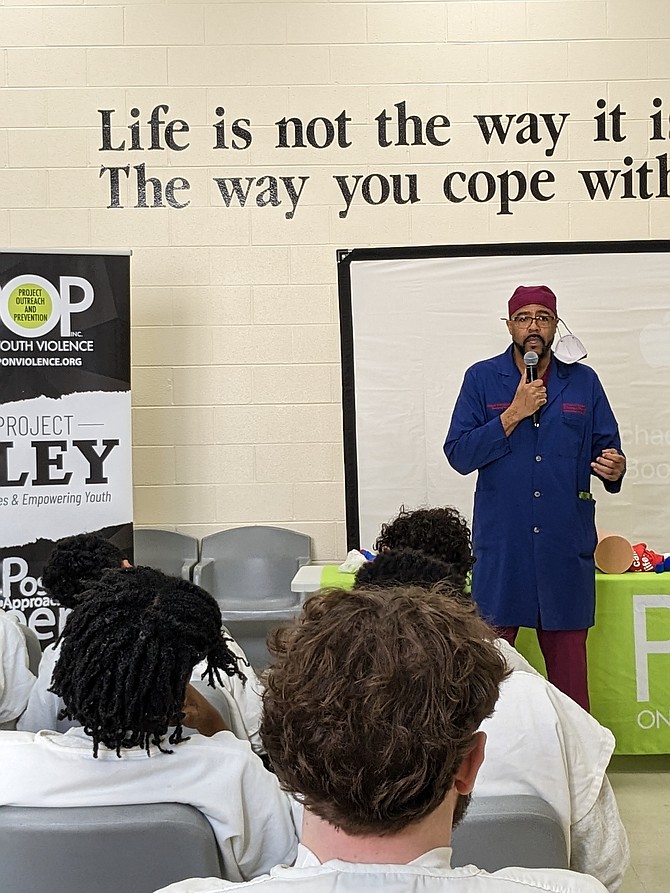 ---
Peace, Unity & Love Tour inspires young people

By Tia Carol Jones

Doctors, crime prevention practitioners and community organizations are coming together to implement strategies to stop gun violence and help those young people who are most at risk. To recognize Youth Violence Prevention Week; Project Outreach & Prevention, along with Positive Approach to Teen Health, Friendly Temple COGIC and the Office of Juvenile Justice and Delinquency, hosted the Peace, Unity & Love Tour.

The first stop on the tour was Englewood STEM High School on Monday. On Tuesday, the tour went to Kennedy-King College. Later in the week, the tour visited Hammond, Lake County Juvenile Detention Center and Alternate Program and Merrillville High School.

This was the second year for the tour, which was the brainchild of Dr. Michael McGee, Emergency Room Physician and CEO of Premier Health Network. McGee also is the founder of Project Outreach & Prevention, which was launched in 2016. McGee had a desire to reduce gun violence.

Glenn Brooks, Director of Community Policing for the Chicago Police Department, spoke about social violence and its impact on the community. Brooks acknowledged that there is a diminishing of the social control, which is a set of standards that influence people's beliefs, actions and movements, and respect for each other.

"When we talk about family and loving on each other, that's what we're talking about, making sure we have those social controls," he said.  It can look like spending time with family, or supporting young people's athletic activities he added.

Brooks said that there is a need for community to lift up others in the community and to invest in them. He encouraged people in the audience to love on the people in their family, on their blocks and in their neighborhoods, and there is enough love to go around.

Michael Watson, also known as Butta the Preacher, talked about his journey to becoming a Pastor and Gospel Recording Artist. He was shot nine times at the age of 21 and at the age of 24, he was called to Preach the Gospel.  "I left the guns, I left the drugs, I left the violence," he said, encouraging the audience to pick up something better. "I just made a choice, and it was the choice that God wanted me to make."

Project Saving Lives & Empowering Youth (SLEY) is a partnership between Project Outreach & Prevention and A Positive Approach to Teen Health. The initiative is meant to serve high schools in Northwest Indiana, and is comprised of Botvin Lifeskills Training and Students Against Violence Everywhere's Promise Program. McGee said the goal of Project SLEY is to create a blueprint for Black and Brown communities to come together and show unity and prevent gun violence. McGee believes Project SLEY will be the best practices for what can be done and replicated in other cities.

One of the initiatives, Stop the Bleed, teaches people how to provide interventions to gun shot and stab wound victims.  "Now, we're making a difference in a positive way, and it's mission oriented," McGee said. For more information about Project Outreach & Prevention, visit poponviolence.org.
---