Strive Health opens Chatham location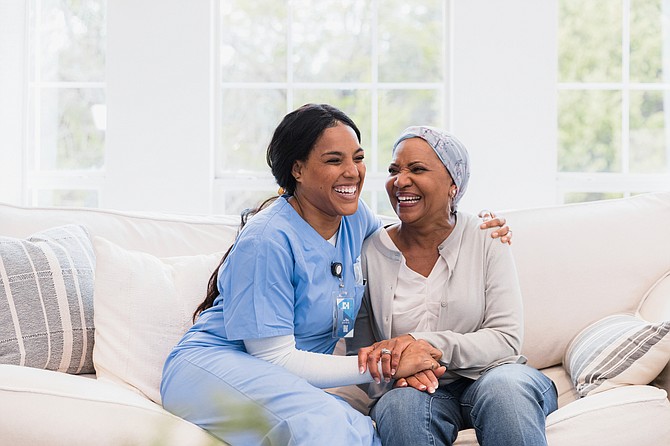 ---
Strive Health opens Chatham location

By Tia Carol Jones

Strive Health recently hosted an event to celebrate the opening of its Chatham/South Chicago location at 8741 S. Greenwood.  Strive Health, which is headquartered in Denver, Colo., has three locations in the Chicagoland area, including Mount Prospect, Lombard and its Chatham/South Chicago location. It bills itself as complete care for people with kidney disease.

"When you think of people with kidney disease, they are often the most complex and underserved patients in the United States. Patients who are on dialysis, going in for dialysis three days a week, often have a high multitude of comorbidities they are dealing with, with other specialists," said Greg Sieman, Strive Health's Vice President of Membership Growth.

Sieman added, Strive Health helps patients with kidney disease by coordinating their care; provide care where they want care, which is often in the home; and provide them additional resources not typical with a medical practice, which means dietitian services and social work. The aim is to provide resources to improve their care, lowering the cost of care and improving their health.

According to Sieman, Strive Health chose the Chatham/South Chicago location, because it goes to "where the disease is." Strive Health strategically chooses locations. The data showed the community was in need of assistance. Strive Health partners with healthcare partners, Nephrology Associates of Northern Illinois (NANI) and through them, they have a good read on patients battling kidney disease.

The care team is comprised of a doctor, registered nurse, social worker, dietitian and primary care provider. While Strive Health has the clinics and location and wants to care for patients in the locations, the majority of the care happens inside the patients' homes. Sieman said that there are some patients who want to be seen at the offices. From the Chatham location, the team goes out a 10-12 mile radius.

He added, the care is available 24/7, because the patients have complex needs. "We want to make sure patients are getting the right care they need and where we're able to help prevent them from having to go to the hospital," he said.

If a patient needs further care, Strive Health will coordinate it. For instance, if a patient doesn't have a nephrologist, according to Sieman, Strive Health would make sure the patient gets referred to one. If a patient is in need of a cardiologist, Strive Health would refer them to one.

"We will make sure we stay in touch with all of the doctors of that patient to make sure care is being coordinated amongst everybody. We like to be the quarterback of their care, whenever and where possible, and making sure specialists are working together moving in the right direction as a team," Sieman said.

Strive Health also has a team of patient navigators who will be in the community, at health fairs and health events. They will set up tables and educate community members. The goal of the patient navigators is to be culturally relevant and getting the word out where patients could be.

For more information about Strive Health, visit strivehealth.com.
---