Postal Service Celebrates Author Toni Morrison on New Forever Stamp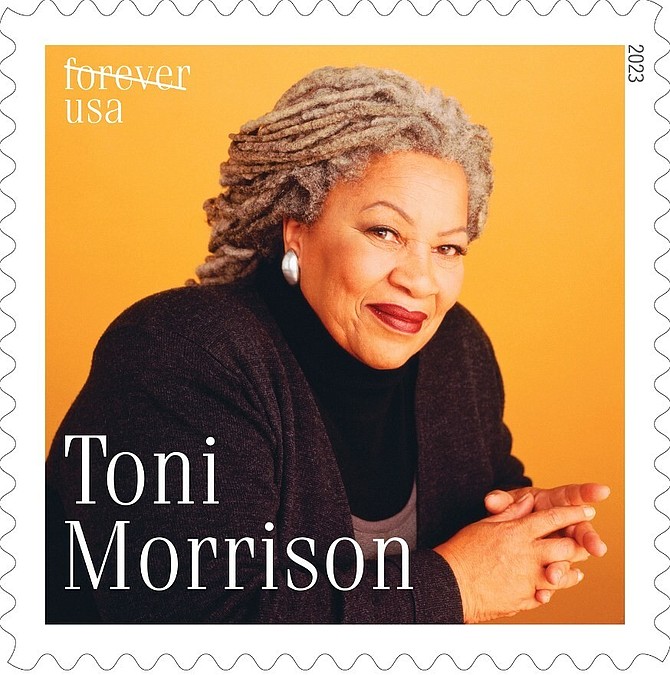 ---
Postal Service Celebrates Author Toni Morrison on New Forever Stamp
PRINCETON, N.J., PRNewswire -- The U.S. Postal Service today celebrated the life and legacy of author Toni Morrison (1931-2019), whose artfully crafted novels explored the diverse voices of African Americans, in a first-day-of-issue ceremony at Princeton University.
"One of the goals of our stamp program is to raise awareness and celebrate the people who represent the very best of our nation," said Pritha Mehra, USPS chief information officer and executive vice president, who served as the dedicating official. "It's a privilege to represent the 650,000 men and women of the Postal Service, as we honor Toni Morrison with one more tribute — our new stamp that will be seen by millions and forever remind us of the power of her words and the ideas she brought to the world."
Joining Mehra for the ceremony were Chris Eisgruber, president of Princeton University; Carla Hayden, 14th Librarian of Congress; Gene Jarrett, faculty dean at Princeton; Ruha Benjamin, professor of African American Studies at Princeton; and photographer Deborah Feingold, whose portrait of Morrison appears on the stamp.
Michael Cadden, university lecturer at Princeton's Lewis Center for the Arts, was master of ceremonies.
"It was a privilege to photograph Ms. Morrison, an amazing author who contributed so much to the world through her works," said Feingold. "However, it is an absolute honor to know that the same photograph capturing a moment in time is now the subject of a Forever stamp. I am delighted that my photograph was used as a source to design the stamp and to participate in today's unveiling and celebration."
A letter of tribute from former President Barack Obama and former first lady Michelle Obama was read and a video tribute from Oprah Winfrey was played during the ceremony.
The stamp features Feingold's photograph of Toni Morrison against a bright yellow background. Ethel Kessler, a USPS art director, designed the stamp.
Toni Morrison was born Chloe Ardelia Wofford on Feb. 18, 1931, in Lorain, OH, where she would later recall growing up in a family filled with storytelling and song. After graduating from high school in 1949, she enrolled at Howard University in Washington, D.C., and began using the name Toni, a reference to Anthony, the saint whose name she took when she was confirmed in the Roman Catholic Church at age 12. After graduating from Howard, she earned a master's degree in English at Cornell University and later taught English at Texas Southern University and at Howard.
Eager to see the previously untold stories of African Americans portrayed in fiction, Morrison published her first novel in 1970 while working full-time as an editor and raising two children. "The Bluest Eye" is an important inquiry into the life of an 11-year-old African American girl grappling with internalized negative racial stereotypes. "The Bluest Eye" is a mainstay of high school and college literature classes and a canonical novel about society's neglect and mistreatment of African American girls.
In 1993, Morrison was awarded the Nobel Prize in Literature, becoming the first African American woman to receive the rare distinction. Her Nobel lecture is remembered for its celebration of the power of language. Three years later, she received the National Book Foundation Medal for Distinguished Contribution to American Letters. Her poignant acceptance speech, "The Dancing Mind," addressed the relationship between writers and readers and the need for both to defend authors' freedom of expression.
Morrison received the National Humanities Medal in 2000 and the Presidential Medal of Freedom from President Barack Obama in 2012. In 2016 she held the Charles Eliot Norton Professorship of Poetry at Harvard University. In 2018, she was awarded the Thomas Jefferson Medal for Distinguished Achievement in the Arts, Social Sciences, or Humanities from the American Philosophical Society.
Although known primarily as a novelist, Morrison wrote in a wide range of genres. She published three collections of lectures and speeches about literature and race — "Playing in the Dark," "The Origin of Others," and "The Source of Self-Regard" — and edited books about political and social issues." She also wrote the lyrics for the opera "Margaret Garner" in collaboration with composer Richard Danielpour. She wrote plays as well, most notably collaborating with stage director Peter Sellars and Malian musician, Rokia Traoré, on "Desdemona," a fresh take on "Othello" staged in Europe and the United States from 2011 to 2015.
Toni Morrison died in New York City on Aug. 5, 2019, at the age of 88.
The Toni Morrison Forever stamp is sold in panes of 20. News of the stamps is being shared with the hashtag #ToniMorrisonStamp.
Customers may purchase stamps and other philatelic products through the Postal Store at usps.com/shopstamps, by calling 844-737-7826, or at Post Office locations nationwide.
---