My Community Plan Foundation hosts Mayoral Forum at DuSable Museum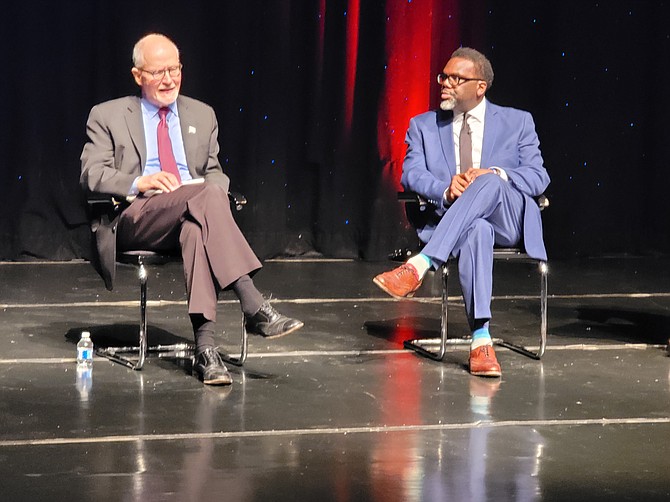 ---
My Community Plan Foundation hosts Mayoral Forum at DuSable Museum
By Tia Carol Jones
The DuSable Black History Museum and Education Center was the site of a forum with Brandon Johnson and Paul Vallas on Thursday, March 9th.

It was the second Mayoral Forum the candidates participated in that week. With the run-off taking place on Tuesday, April 4th, the candidates have been collecting endorsements and getting their agendas out in front of voters. Outside of the event, there were people holding Paul Vallas for Mayor signs.

My Community Plan Foundation has been around since 2017. The Reverend Mitchell L. Ikenna Johnson, JD, is the Chairman and CEO of My Community Plan Foundation. For the first portion of the forum, Attorney Antonio Romanucci, Founding Partner of Romanucci & Blandin, LLC, served as the moderator. Topics included environmental justice, affordable housing and homeownership and young people.

"This is such a historic moment in our city, in our community," said Perri Irmer, President and CEO of the DuSable Black History Museum and Education Center. "This community is the most significant in terms of what happens in our city."
 

In their opening statements, the candidates' both talked about investment. Johnson said that he is running for Mayor to usher in a better, stronger, united city and that it will take everyone in the city to get there. Vallas said there is a leadership crisis in the city, which is why there were so many people running for Mayor. He added long disinvested communities were the result of bad decision on the fifth floor of City Hall.

On the question about the environment, Johnson said environmental justice and climate justice were top of mind. He wants to expand the city's Department of the Environment.  "There are tremendous opportunities for green technology, retrofitting our buildings, making sure that we are attracting businesses here biotech and life sciences, but our education system has to be equally a part of that," Johnson said, adding it was why he participated in the hunger strike to keep Dyett High School open.

Vallas believes the City Council should create an Environment Protection Committee to oversee the Department of Environment. "You have to prioritize environmental justice and that means, just not preventing polluted industries from moving to the South side and West side, we need to get them out altogether," Vallas said.

When it came to affordable housing and homeownership, Vallas believes the city can use Tax Increment Financing for affordable housing. Johnson's budget plan would eliminate the structural deficit that was caused in the 1990s, make up to $1 billion of investments and without raising property taxes. He believes creating a pathway to homeownership can create generational wealth.

On the topic of policing, Johnson brought up his safety plan, which includes doubling the number of young people hired for the summer and year-round. "There is a direct correlation between youth employment and violence reduction … Under my administration, it's not just about loving the city, it's about loving people," Johnson said.

Vallas wants to create paid work study jobs for all high school students in the city. He also wants to open and re-open alternative schools that provide occupational training and have a strategy for returning citizens.

"We have tens of thousands of people who are released from incarceration. We need to get them into paid workstudy jobs, we need to get them housing and we need to remove the obstacles for them re-entering the economy and getting jobs," Vallas said.

Rev. Johnson said it was fitting to have the Mayoral Forum at the DuSable because it is a museum and education center. He added that MCP Foundation believes that elected officials should be elected because of "receipts" of what they have done where they are that warrants them getting another seat.

Because of the multiethnic nature of the City of Chicago, MCP wanted to include people from all ethnic backgrounds and religions. Rabbi Michael Siegel, of Anshe Emet Synagogue; and Halil Demir, Founder and Executive Director of Zakat Foundation of America, were panelists, along with Martin King, Chairman Emeritus of Rainbow Push Coalition, Rev. Phil Jackson, Founder and CEO of Firehouse Community Arts Center, Attorney Lisa Duarte, Partner at Croke, Fairchild & Beres; and Adia Hayden, Associate Consultant at Prophet.

"We thought that this forum has to look like Chicago. All of the questions come from different perspectives in this wonderful city," Rev. Johnson said. "This Mayor of Chicago, in addition to the nuance of running a major Metropolitan city, has to be mindful of the National and Global Impact that Chicago continues to has, and will always have. Not just in our country, but in the world."
---