Architects design homes for infill spaces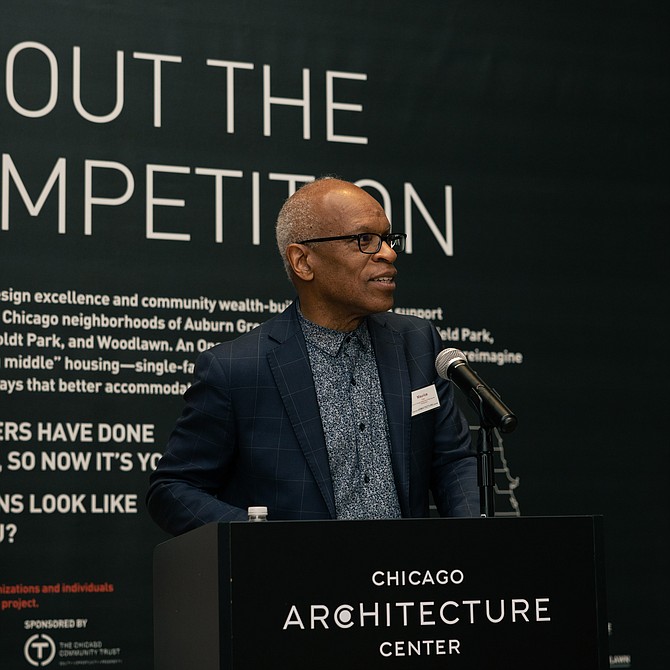 ---
 Architects design homes for infill spaces

By Tia Carol Jones

The Chicago Architecture Center, Department of Planning and Development and Department of Housing tasked architects locally and from across the country with coming up with designs for infill housing for six communities that are part of the INVEST South/West program.

On March 7th , architecture firms showcased their designs for the Come Home initiative and competition, which aims to create a community development model that bring people back to Chicago.

Architecture firms competed with designs for single family, two-or three-flat, rowhouse and six-flat, with affordability, 21st Century lifestyles and construction efficiency being a priority. The six communities for the infill housing include Auburn Gresham, Bronzeville, Woodlawn, Englewood, East Garfield Park and Humboldt Park.

Forty-two teams were invited to present their designs. Local firm, Nia Architects and Yu & Associates Collaborative created a design for two- and three-flats typology. Montreal-based ACDF Architects created a design for rowhouses.

Anthony Akindele, the Managing Partner and Founder of Nia Architects, said the two flat design they created gives each flat owner their own front yard and individual units, instead of the traditional two flat, which stacks families on top of each other.
"If somebody lives above you and they're playing their music so loud, we're trying to reimagine and solve that problem. So, it's more like two single family homes on the lot," Akindele said.

Nia Architects is one of the architecture firms that has been working on designs for Invest South/West. Currently, Nia Architects, is in the construction phase of the project in Auburn Gresham on 79th and Halsted. The $43 million improvement project includes affordable housing with commercial space.

Maxime-Alexis Frappier is a Partner and CEO at ACDF Architecture. ACDF Architecture wanted to participate in the Coming Home competition because Montreal, like Chicago, also has infill issues. Frappier believed in the mission of the competition, which includes stimulating the housing market and solve the infill issues.

"At the end of the day, what we really want to do is projects that are contributive to the people. And, I find this competition was really trying to attack a real problem and find a real solution," Frappier said.

The goal of the design was to lower the cost of the housing. With the title, "50% off," ACDF Architecture's design created two lots, with narrow houses that are 12-feet wide that have an atrium in the middle that brings light in each and every room.

"We wanted all of the attributes that people like in a suburb, to be part of a townhouse. So, you don't have anyone stepping on your head that lives above you. You are totally autonomous, you are contiguous," Frappier said, adding that residents can customize and personalize the design and it would all be prefabricated.

The Department of Planning and Development Commissioner Maurice Cox, came up with the idea for the Search for the Missing Middle Housing type, along with Lynn Osmond, President and CEO Of Choose Chicago. The goal of the search was to figure out how to repopulate the South and West sides with houses on vacant lots. The focus was to keep design and quality of domestic living at the forefront of the anticipated growth.

Cox said the designs were amazing, with their variety and innovation, as well as efficiency.

"These are really new models for how we want to live in the 21st Century. For me, it was about making sure that whatever we do is mindful and sensitive to the context of these neighborhoods, that are built with amazing housing types," Cox said.

The winning designs will go into building phase, with an anticipated construction start of the second half of 2023.

The designs are currently on display in the Drake Family Skyscraper Gallery at the Chicago Architecture Center, located at 111 E. Wacker Drive. For more information about the Coming Home competition, visit https://tinyurl.com/37zjmp26.
---