Deal That Could Increase Minority Media Ownership Hits 'Brick Wall'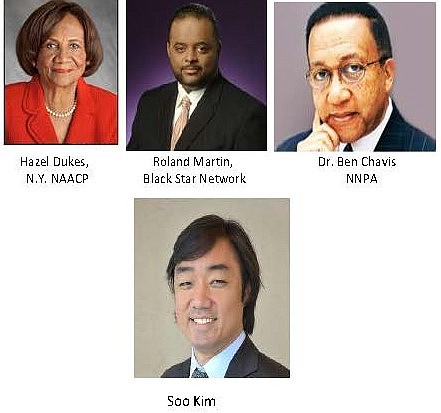 ---
Deal That Could Increase Minority Media Ownership Hits 'Brick Wall' 
FCC accused of bowing to bigoted perceptions 
By Hazel Trice Edney 
A major acquisition that civil rights leaders and advocates for Black-owned media had hoped would increase media ownership, opportunity, and participation by African-Americans and other minorities has apparently "hit a brick wall."
Following months of advocacy and public support for a $5.4 billion acquisition of Tegna by Standard General, the Federal Communications Commission (FCC) has essentially killed the deal by sending it to an administrative judge for a hearing, a process that could mire it down in red tape. Standard General is led by Soo Kim, a Korean American immigrant who moved to Queens, N.Y. when he was just 5 years old. Soo Kim's
vision
for the future of local broadcast news is one where diverse voices are escalated and heard to better represent the communities they serve.
"As part of the FCC's mission, we are responsible for determining whether grant of the applications constituting this transaction serves the public interest. That's why we're asking for closer review to ensure that this transaction does not anti-competitively raise prices or put jobs in local newsrooms at risk," said Chairwoman Jessica Rosenworcel in a Feb. 24 press release announcing the decision. "The additional review will allow us to make a more informed assessment on whether proposed safeguards are sufficient to protect the public interest, and we will take the time needed to address these critical questions."
The FCC's decision will have a chilling effect on minority ownership, as this action aims to kill the deal by delaying it past the May 22 deadline by which it must close.
The NAACP New York State Conference issued a strong rebuke to Rosenworcel's announcement. NY NAACP President Hazel Dukes responded to apparently bigoted perceptions that because of Soo Kim's Asian heritage, he is not the kind of racial minority being sought to increase media ownership.
"I understand that Chairwoman Rosenworcel has bowed to the pressure of those who accuse Soo Kim of not being the "right type of minority," wrote Dukes in an open letter to Rosenworcel and the FCC Commissioners March 1. "I am appalled that we still use this type of incendiary language to define a person of color who attempts to enter a particular 'club' [of which] they are not traditional members."
She concludes that the assignment to an FCC administrative judge was intentional to kill the deal.
"This action was deliberate and malicious and only happened because some deemed Soo Kim is considered not to be the 'right type of minority,'" Dukes writes. "Standard General has not only publicly pledged to invest in local broadcasting and to preserve jobs, but they have also committed to directly impacting our communities to have a voice and to empower community journalism."
The Rev. Al Sharpton, president of the New York-based National Action Network, was also riled by what appeared to have been a decision based on Asian bias. "Who determines who is the 'right minority' and who is the 'wrong minority'?" Sharpton questioned in a Tweet. He added that Soo Kim's Standard General and TEGNA would be "a 300 pct increase of minority owned tv stations."
This disappointing announcement was made by the FCC despite strong support from civil rights leaders and media diversity advocates for the acquisition throughout the year long review process.
The FCC decision follows months of pushing for the transaction. In her letter, Dukes listed a string of her civil rights associates, who publicly supported the acquisition, including Congressional Black Caucus Chairman Steven Horsford, civil rights leaders including the iconic Rev. Jesse Jackson; Rev. Sharpton, Transformative Justice Coalition President Barbara Arnwine, and Dr. Benjamin Chavis, president/CEO of the National Newspaper Publishers Association.
Chavis was among the first to support the acquisition and to explain the benefits of an Asian American taking ownership of TEGNA.
"I know some of you would ask me why I am speaking up and out about other persons of color to own media businesses in America in addition to African American ownership of media businesses. There is, I assert, only one clear answer. If you are, as I am, for equality, equity, and believe in the oneness of all humanity, then we must practice what we preach. This is why I am publicly and forthrightly supporting the efforts and leadership of Soo Kim, founder and managing partner of Standard General. Kim is an effective and outstanding Korean American business leader, and he is on record supporting greater Diversity, Equity and Inclusion (DEI) in our nation's media ownership landscape," Chavis wrote in an op-ed published in NNPA and other newspapers Dec. 2. "The multimedia publishing and communications industry is a trillion-dollar business sector in America. Yet the disparities and inequities of ownership of media industry businesses by persons of color remains glaringly inequitable."
Black Star Network host Roland Martin, an avid supporter of Black Media ownership, announced that the deal has now "hit a brick wall." Interviewing Kim on his You Tube talk show, he asked how it felt to Kim to be assumed "not the right kind of minority?" Kim responded with a quote from former First Lady Michelle Obama, "'When they go low, I go high.'" He said, "It's not a great" feeling. Adding that the Black participation in his network would be huge, Kim shows no sign of giving up.
"This deal has taken a long time. We're in our eleventh month of review here. And so, yes, we have made concessions and basically addressed each of the concerns that have been put up," Kim told Martin on the show. "We've actually gone in and said we're willing to address each of these concerns. What I'd hoped from the very beginning is that we'd be treated like everybody else. I would say that maybe that was too much to hope for. But we're still optimistic that we've put together a series of responses to each of the concerns that we've heard."
Rev. Jackson, as president/CEO of the Rainbow/PUSH Coalition, sent a letter to the Commission in support of the acquisition.
"After meeting with Soo Kim and upon careful and scrupulous review of his record on diversity and inclusion, my team and I wholeheartedly support the purchase of Tegna," Jackson wrote. "Soo Kim, being Korean-American, is sensitive to the plight of racial justice, equity and inclusion…It is my strong belief that Soo Kim would be committed to inclusion which leads to growth in the America of our dreams. He will honor the spirit and the law representing the best in American ideals."
If the deal now fails, the FCC's decision will no doubt call into question its seriousness about increasing ownership by minority media, one of its stated goals. And the civil rights community will once again feel like their voices are not being heard.
"Enhancing media diversity is a primary objective at the FCC, but it has a lot of work to do,"
wrote
Barbara Arnwine in an op-ed published in January. "The FCC just reported that Blacks account for only 3% of majority interests in full-power TV stations with Asian Americans at only 1%. Now it has a chance to really show that it cares about this goal as the Standard General transaction would radically enhance minority media ownership of broadcast channels."
The issue of Black media ownership matters greatly and will continue as a top priority for the civil rights activists. Unrelated to the Standard General/TEGNA acquisition, the Leadership Conference on Civil and Human Rights has, for years, been on top of the issue of diversity in media ownership.
The Leadership Conference concluded in a recent report: "At a time when more people, particularly Black people, are distrustful of the media, diversity in media ownership has become more important than ever for the functioning of our democracy. Diversity in ownership is part of that solution."
---