THREE STELLAR EDUCATION ADVOCATES PRIMED, READY AND FOCUSED FOR STRETCH RUN FOR CONTESTED THORNTON HIGH SCHOOL DISTRICT 205 BOARD RACE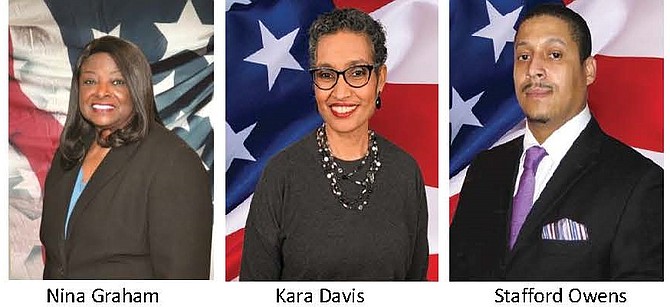 ---
THREE STELLAR EDUCATION ADVOCATES PRIMED, READY AND FOCUSED FOR STRETCH RUN FOR CONTESTED THORNTON HIGH SCHOOL DISTRICT 205 BOARD RACE
NINA GRAHAM, DR. KARA ELLEN DAVIS MD AND STAFFORD OWENS 
ACCESSIBLE, EFFECTIVE, AND PROVEN LEADERSHIP
THE RIGHT TRIO OF LEADERS TO ENHANCE THE OVERALL OPERATIONS THAT WILL USHER THE YOUTH OF THE SOUTHLAND TO GREATER HEIGHTS
(South Holland, IL) Career Educator Nina Graham, Healthcare Advocate Dr. Kara Ellen Davis MD, and Community leader Stafford Owens have coalesced their talents, resources, and successful experiences in their collective run for re-election and election respectively in the April 4th, Thornton Township High School District 205 Board of Trustees race.
'This particular school board race is extremely important to the Southland. So much has been accomplished over the past eight years. As the current Board President, I feel that it's imperative that we keep the positive momentum of the district thriving and progressing. I am honored to have Dr. Davis and Mr. Owens as slate mates. They have a keen sense of the remarkable strides of progress we have made. Their set of experiences and successful ventures will greatly assist and push forward our district." says President Nina Graham.
Nina Graham has served on the Thornton Township High School District 205 board for eight years. She is now a retired educator of 33 years and has devoted her time and energy to ensuring that our local schools are fully resourced, well-staffed and has every opportunity for success for the youth of the region. She has a wealth of experience in governing school boards and budgets. She has been the recipient of the coveted "Who's Who Among America's Educators" award as well as the esteemed Rosa Parks Award for Outstanding Community Service. In addition, President Graham was given the popular Women of Honor Award in conjunction with Women's History Month.
Dr. Kara Ellen Davis MD is one of Cook County's most sought-after medical physicians. She has given much of her free time to the upward mobility of minority communities within the southland and beyond. She has a passion for the healthcare of young people in their effort to have healthy bodies, sound minds and the ability to learn free of mental distress. Dr. Davis practices medicine at the University of Chicago Hospital. She is a publisher of numerous health books and journals. She is married to Bishop Lance Davis and the proud moth of four adult children.
Mr. Stafford Owens is a renown high school athletic coach in the southland. Mr. Owns is also a career educator who is a proud graduate of Thornton High School. He has dedicated his life to the youth of the district in various capacities. He is an exceptional football and basketball coach who led several winning teams in both football and basketball. He served as Thornton Township Trustee where he became a strong advocate for solid fiscal management of the township budget and strong oversight of the overall operations. He is a longtime Thornton Township resident who holds a Master's Degree from Governors State University
 .
The three candidates will appear on the ballot for the April 4th, 2023 Consolidated Election.
---