Mahogany Browne talks 'Chlorine Sky'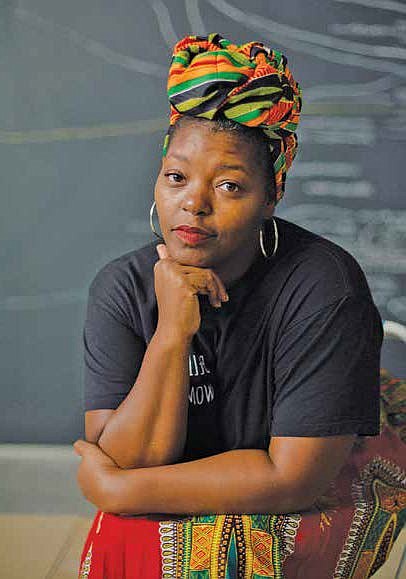 ---
Mahogany Browne talks 'Chlorine Sky'
By Tia Carol Jones

Mahogany Browne is the author of "Chlorine Sky," which is currently running at the Steppenwolf Theatre. Brown was nice enough to take the time to answer some questions about turning her poetry and prose into a stage play for "Chlorine Sky."

Citizen Newspaper: When did you become interested in poetry and writing?

Mahogany Browne: I became interested in writing as a fourth grader. The assignment was to create a book, from start to finish and I was hooked.

CN: What was the first thing you wrote?

Browne: I wrote a short story. But the first time I wrote something intentionally, I was attempting to rock the open mic and not lose my courage. My daughter was a 1-year-old when I first stepped on stage to read poems and now she is 25 and I haven't left since!

CN: Who helped you cultivate your interest?

Browne: I think that happens with community conversations and on the path to liberation. My focus is informed by reading Black writers and collaborating with artists across the disciplines. So, whether I have the opportunity to write for Elena Pinderhughes or Marija Abney, or create beside Jonathan McCrory and Davońe Tines, I believe my greatest work is informed by a collective heartbeat.

CN: Where does your inspiration to write come from?

Browne: My inspiration comes from my mother and grandmother, my daughter and cousin, my nieces and god babies; and you.

CN: What does it feel like to hear other people recite words you wrote?

Browne: It's wild! Like truly. It's invigorating, surprising, and so revolutionary. I'm ready to write another play!

CN: Where did you come up with the idea for Chlorine Sky?

Browne: It began as a writing prompt because I was tired of talking about the same thing. I decided to use my yearbook as a writing prompt and the pictures I found on those pages teleported me back instantly. I looked at a picture of me and some friends in high school. Everyone in the picture looked happy except me and I was rushed back to what it was like to live in such an uncertain body ... the rest became a soundboard for all the things I wish I had the courage to say. Art can do that -- make you feel invincible, or at the very least alive.

CN: What does it feel like to have the play running at Steppenwolf Theater?

Browne: It feels unreal. To have my work sit beside the legends, to become and bloom under the guidance of Ericka Ratcliff is truly a gift that I will never know how to repay the universe. I feel like I've been returned to my kin. And the way the cast and crew took care of this work is a complete blessing.

CN: How would you describe Chlorine Sky?

Browne: I would describe it as a coming-of-age story bound to the belief that laughter, and equality, are transformative healing properties. I would offer that Chlorine Sky is a case study of how self-love is a journey that begins at a young age, and our friendships can morph and evolve until joy is sturdy and set in the bones of our tomorrow. Which is just a poetic way to say it's brilliant and not just because I wrote it -- but because the people who worked on it (from the choreographer to the director to the sound designer to the dramaturge) made a piece of art that will save you if you let it.

CN: What led to the Poet in Residence at Lincoln Center?

Browne: I was offered an opportunity for a three-month stint to curate and produce poetry events and after a highly successful poetic summer, I was offered an opportunity to extend my tenure by 2 years and really think about the ways in which poetry can intersect with abolition, music, lineage, migration, policy, meditation, and the youth. Since arriving, I've had the honor of playing alongside the illustrious NY Philharmonic, hosting the first Jubilee for Jimmy celebration of James Baldwin, and hosting an edition of Woke Baby Book Fair featuring the Drag Story Hour. What led me to Lincoln Center is what keeps me there is "the obvious love and respect for artists."

CN: What's next for you?

Browne: I'm currently working on finishing my third YA novel and touring my new book of poems Chrome Valley, which will premiere at Poetic Orchestral at Lincoln Center in May of 2023. 

"Chlorine Sky" is running at Steppenwolf Theatre, located at 1650 N. Halsted St., until March 11. To purchase tickets, visit Steppenwolf.org.
---