Honda Battle of the Bands Returns to Celebrate HBCU Culture and Marching Band Tradition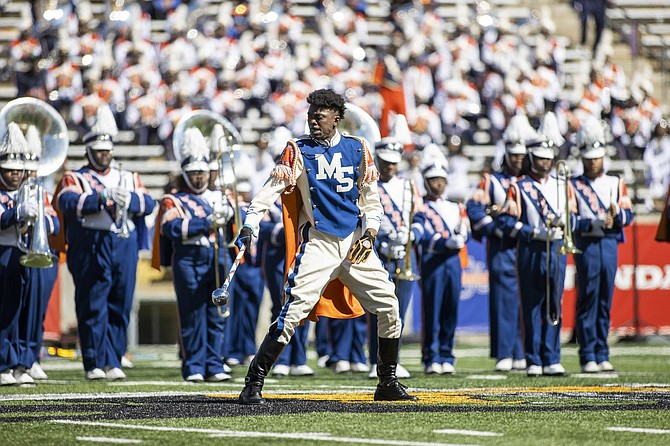 ---
Honda Battle of the Bands Returns to Celebrate HBCU Culture and Marching Band Tradition    
Six Historically Black Colleges and Universities marching bands delivered dynamic performances
Rickey Smiley and Loni Love hosted the event

 
Each participating school received a $50,000 grant from Honda for music education and career development programs
MONTGOMERY, Ala., PRNewswire -- Thousands of fans, students and alumni converged upon Alabama State University (ASU) on Saturday, Feb. 18, to take part in the 18th Honda Battle of the Bands Invitational Showcase (HBOB), the nation's premiere showcase for Historically Black Colleges and Universities (HBCUs) marching bands and dance teams. Marking its return to a live event format for the first time since 2020, HBOB also was held for the first time on an HBCU campus, featuring spectacular performances from six marching bands representing HBCUs.
This year's HBOB theme, "Driving the Legacy," celebrated the distinct culture and heritage of HBCUs, honoring HBCU traditions and the important role these institutions play in providing higher education and opportunities for advancement to the Black community.
ASU alumnus and legendary comedian Rickey Smiley hosted the HBOB live event, while Emmy and two-time NAACP Image Award-winning host, comedian, and Prairie View A&M University alumna Loni Love hosted the HBOB livestream.
The six HBCU marching bands that performed in the 2023 HBOB Invitational Showcase included both first-time and veteran HBOB bands:
Alabama State University, Mighty Marching Hornets – 7th appearance
Langston University, Marching Pride – 4th appearance
Morgan State University, Magnificent Marching Machine – 1st appearance
Savannah State University, Powerhouse of the South – 7th appearance
Texas Southern University, Ocean of Soul – 3rd appearance
Virginia State University, Trojan Explosion – 10th appearance
The Invitational Showcase provided these marching bands with a national platform to display their talent, both live and streamed online. Each of the six bands received an all-expenses-paid trip to the HBOB Invitational Showcase. Building on Honda's longstanding support for HBCUs, each of the six participating universities also received a $50,000 grant from Honda to support their music education and career development programs. Honda also supported nonprofit organizations within the host city of Montgomery through $100,000 in local grants and $20,000 to two nonprofit organizations that partnered with Honda on a new mural installed on the ASU campus.
In addition to the marching band performances at the 2023 Invitational Showcase, HBOB also included an HBCU College Fair hosted by ASU to connect high school students with representatives from ASU, Savannah State University and Virginia State University. The college fair enabled prospective college students to meet with marching band and admissions recruiters to discuss admissions requirements, financial aid, student life and scholarship opportunities. Students who attended the college fair received free admission to the HBOB Invitational Showcase.
For more information on HBOB, visit www.hondabattleofthebands.com. Fans can also check out HBOB highlights from the Invitational Showcase on the official HBOB social media channels:
Facebook – Facebook.com/HondaBattleoftheBands
Instagram – @the_honda / Instagram.com/the_honda
Twitter – @The_Honda / Twitter.com/The_Honda
Honda will continue its support of HBCUs with the upcoming Honda Campus All-Star Challenge (HCASC), America's premiere academic competition for HBCU students. The 2023 HCASC National Championship will be held April 15-19. Visit www.hcasc.com for more details.
---