LISC CHICAGO ANNOUNCES THE WINNERS OF THE 29TH ANNUAL CHICAGO NEIGHBORHOOD DEVELOPMENT AWARDS RECOGNIZING TOP COMMUNITY DEVELOPMENT PROJECTS AND ARCHITECTURE ACHIEVEMENTS
"Communities Lead, Communities Succeed," Featured an Address by Mayor Brandon Johnson and Showcased the Creativity of those Shaping Chicago's Neighborhood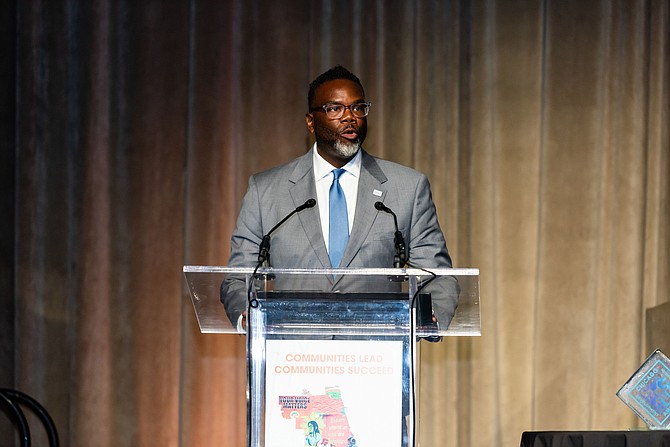 ---
LISC CHICAGO ANNOUNCES THE WINNERS OF THE 29TH ANNUAL CHICAGO NEIGHBORHOOD DEVELOPMENT AWARDS RECOGNIZING TOP COMMUNITY DEVELOPMENT PROJECTS AND ARCHITECTURE ACHIEVEMENTS
"Communities Lead, Communities Succeed," Featured an Address by Mayor Brandon Johnson and Showcased the Creativity of those Shaping Chicago's Neighborhoods
CHICAGO—LISC Chicago announced the winners of the 29th annual Chicago Neighborhood Development Awards (CNDA) on June 22 in Chicago, where top community development projects, architectural achievements and individuals from across the city were honored. The ceremony started with Mayor Brandon Johnson's keynote speech, followed by the awards ceremony where winners accepted their awards alongside a network of supporters. This year's theme, "Communities Lead, Communities Succeed" reflects power that comes when communities across Chicago set their own neighborhood vision and lead on practices and investment to advance their shared goals.
"The CNDAs are centered around lifting up the essential role community, public, and private partnerships have in building communities in Chicago-area neighborhoods," said Meghan Harte, Senior Executive Director of LISC Chicago. "This year's CNDA theme recognizes that 'when communities lead, communities succeed' and if we stop and listen to the members of a community, we quickly realize that they are the experts. They have been dedicated to the work in their own communities for decades and have demonstrated that they're there to stay. That's why supporting local vision and community-led efforts is the best way to build wealth and resiliency in our neighborhoods. The award winners in each category tonight represent the leadership, vision, passion and dedication of so many partners. We are honored to celebrate them."
The 29th Annual CNDA winners include:
The Richard H. Driehaus Foundation Award for Non-Profit Real Estate Development Award: Full Circle Communities for 5150 Northwest Highway Apartments
The For-Profit Real Estate Development Award: E.G. Woode L3C for E.G. Woode Alpha
The Chicago Community Trust Outstanding Community Plan Award: Palenque LSNA for the Here to Stay, Hermosa and Logan Square West Quality-of-Life Plan
The Polk Bros. Foundation Affordable Rental Housing Preservation Award: Preservation of Affordable Housing Inc. for South Chicago Salud Center and Senior Housing
The Blue Cross and Blue Shield of Illinois Healthy Community Award: New Life Centers for Chicagoland for Pan De Vida Fresh Market
The John D. and Catherine T. MacArthur Foundation Creative Places Award: National Museum of Mexican Art for Jardin Malinalli
The Richard H. Driehaus Foundation Award for Architectural Excellence in Community Design:
First Place: MKB Architects for the Auburn Gresham Healthy Lifestyle Hub
Second Place: LBBA for Lucy Gonzalez Parsons Apartments
Third Place: JGMA for Richard J. Daley College's Manufacturing, Technology & Engineering Center
The CIBC Emerging Leadership Award: Felicia Slaton-Young, Executive Director of the Greater Englewood Chamber of Commerce
The Richard H. Driehaus Foundation Community Design Impact Award:
Katherine Darnstadt of Latent Design
Emmanuel Garcia of Wheeler Kearns Architects
Fabiola Yep of Weeler Kearns Architects
The Richard M. Daley Friend of the Neighborhood Award: George Wright, CEO of the Chicago Cook Workforce Partnership
The Chicago Neighborhood Development Awards were established in 1994 to show appreciation and acknowledge community developers and for-profit organizations behind Chicago's communities and outstanding new developments. In its 29th year, CNDA is the largest and most venerated celebration of the creativity and accomplishments that transform neighborhoods across the city.
This year's sponsors include Applegate & Thorne-Thomsen, Associated Bank, Bank of America, Blue Cross and Blue Shield of Illinois, BMO Harris Bank, Brinshore Development, Chicago Architecture Center, Chicago Community Loan Fund, Chicago Community Trust, CIBC, Clayco, Community Investment Corporation, Cubs Charities, Federal Home Loan Bank of Chicago, Fifth Third, Illinois Housing Council, Illinois Housing Development Authority, JPMorgan Chase, LBBA, Miner, Barnhill & Galland, National Equity Fund, North Lawndale Employment Network, Old National Bank, Pierce Family Foundation, PNC Bank, Polk Bros Foundation, Preservation of Affordable Housing, RBC Community Investments, SB Friedman Development Advisors, Self-Help Federal Credit Union, Site Design Group, Southwest Organizing Project, State Farm, STIFEL, Teska Associates, The Community Builders, The Habitat Company, The John D. and Catherine T. MacArthur Foundation, The Michaels Organization, The Pritzker Traubert Foundation, The Richard H. Driehaus Foundation, US Bank, Wight & Company.
Learn more about this year's winners via the program guide at www.lisc-cnda.org.
---