38TH ANNUAL STELLAR AWARDS RETURNS TO LAS VEGAS WITH STELLAR+ FAN EXPERIENCE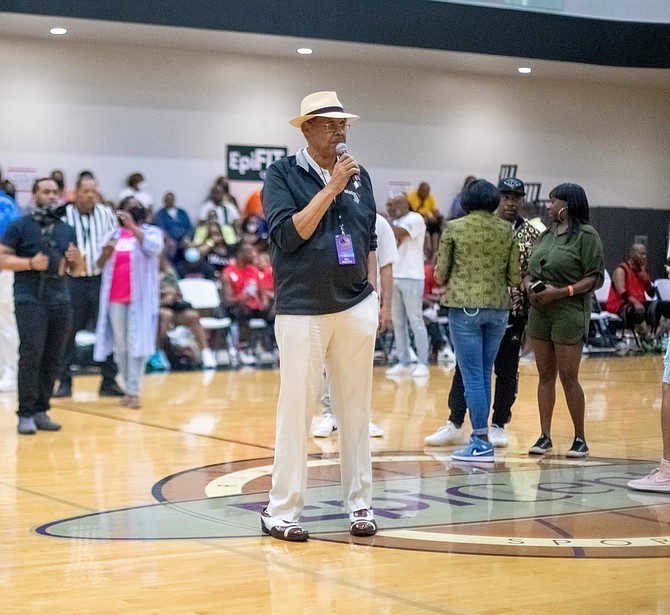 ---
38TH ANNUAL STELLAR AWARDS RETURNS TO LAS VEGAS WITH STELLAR+ FAN EXPERIENCE
LAS VEGAS -- The Stellar Gospel Music Awards, Gospel music's biggest night, is set to return to Las Vegas for its 38th annual celebration. This year, the event is taking its renowned festivities to new heights with the introduction of the ultimate fan experience, the Stellar+ Experience (Stellar+EXP). Co-founders Rhonda Jackson-Sams and Michele Murphy have curated an unparalleled lineup of activities that will showcase the talents, vision, creativity, and innovation of the Gospel music industry.
The Stellar+EXP provides attendees and participants with a completely personalized experience, featuring concerts, discussions, master classes, and much more. As a multi-generational family weekend event, the addition of Stellar+EXP will heighten the festivities and create a unique atmosphere of faith, fellowship, music and fun. Now, fans can enjoy three full days of brand new interactive activities, offering engagement opportunities with their favorite artists, and immersion into the world of Gospel music.
The Stellar+ Experience events will take place at the Palms Hotel in Las Vegas, Nevada, from Wednesday to Friday,  July 12-14. Limited edition passes are now available for purchase, ranging from $60 to $250, at www.eventbrite.com. For the full event schedule and more information, visit stellarplusexperience.com.
"We're ecstatic to present Stellar+ Experience week, an incredible extension of the Stellar Gospel Music Awards. Through valuable input from our viewers and industry peers, we've curated diverse experiences that embrace community, fashion, comedy, and societal matters," said Stellar Awards Founder and Executive Producer Don Jackson. "This expansion, alongside our historic flagship show, amplifies gospel music's influence, culminating in two phenomenal pre-show days. Prepare for an inspiring showcase of talent, uniting gospel music with all facets of entertainment in the vibrant city of Las Vegas."
The new Stellar+EXP includes several exciting events designed to entertain and inspire. Stellar and the Community, an event partnership with the City of Las Vegas focused on the Arts, will promote the importance of art and its impact on communities. The Spotify Artist Experience will bring music industry experts to share valuable information with aspiring artists. Stellar Talks will feature intimate conversations with high-profile couples, fostering discussions on love, life, and faith. Additionally, Fireside Chats with special celebrity guests, Stellar Unplugged, Who's Got Next? Showcase, and the Celebrity Basketball Game will provide thrilling entertainment throughout the weekend. The Legendary Game Changers Lunch, hosted by celebrity fashion influencers J. Bolin and Joyce Sheffield, will recognize trail blazers in fashion and beauty. Sanctioned events that are familiar to Stellar attendees will still be offered, such as Aaron Arrington's Midnight Gospel Bowling and various Post-Event receptions. Full schedule of sanctioned events is available at www.thestellarawards.com.
Confirmed artists for the Stellar+EXP include Mali Music, Brian Courtney Wilson, Jokia Williams, Jason Clayborn, Titus Showers, Jabari Johnson, Jermaine Dolly, and many more. Each day will bring new announcements, adding to the excitement and anticipation of the event.
Co-Founder Rhonda Jackson-Sams expressed her enthusiasm, stating, "Akin to Gospel music, Stellar & Central City Production's goal is to ensure that people feel encouraged and elevated while also educating our community. We are so excited to bring this special experience to all the loyal fans who have been coming to see their favorite artists at the Stellars for 38 years, as well as those learning about Stellars for the first time."
Stay tuned for future announcements and follow @thestellar+exp on Instagram and Facebook for the latest news and updates about the Stellar+EXP week.
The Stellar+EXP merges art, innovation, and music while spreading awareness about pressing issues in today's society. With over 15,000 participants every year, the Stellar Awards continue to attract a diverse audience. The Stellar+EXP offers additional activities and experiences for guests during their time at the Stellar Awards. For the full event schedule, visit stellarplusexperience.com.          
The Stellar Awards is the first and only Gospel Music Awards show in the country, honoring Gospel Music artists, writers, and industry professionals for their contributions to the Gospel Music Industry. The Stellar Awards ranks high in status as the only Gospel Music television awards program syndicated in over 140 markets nationwide. For more information, please visit www.thestellarawards.com.       
Central City Productions, Inc. is Chicago's premier TV Production Company. With 46 years of successful and innovative television production and marketing experience, Central City Productions (CCP) is a leader in minority-targeted television. CCP is a full-service television production company that produces, syndicates, and manages advertising sales for all of its programs.
---