Celebrating the musician in everyone, Make Music Chicago presents its thirteenth year of public musicmaking in the Windy City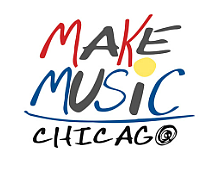 ---
Celebrating the musician in everyone, Make Music Chicago presents its thirteenth year of public musicmaking in the Windy City
Free, day-long, citywide festival is part of Classical Music Chicago, celebrated innovator and presenter of acclaimed, free to the public, concert series 
Chicago, IL – Classical Music Chicago spreads the beauty of music in multiple series, including the one-day fete of the musician within us all. Begun in summer 2011, Make Music Chicago is a citywide DIY music festival that invites and draws together people throughout the community in a celebration of music making, no holds barred. Age, ability, professional or amateur, preferred musical style or genre are not of import - all that matters is a love for music and musicmaking.
Open to everyone who wants to take part, all are invited to take to the streets, parks, plazas, porches - even one's own backyard 0 to share music with family, friends, neighbors and passersby. Additionally, music lovers can attend free performances, play-alongs, sing-alongs, kids' events, introductory music lessons and more.
Planned performance locations include: Jay Pritzker Pavilion; Bucktown Wicker Park Library; Touhy Park; Calvin House; Uptown Branch Chicago Public Library; Depaul Community Music Division, Allen Hall (Lincoln Park); Little Village Library; The Newberry Library Presents at Washington Square Park; Fourth Presbyterian Church; O'Briens Riverwalk Cafe; Seventeenth Church of Christ Scientist, Chicago; Harold Washington Library Center, (and many other Chicago Public Library branches); and The Spoke & Bird. For a complete list of locations, listing of performers and activities, and rain accommodations, check
herehttps://www.makemusicday.org/chicago/listings
.
Continuing what have become annual traditions,
Pianos in the Parks
, the
Windows Serenades
, and
 Sousapalooza
will also continue. Visit the website for more details on these the Make Music Chicago events.
Pianos in the Park
s - six pianos will be placed in parks across the city on June 21st - available for anyone to play until August 1st. Those who have never played before, but want to try it out, can stop by for a
free introductory lesson
during one of the scheduled times. Those with some experience can feel free to sit down and play any time during each park's opening hours.
 Window Serenades
share the joy of live music with isolated elderly people, bringing solo musicians or small groups to play outside nursing home windows for those who request a song. Sousapalooza brings together hundreds of brass, wind and percussion players to come together and sightread the music of the March King, John Philip Sousa.
​Based on the French
Fête de la Musique
founded in 1982 and one of France's most important national holidays, Make Music Chicago was first presented in 2011. Chicago joins 800 cities in 120 countries across the globe, making the Fête de la Musique the world's largest single day music festival. Make Music Chicago is also a member of the
Make Music Alliance
, connecting Chicago with over 60 other U.S. cities in celebrating this day of music.
Classical Music Chicago
Presents
Make Music Chicago
ALL DAY June 21, 2023
throughout Chicago
​​​​​
---