SCIENTIFIC INSTRUMENTS THAT LOOK AT CLIMATE CHANGE LAUNCHES AT CHICAGO STATE UNIVERSITY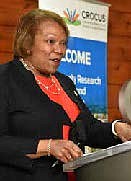 ---
SCIENTIFIC INSTRUMENTS THAT LOOK AT CLIMATE CHANGE
LAUNCHES AT CHICAGO STATE UNIVERSITY
By Tia Carol Jones
An experiment that looks at climate change has launched at Chicago State University. Community Research on Climate and Urban Science (CROCUS) scientists from the Department of Energy's Argonne National Library and Chicago State University deployed the
instruments on Tuesday, July 18th.
The goal of CROCUS is to understand how climate change will affect urban communities. It is a five-year project and will be
carried out by a team of 17 organizations. Instrumentation has been placed at two ground locations, Prairie and Field, and on a rooftop. The instrumentation deployed at Chicago State University is the second set. The first set was deployed at Northeastern Illinois University in May.
Blacks in Green, Greater Chatham Initiative, Puerto Rican Agenda and the Metropolitan Mayors Caucus are CROCUS community organizations. Dr. Tekleab Gala is a professor of Geomatics at Chicago State University. Gala joined CROCUS because one of his students, Sophia Vela, was working on a thesis dealing with flooding.
Vela's current thesis research focuses on flood inundation models. Vela, a graduate student at Chicago State University and Geography Society President, is from the East Side and knows people who are
impacted by flooding. "Just as everyone has suspected, the South Side and the Southeast Side are largely left out of the communication, and are areas that are lacking in defenses to protect against such measures," she said.
It is Vela's hope that with CROCUS, future students will build on top of thesis research and will allow for hands-on job training for students, especially those who have been left out of the scientific field.
Trinity Thomas, an undergraduate biology pre-med major at Chicago State University, is also part of CROCUS. She talked about how CROCUS is especially relevant because of the air quality issues due to the wildfires in Canada, record breaking hot summer weather, and uncharacteristic rainy weather.
"Programs like CROCUS, environmental and urban science initiatives like this are so crucial and really for the good of all. I'm very grateful for the research and learning experience that comes
with being part of CROCUS," Thomas said, adding that she was interested in seeing what data comes from the instruments.
Scientist Scott Collis is in the Geospatial Computing, Innovations, and Sensing (GCIS) department at Argonne. Collis, who leads measurements for CROCUS, said the experiment will help scientists understand the role and impacts of climate change has and the inequitable impacts climate change has across the city of Chicago. Collis said Chatham doesn't get anymore rain than suburbs or the rest of the city. He said rains and storms is weather and flooding is an impact.
"We're going to look at the individual microclimates and see what's happening inside that pixel. We need to get that underlying
physics and science right, so we know what's going to happen," he said. Collis added, the aim is that with the data received, to see how
different the outcomes will be for Chicago and
how to make them less different going.
"The recent historic precipitation events are just one more reminder of how the climate is going to climate change are to day-to-day health and wellbeing. Through CROCUS, we have an opportunity to work together and conduct research that will assess and address local climate problems in an equitable and relevant way," Cristina
Negri, director of Argonne's Environmental Science Division and the lead investigator on the CROCUS project, said in a release.
For more information on CROCUS, visit crocus-urban.
org.
---