WRESTLING PROGRAM EMPOWERS YOUNG PEOPLE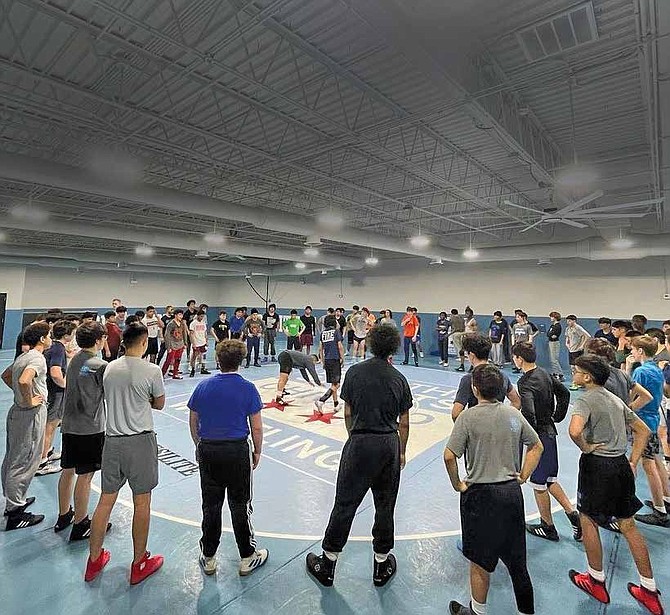 ---
WRESTLING PROGRAM EMPOWERS YOUNG PEOPLE

BY TIA CAROL JONES

Inside a facility with the words Grit, Integrity, Accountability and Gratitude written on the walls, children and young people ages 9 and older are going through wrestling drills. In another room, a smaller group of young people are grappling.

The young people are participants in the wrestling
program, Beat the Streets Chicago, which started in 1994, with a mission to empower youth through wrestling. It serves young people between the ages of 4 and 23. In 2018, Mile Powell became
the Executive Director.

Beat the Streets is the largest wrestling club in Chicago. Currently, there are 3,000 wrestlers who
participate in the program, which includes mentoring and tutoring, as well as workshops.

"We help the kids with their classes, we help them find colleges, we help them get into trade schools, we serve them to help them find whatever path they want in life and give them a safe place to explore what they want to achieve," said Justin Hames, marketing and media coordinator for
Beat the Streets Chicago. During the summer, Beat the Streets Chicago has summer enrichment camp where young people take classes.

Demetria Griffin has been participating in Beat the
Streets' program for a couple of months. The 13-year- old came to watch her cousins wrestle when a coach suggested she try out wrestling. As a girl wrestler, Griffin said sometimes it's difficult wrestling with the boys, but she likes being a girl
wrestler. She's being learning different techniques. Her favorite move is the double leg. While she didn't win her first dual, she did learn what to do differently to improve her outcome in future duals.

Axel Rodriguez, 12, has been participating with Beat the Streets Chicago for about two or three years. He has been
around wrestling his entire life. His father and uncle also
wrestled.

"I've known Boyd for a few years of my wrestling career and he's an amazing coach. I just love being a part of this club, because I've been to a few clubs, but in this club, I get treated like family and I get treated with respect," he said.

Rodriguez has been able to put his energy into wrestling. Once he stepped foot on the mat, he knew wrestling was something he wanted to do for
the rest of his life. He said wrestling has changed his life and will always be part of his life. He recommends other young people who want to start wrestling to try it out.

"It's mentally tough and I know a lot of the lessons I'm learning here, I'm going to take with me for the rest of my life," he said, adding his favorite move is the collar steal, where the person is in a collar tie and the person throws their arm around and ends up on top of their opponent.

John Datu, 18, wanted to join Beat the Streets Chicago because he wanted to improve in wrestling. He has been with the program for
a year and a half. Participating in the program also has made him improve as a person, building the circle around him and building his confidence. It was suggested that he get into wrestling as a high school freshman while he was on his high school's football team.

"The most important part for me is the determination, the grit and overall being committed to something you didn't like at first and eventually, four years later, I'm still wrestling," he said.

Datu will be attending Elmhurst College in the Fall to study Kinesiology. He said the earlier young people join Beat the Streets Chicago, the better their wrestling career will be. He has learned a lot of new tricks and said participating in the program can get young people away from things they don't
want to regret in the future.

For more information about the Beat the Streets Chicago,visit www.btschicago.org.
---