Breakroom Englewood opens to the community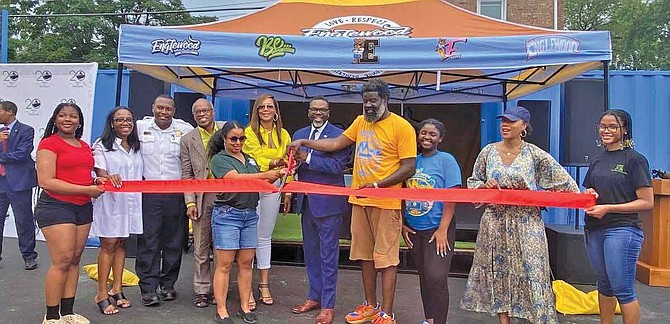 ---
Breakroom Englewood opens to the community
By Tia Carol Jones
Corie Luckett, owner and operator of Englewood Branded, had an idea for a development project that would transform a vacant lot into something that would benefit the community. Luckett and Englewood Branded had been hosting community activations at the corner of 63rd and Justine for the last few years. In late June, the site opened as Englewood Breakroom Public Outdoor Plaza (POP!).

Englewood Branded was founded in 2017, with a mission to engage community stakeholders and the youth through fashion by creating a neighborhood centric design range. Its four principles include love, respect, honor and dedication. Englewood Branded uses the funds from its sales to provide mentoring and other opportunities for young people.

"We promote and provide entrepreneurship, mentorship, and tangible opportunities for youth. We are responsible for our community, one that they say is the most underserved community in the Chicagoland area. Providing the community with an array of supportive services encourages them to face life's inevitable challenges with confidence, integrity, and inspiration," Luckett said in a release.  

The Englewood Public Outdoor Plaza is part of the Department of Planning and Development POP! Program, which was meant to catalyze retail corridors and create safe and thriving communities by revitalizing underutilized land. Englewood Branded partnered with Teamwork Englewood to write the proposal for the Englewood Breakroom Public Outdoor Plaza. Teamwork Englewood wanted to uplift the work Englewood Branded had been doing at the site for years.

Teamwork Englewood served as a fiscal sponsor for the project. The organization worked collaboratively with Englewood Branded and partners in the Johnson Economic Development Working Group for the Englewood Quality of Life plan. The Englewood Arts Collective served as the arts consultant for the project and they helped with the design.

The 22,000-square foot space includes five shipping containers. Two of the containers will serve as retail spaces. One retail space will be dedicated to Englewood Branded, which sells apparel. The other two spaces are available for rent to local entrepreneurs. Another shipping container will be used as a stage for events and live entertainment. One container will be used as a concession stand and the other will be for storage.

"It helps to make events a little more organized and definitely give us the space to build out beautiful events," said Cecile De Mello, executive director of Teamwork Englewood. De Mello said Englewood Breakroom is an important development because of its location, along 63rd Street, which is a corridor where community stakeholders have been working to revitalize through community-driven development. Other developments in the area include E.G. Woode and Go Green Fresh Market, a pet supply store and Alderwoman Stephanie Coleman's office.

"With all of the recent grand openings and new spaces, this is just helping to build up this corridor as a potential thriving corridor for businesses and community building efforts," De Mello said. Teamwork Englewood wants to continue to partner with other community organizations to build capacity and increase the collective impact in Greater Englewood. The hope is that with the opening of Englewood Breakroom, more support for public safety resources will become available.

"We do this work because if we wait for government agencies to come and save us, we'll be waiting for a long time. So, we know it's important for partnership and collaboration to get things done in Greater Englewood," De Mello said. For more information about Englewood Branded, visit englewoodbranded.com. For more information about Teamwork Englewood, visit teamworkenglewood.org.
---