John Legend Announces Loved01 - Affordable Skincare for Melanin-Rich Skin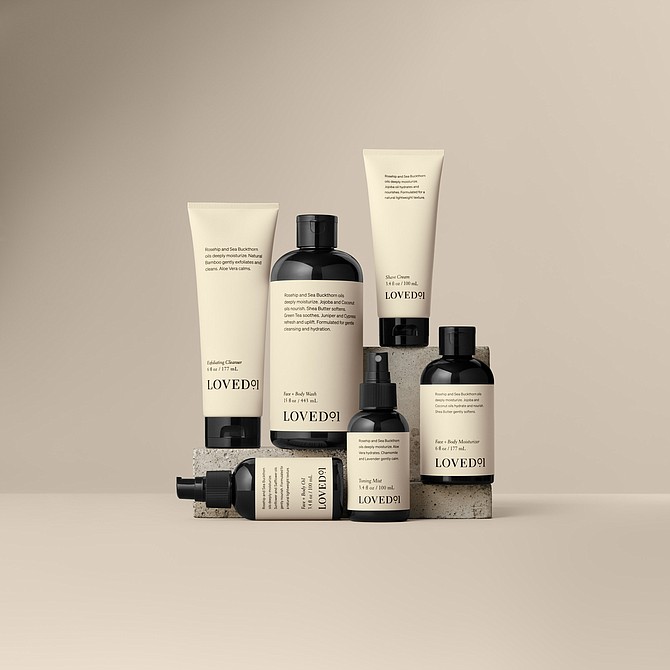 ---
John Legend Announces Loved01 - Affordable Skincare for Melanin-Rich Skin
Dermatologist-approved line of face and body products formulated for melanin-rich skin available at mass retail.
LOS ANGELES, PRNewswire -- Award-winning singer-songwriter, entrepreneur and activist John Legend announces the launch of Loved01, a unisex skincare brand formulated in partnership with dermatologist Dr. Naana Boakye to treat the needs of melanin-rich skin. With accessibility at its core, the brand's mission is to democratize skincare with affordably-priced products available at mass retail.
"Our mission is to celebrate melanin-rich skin and provide the love, care, and attention it deserves," says Loved01 founder John Legend. "We hope to help democratize the beauty space by offering high-quality products at an accessible price point. Everyone deserves to be seen, represented and provided with the tools to love themselves, starting with healthy skin."
At launch, Loved01 introduces six dermatologist-approved products to offer effective and nurturing skin-care for complexions of color, while addressing issues universal to all skin-types. The formulations are specifically balanced to moisturize, nourish, and uplift melanin-rich skin with natural ingredients that have a history in communities of color including Shea Butter, Jojoba and Coconut Oils and enhanced with the antioxidant properties of Rosehip Oil and Sea Buckthorn Oil. The line includes a Face + Body Wash, an Exfoliating Cleanser, a Shave Cream, a Toning Mist, a Face + Body Moisturizer, and a Face + Body Oil.
Founder of Loved01, John Legend, is dedicated to increasing inclusivity and representation in the skincare industry, and has teamed up with Dr. Boakye to help ensure formulations are of the highest efficacy and standard. Loved01 has worked to ensure all products are reviewed in-depth, bringing forth only the best ingredients and solutions for melanin-rich skin needs coming from a diverse and passionate group.
Legend worked with A-Frame, a Los Angeles based holding company that develops talent-led sustainable personal care brands built for underserved communities, to make the Loved01 brand a reality. "John's passion for highlighting a missing gap in the skin care space brought us together to make it possible for all to enjoy effective skincare solutions," says President of Loved01, Kia Lowe. "We're grateful to our loyal retail partners who have been so supportive and excited to help us reach our mission of making Loved01 accessible to all."
Loved01 ensures skincare with effective ingredients for melanin-rich skin is financially accessible so that everyone has a chance to properly maintain the health and beauty of their own skin. Products will range in price between $10 - $15 and be available starting February 1st, 2023 on Loved01.com and at CVS Pharmacy locations nationwide and on CVS.com and launch in select Walmart stores and on Walmart.com in March 2023. For more information, visit loved01.com and follow @Loved01Skin on social.
Founded by John Legend in February 2023, Loved01 is a personal care brand on a mission to democratize skincare by providing elevated, unisex skin and body products for melanin-rich skin, at an affordable price point. Featuring a line of 6 products at launch, Loved01 offers targeted skin-care solutions made of thoughtful ingredients for melanin-rich skin to deliver truly effective results. Loved01's dermatologist-approved products nourish, moisturize and gently rebalance the skin's pH levels, leaving users feeling clean, vibrant and beautiful. Rooted in accessibility and simplicity, the brand's initial collection will be priced from $10-$15 USD. Loved01 will be available starting February 1, 2023 through Loved01.com and at CVS Pharmacy locations nationwide and at CVS.com and launch in select Walmart stores and on Walmart.com in March 2023.
John Legend is an award-winning singer-songwriter, entrepreneur and founder of personal care brand Loved01. Beyond his impressive music career, Legend is an avid advocate for equal opportunity for all people. Legend works to amplify minorities' voices and representation in spaces they may not be otherwise represented, including the entertainment, beauty and personal care industries. Targeting unmet needs in the skincare industry, Legend became an early investor in Tristan Walker's brand BEVEL, the first and only head-to-toe grooming brand for Black men. Continuing his work to amplify minority voices, Legend composed the score for Simone Biles' SK-II skincare episode of the brand's animated 'VS Series' highlighting Olympic athletes' real-life challenges and animosity they face due to societal beauty standards and social media. Legend also continues to raise awareness and improve accessibility for the BIPOC community through his efforts as the founder of HUMANLEVEL, an initiative to uplift communities disproportionately impacted by institutionalized racism.
A-Frame is a Los Angeles based holding company that develops talent led, personal care and wellness brands created to solve everyday problems for those that need it most. At A-Frame, authentic representation and care is fully embodied by a team that genuinely reflects, at all levels, the communities being served.
---