In nod to MLK Day, Advocate Health Care supports community groups at Bulls game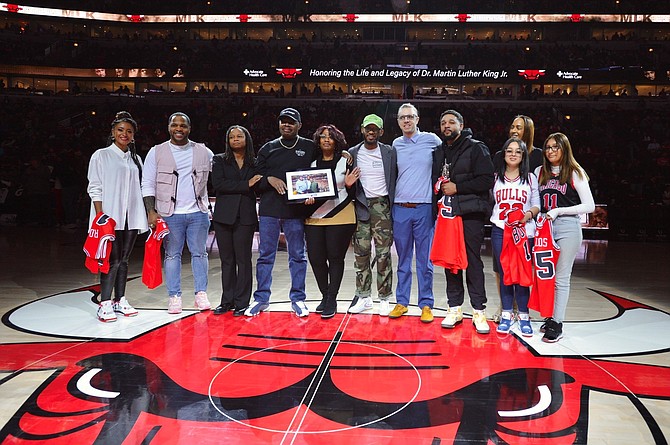 ---
In nod to MLK Day, Advocate Health Care supports community groups at Bulls game
The health system distributes $30,000 to four Chicago organizations working on a modern civil rights issue: eliminating racial health disparities
CHICAGO – 
In support of the Chicago Bulls' MLK Legacy Honoree program, Advocate Health Care distributed grants totaling $30,000 to four Chicago organizations making a difference in health equity at the Bulls' MLK Game today vs. the Golden State Warriors.
Dr. Michelle Blakely, president of Advocate South Suburban Hospital and Advocate Trinity Hospital, presented checks during halftime festivities at the United Center. The recipients represent the third class of Bulls' MLK Legacy Honorees – a program developed to recognize civic leaders in Chicago in honor of the life and legacy of Dr. Martin Luther King Jr. Each honoree was selected for their civic engagement and commitment to health and wellness, social justice and education.
The Bulls' 2022-23 Honorees include
Dion's Chicago Dream
, an Englewood nonprofit working to combat food insecurity;
The Healing CHI
, a group offering regular yoga sessions and community to men of color; and
The Gray Matter Experience
, a Chicago-based program providing entrepreneurial experience and Black mentorship to high school students across the country.
"As a South Side native myself, I know firsthand how much impact these organizations have on the community," said Blakely. "It's our privilege at Advocate Health Care to celebrate these honorees and the critical work they do to build healthier communities throughout Chicago," she said.
Advocate Health Care team members were also recognized during the game. Eight individuals chosen for their commitment to diversity, equity and inclusion received the ultimate fan experience, beginning with a pre-game brunch hosted by Bulls General Manager Marc Eversley. Eversley, who made history in 2020 when he became the team's first Black GM, shared his own story and led a Q&A before the group made its way courtside to high-five players before tip-off.
"Every human being, regardless of race, age, or socioeconomic status, deserves the opportunity to live their best life. That is not possible if they are challenged by health complications," said Blakely. "We are committed to furthering Dr. King's legacy by making our communities healthier and more equitable."
---