LYNWOOD BOASTS ABOUT ECONOMIC DEVELOPMENT PROJECTS FOR 2023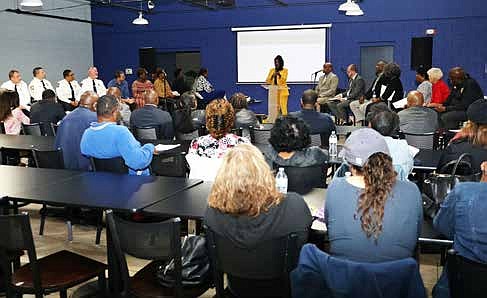 ---
LYNWOOD BOASTS ABOUT ECONOMIC DEVELOPMENT
PROJECTS FOR 2023

BY TIA CAROL JONES

The Village of Lynwood, President Jada Curry was elected
to office in 2021. Curry's primary focus for the Village for 2023 is economic development. There are new businesses that are
scheduled to break ground and are in different phases.

The proposed Dunkin' Donuts is awaiting a groundbreaking, which the Village anticipates will take place within the First Quarter of this year.

In September 2022, Family Christian Center held a groundbreaking for its Equestrian University , in Lynwood. It will be located at Burnham Avenue and Glenwood Dyer Road. "You will now have a venue that hosts International Equestrian events. It will also serve as an event space, and it will be anchored by some retail on the front end," Curry said, adding that the final plans have been approved and the project is
in the permit process. A Vegan Restaurant is coming to Lynwood. While it does not have a name, it will be located at 19801 Torrence Avenue.

During her time as Village President, Curry has learned to bring in subject matter experts to assist with topics that are not within her area of expertise.

The Village has engaged The Retail Coach to assist in bringing retail opportunities that will be a good fit for Lynwood.

"We love the way they use data on existing relationships to make sure they are approaching the right retailers for the municipalities they are working on," Curry said. Curry believes working with The Retail Coach will bring about a significant boom to the Village of Lynwood.

When it comes to crime in the Village of Lynwood, Curry highlighted there is not a lot of crime in the Village. Something that has been helpful is the purchase of Flock Safety Cameras. The cameras provide searchable videos and can be used for communities and law enforcement. According to Flock Safety's website, municipalities that use the cameras have reported a
reduction in crime. Lynwood is planning to purchase more because they have been helpful in solving crimes.

There are 22 Lynwood Police Officers currently on the force. Four new ser geants have been promoted.

A new officer is set to be brought on to the force Jan. 24th . A Lynwood resident is being sent to the Police Academy in April. "It will be nice to bring this young lady into the fold," Curry said.
There is a heavy focus on making sure the Lynwood Police Department is sensitive to the needs of the community. Curry said the Director of Community Policing has done an amazing job with engaging with seniors, young people and working adults in the community. The Village of Lynwood has a Ring network, in which residents give law enforcement authorization
to access their Ring cameras.

Curry wants to ensure every staff member is trained and cross-trained and has exposure and access to trainings outside the Village. "I believe any information we can get and bring back into the Village of Lynwood to make us better will do just that, make us better," she said.

Lynwood also is bringing back their community events for the Summer 2023. Curry wants them to be bigger and better because she has heard from residents that they enjoy attending the events.

The Village of Lynwood is currently working on the budget, which is due in April. The Village is focused on debt reduction. Curry said the Village has done a nice job of paying down the debt it inherited.

There is more work to do, the Village is looking at ways to be efficient with its overhead to ensure it can continue to focus on paying of f the debt. "These new businesses coming into the Village will obviously generate more revenue, which will help us," Curry said.

For more information about the Village of Lynwood,
visit www.lynwoodil.us.
---