David's Bridal Announces Brand Partnership with Kristine Thompson of Trendy Curvy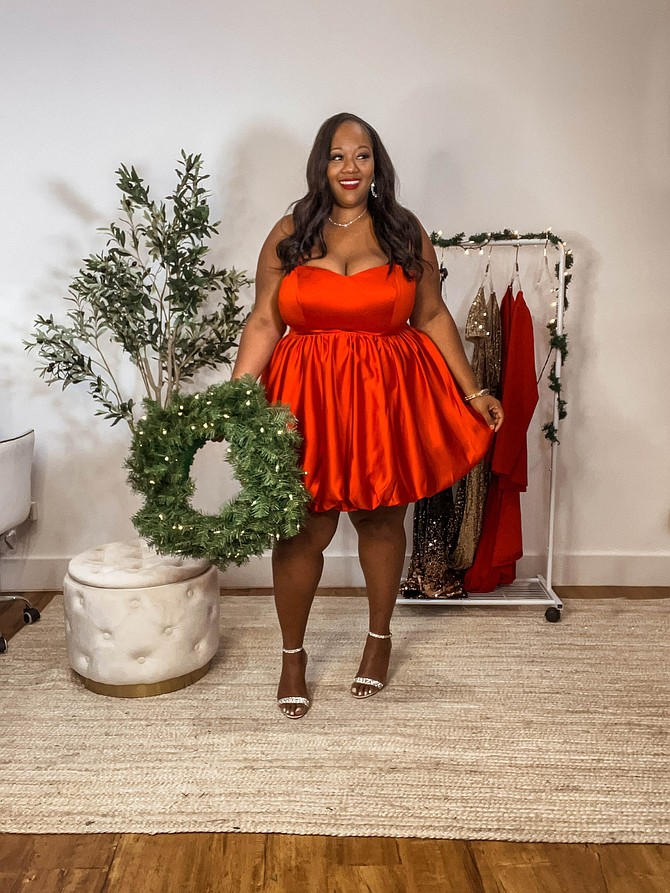 ---
David's Bridal Announces Brand Partnership with Kristine Thompson of Trendy Curvy
CONSHOHOCKEN, Pa., PRNewswire -- David's Bridal, the nation's leading bridal and special occasion authority and popular fashion blogger, plus size influencer, and bride-to-be, Kristine Thompson of Trendy Curvy have teamed up in a branded partnership.
The founder of Trendy Curvy and wildly popular fashion influencer and blogger, Kristine Thompson has taken the fashion world by storm with her relatable content and fashion insights. With over 1.6M TikTok followers and over 500K on Instagram, Kristine's Trendy Curvy brand is grounded in a mission to show that curvy women can be just as stylish and fabulous as everyone else. Thompson has reshaped the plus size fashion industry through her carefully curated content and empowering messaging boasting body positivity and style inclusion for all.
The partnership with David's Bridal is a perfect match as both the retailer and Thompson lead the way on inclusivity in the special occasion space. David's Bridal proudly offers the largest selection of plus size gowns for all occasions – from weddings, to date night, military balls, prom, homecoming, and beyond as well as price parity in sizing from classic ball gowns to dramatic mermaid/trumpet gowns in sizes 14W–30W. Partnering with Kristine is a natural fit as her platform aligns with the retailer's brand ethos that everyone deserves their dream dress without any compromise on price, size, or style.
In this branded partnership, David's Bridal and Thompson will craft compelling content showcasing the retailer's exclusive designs as well as offer fashion tips, insights, how to style looks, and share favorites from the influencer herself. As a 2023 bride, Thompson will wear David's Bridal styles for events surrounding her wedding as well as her bridal gown for her upcoming nuptials. Thompson also attended the brand's Spring 2023 Bridal Market Week showcase as a brand ambassador with a vignette dedicated to her favorite David's styles.
To continue disrupting the wedding planning space, the retailer has teamed up with respected brands and influencers to build on its existing portfolio of partnerships and ambassadors. By crafting strategic partnerships and working intentionally with brand ambassadors that align with the retailer's mission and values, David's Bridal continues to uphold its commitment to standing beside every bride throughout their entire wedding planning journey from "yes" to "I do" and beyond.
"Teaming up with Kristine is so special. She is a brilliant fashion influencer and advocate for the plus size community," said Kelly Cook, Chief Marketing & IT Officer of David's Bridal. "At David's, we believe unequivocally that everyone deserves their dream dress without any compromises. We are thrilled to have a partner like Kristine to amplify our brand philosophy."
"Partnering with David's Bridal has been such a perfect relationship," said Kristine Thompson. "As a plus size bride myself, it's been amazing to showcase the affordable and stylish options that David's Bridal has to offer for so many body types. It's of the utmost importance to me for women to feel special and beautiful on their big day, no matter what their size."
With 70 years of experience dressing customers for all of life's special occasions, David's Bridal is built on the idea everyone deserves to have the attire of their dreams regardless of style preference, shape, size, or budget. We believe in: CELEBRATING all life's magical moments, INNOVATING so we are always serving her, PERSONALIZING everything so it's all done her way, DESIGNING the most luxurious dresses, and finally, KINDNESS - so she doesn't have to worry about anything. It is our mission to help anyone and everyone find the look that will allow them to be the best, most genuine version of themselves on their wedding day or any special occasion. David's Bridal is dedicated to helping each customer, with the assistance of online planning tools and resources powered by Blueprint Registry, Rustic Wedding Chic, Anomalie, and Forever Bride, knowledgeable stylists, and expert alteration artisans who will guide them through the entire purchasing journey. With more than 300 stores located across the US, Canada, UK, and franchise locations in Mexico, we offer the convenience of one-stop shopping for every magical event in her life including weddings, Quinceañera, graduations, prom, communions, or simply making the world her runway and beyond. Additionally, David's recently launched #frontlinefierce Philanthropy Program dedicated to amplifying the heroism, fearlessness, and bravery of those who serve others in their community. To learn more about David's Bridal, visit www.DavidsBridal.com, download the Planning App, and connect on social media through Instagram, YouTube, Pinterest, Facebook, Twitter, TikTok, and LinkedIn.
Kristine Thompson is the creator of the fashion & lifestyle blog, TrendyCurvy.com. Kristine started TrendyCurvy in 2013 as a creative outlet to show that fashion can truly be for all. It has since grown into a destination for those looking for style inspiration, lifestyle content, travel and the latest in fashion. Kristine has built a community of nearly 2 million followers across her social media platforms. She has also been featured in several notable publications such as Vogue Italia, Glamour Magazine, People StyleWatch, and Essence Magazine.
---