Pilar Audain is a leader in the trenches to heal traumatized communities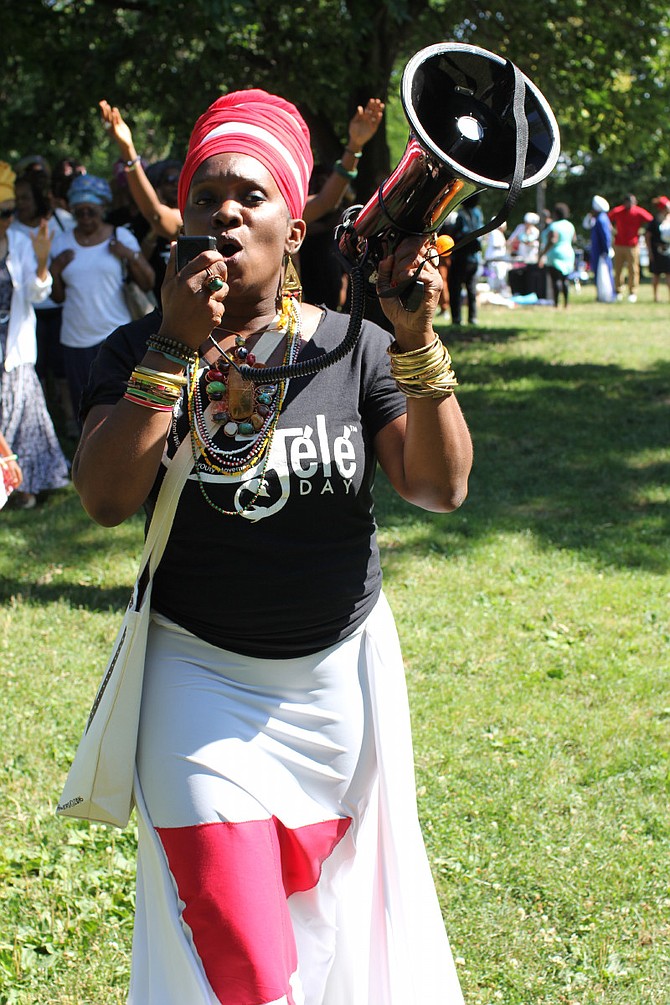 ---
Pilar Audain is a leader in the trenches to heal traumatized communities

By Tia Carol Jones

Pilar Audain believes a household is as strong as the woman who runs it. Audain is the Associate Director of Truth, Racial Healing and Transformation and the Founder of Wrap Your beYouty Movement. The work Audain does focuses on Black women, with an emphasis on communities and neighborhoods that have been traumatized and impacted by Anti-Blackness, racism and disparities that are happening on the South and West sides.

"We do this with the idea that our women will return home and teach these values to their children in support of our men," Audain said.

Truth, Racial Healing and Transformation is an initiative, within the Chicago Community Trust, which was founded in 2017. It was the vision of Dr. Gail Christopher, who is the Executive Director for National Collaborative for Health Equity. The program is focused on eradicating long-standing Anti-Blackness, ideas of human hierarchy. The programs works with Black and Brown people across the city of Chicago, trying to impress upon people in those communities that there is strength in unity. More than 300 Racial Healing Practitioners have been trained on the South and West sides, out of that number, about 100 are youth.

The Wrap Your beYouty Movement was founded in 2011 and began with 12 women. The organization believes in the power of storytelling and truth telling. It starts with Black women. The not-for-profit is committed to not allowing Black women to forget their history, strength and beauty. "We believe that we can come together and acknowledge who we are, whose we are, where we've been, where we are and where we're going, that's when magic happens and the healing takes place," Audain said.

On Dec. 30th, the Wrap Your beYouty Movement hosted its annual She Through Me Ancestor Soiree. Audain described the event as similar to old school Town Hall meetings, where Black women break bread and discuss things happening in the community with children, schools and men. It is a time to find ways to build bridges, pulling on the wisdom of the ancestors and predecessors. The women who attend come from all walks of life. The wisdom that is shared during the event is taken back by the women to their respective communities and shared with a goal to build those communities.

When it comes to the arts, Audain believes in taking things back to the beginning, the work is rooted in ancient Indigenous art forms. "We believe the arts unify, bring us together, allow us to remember. It taps into parts of our psyche and our emotions and our understanding, that opens us up to spirit, opens us up to one another, and draws very distinct lines to our commonality," Audain said.

Audain added, that opening up to (spirit) allows us to have the difficult conversations that in other settings might seem difficult or pretentious. Through the arts, barriers, strongholds and fences that keep people segregated are dropped.

Audain believes that racial healing begins with people being honest with themselves and committing themselves to the work that is happening. "In order to truly start the process of healing, we have to understand our worth, we have to begin to see our beauty, we have to be begin to see that we are able to be healed, that we are all we need, together," Audain said.

Audain added, that once the conversations begin, people will naturally and magically unearth the answers necessary to move forward. She described it as a faith walk and that racial healing is a mindset and a commitment to overcoming the disparities that Black and Brown people suffer in disinvested and disenfranchised communities.

 Audain's calling is to make sure the conversations never die and stay in the communities' hearts and minds. Audain believes in hand holding because there are people who held her hand, and she holds on tight, in an effort to help people understand that there is power in togetherness.

Audain loves to do spiritual pop-ups and occupy corners in some of Chicago's most "infamous" neighborhoods. She holds prayers and has conversations. "This year of transformation through solidarity, we're going to be about the work of pollinating the various Black and Brown communities across the city so that we can begin to understand the power that we have and be able to see that segregation is something that was put on us," Audain said.

The National Day of Racial Healing will take place from 6p.m. to 10 p.m. on Tuesday, Jan. 17th, at the Promontory, 5311 S. Lake Park Ave. For more information about Truth, Racial Healing and Transformation, visit transformchi.com.
---