MAJOR BLACK HISTORY MONTH CELEBRATION TO HONOR AFRICAN AMERICANS WHO HAVE BEEN CREDITED WITH THEUPWARD MOBILITY OF THE AFRICAN AMERICAN COMMUNITY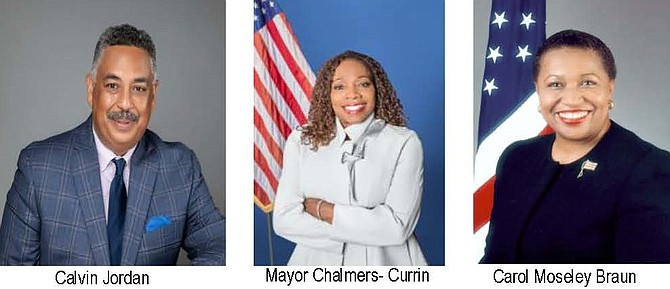 ---
OVER 700 TO GATHER FOR COOK COUNTY'S LARGEST
 BLACK HISTORY MONTH CELEBRATION
MAJOR BLACK HISTORY MONTH CELEBRATION TO HONOR AFRICAN AMERICANS WHO HAVE BEEN CREDITED WITH THE 
UPWARD MOBILITY OF THE AFRICAN AMERICAN COMMUNITY
ELECTED OFFICIALS, BUSINESS LEADERS, CLERGY AND CIVIC LEADERS TO HONOR FORMER U.S. AMBASSADOR AND U.S. SENATOR CAROL MOSLEY-BRAUN
RENOWN FASHION DESIGNER BARBARA BATES, CHIEF JUDGE TIM EVANS, AND MWRD PRESIDENT KARI STEELE TO HEADLINE AN A-LIST OF HONOREES 
Saturday, February 25th, 2023@ 6:30 PM
Idlewild Country Club, 19201 Dixie Highway, Flossmoor, Illinois
(Richton Park, Illinois)-Calvin Jordan- Rich Township Supervisor and Democratic Committeeman along with Village of Matteson Mayor, Sheila Chalmers-Currin- will be joined by the Rich Township Board of Trustees, Village of Matteson Trustees, and over 700 hundred of business leaders, elected officials, civic and clergy leaders in honoring ten African American giants as part of the 4TH annual Rich Township Black History Month Gala and Awards Celebration.
The Rich Township Black History Awards Gala is the largest event of its kind in the State of Illinois.
Amongst this year's honorees include:
Former U.S. Ambassador and U.S. Senator Carol Mosley-Braun
Cook County Chief Judge Timothy C. Evans
Metropolitan Water Reclamation District President Kari Steele
Leak and Sons Funeral Home CEO, Spencer and Henrietta Leak Sr.
Renown Fashion Designer Barbara Bates
Illinois School District Superintendent Dr. Blondean Y. Davis
Attorney Ronald Bean
RITEWAY Construction Owner Larry Huggins
Retired Educator Yvonne Adrell Robinson
"As a community we know all too well of the sacrifices and challenges that these courageous individuals have had to endure. But their efforts were only geared toward enhancing the quality of life of African Americans throughout the state of Illinois. Rich Township and the Village of Matteson takes significant pride in ensuring that we honor these heroes during this very precious month for people of color." says Rich Township Supervisor/Democratic Committeeman Calvin Jordan.
This year's Lifetime Achievement award will be presented to former U.S. Ambassador and U.S. Senator Carol Mosley-Braun.
Matteson Mayor Sheila Chalmers-Currin adds, "Ambassador Braun has successfully blazed the trail for so many women who have entered public life. She changed the entire landscape within the U.S. Senate as it relates to progressive governing, advocating for women worldwide, and even the fashion code for women in the U.S. Senate. Without her commitment to the advancement of the African American race, we would not have achieved the enormous progress that we have enjoyed over the past three decades. We all are in debt to Ambassador Braun for her undying love, compassion, and commitment to the upward mobility of the African American community."
The evening will feature multiple tributes, laughter, reflection, and an appreciation of history. The honorees will address the mass crowd by showing their appreciation, but also charging the hundreds in attendance that there is much work to do to fulfill the dream of Dr. Martin Luther King Jr.
Supervisor Jordan and Mayor Chalmers-Currin will also challenge those in attendance to focus their efforts on promoting diversity and inclusion in all of their professional and personal endeavors.
Jordan adds, "There is simply no way Mayor Chalmers-Currin and I could have the most prominent African American leaders in one facility and not encourage them to be the leaders of racial harmony, fairness, and justice. The Southland is now the mecca of opportunity for young aspiring African American businesspersons and government leaders. Diversity has brought us this far, but greater diversity will lead us to the mountain of acceptance and equality."
---