DARK & LOVELY ANNOUNCES MEAGAN GOOD AS NEWEST BRAND AMBASSADOR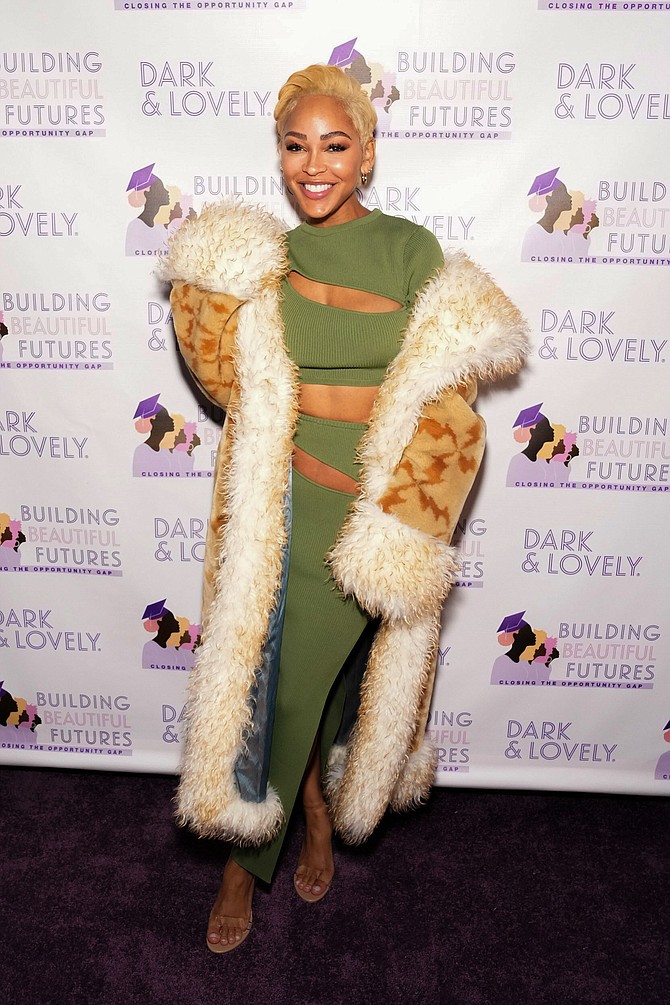 ---
DARK & LOVELY ANNOUNCES MEAGAN GOOD AS NEWEST BRAND AMBASSADOR     
The award-winning actress, bestselling author and producer will be partnering with the brand to promote their leading color range and philanthropic initiative, Building Beautiful Futures
NEW YORK, PRNewswire -- Dark & Lovely proudly announced Meagan Good as their latest ambassador at their 'Making Bold Moves' event held in support of the brand's philanthropic initiative, Building Beautiful Futures. The award-winning actress, bestselling author and producer also debuted the return of her signature blonde hair.
"In a world where Black women are often disregarded, Dark & Lovely has always celebrated us. I'm honored to be partnering with this legendary brand to help embolden Black women to authentically walk in their power, dream big and celebrate who they are," The 'Harlem' star stated.
Recognizing the growing "opportunity gap" for young Black women, particularly post-pandemic, Dark & Lovely developed Building Beautiful Futures in 2022 to help bring educational and career equity to Black female college students and young professionals. In 2023, the program will further its commitment to create opportunities for young, Black women and equip them with tools for success through even more masterclasses, scholarships, mentorship opportunities and networking events.
Good's commitment to uplifting young Black women, approach to taking new challenges head on and enthusiasm for bold, show-stopping looks embodies everything Dark & Lovely stands for. She will serve as an ambassador for the brand's Fade Resist collection and full product range. She will also help spread awareness about Building Beautiful Futures as it kicks off its second year by lending her voice and time to inspire and support young Black women.
The evening featured BOLD conversations with Good and Digital Creator, DonYé Taylor, moderated by Dark & Lovely's Marketing Director Tenaj Ferguson. Dark & Lovely and BrainTrust Founders Studio also revealed the winner of their recent pitch competition, Janell Muhammad, Founder and CEO of SelfiēSkín Co. She was awarded a $5,000 grant and a trip to Dark & Lovely's headquarters in NY to learn what it takes to build and grow a brand.
To learn more on how to:
Apply For a Building Beautiful Futures Scholarship, visit https://tinyurl.com/3wcmk7bh
Participate in our Mentorship Program - Follow DARK & LOVELY for our schedule of mentorship masterclasses focused on education, life and career coaching
Be The Change - Become a Mentor or Mentee and Inspire others by sharing your mentorship story using #DARKANDLOVELYBBF
Building Beautiful Futures is Dark & Lovely's initiative that helps close the opportunity gap by bringing educational and career equity to Black, female college students and young professionals via scholarships, mentorship and career coaching opportunities. The "opportunity gap" refers to the fact that circumstances in which people are born, such as their race, ethnicity, ZIP code, and socioeconomic status, often determine education and career opportunities. Recognizing the growing opportunity gap for young Black women, Dark & Lovely is committed to creating paths to success for over 1,000 young Black women.
Dark & Lovely, founded in 1972, was created to help Black women express and embrace their individual styles. As one of the first brands to celebrate the Black consumer, for 50 years Dark & Lovely has been known for offering innovative products and technology made exclusively for Black Women to address their specific beauty needs. As a subsidiary of L'Oréal USA, Dark & Lovely continues to unveil breakthrough hair innovations for women of color. For more information, visit www.darkandlovely.com.
Actress, producer, director, author and philanthropist, MEAGAN GOOD is the lead of the hit critically acclaimed Amazon series, "Harlem," from GIRLS TRIP writer Tracy Olivier, returning for a second season on February 3rd. She will next be seen reprising her role as 'Super Hero Darla' in SHAZAM! FURY OF THE GODS, the sequel to the hit DC Comics film which hits theaters worldwide March 14th. The THINK LIKE A MAN star most recently starred opposite Jamie Foxx and Snoop Dogg in Netflix's DAY SHIFT, and directed the short film BLACK KAREN in partnership with Kevin Hart's Laugh Out Loud Productions and The Sundance Institute, which premiered at the 2022 Sundance Film Festival. Her breakout role in EVE'S BAYOU earned her critical acclaim for her powerful performance opposite Samuel L. Jackson, and nominations for an NAACP Image Award and Hollywood Reporter Award.
---