Macy's Honors Black Stories and Creators in Celebration of Black History Month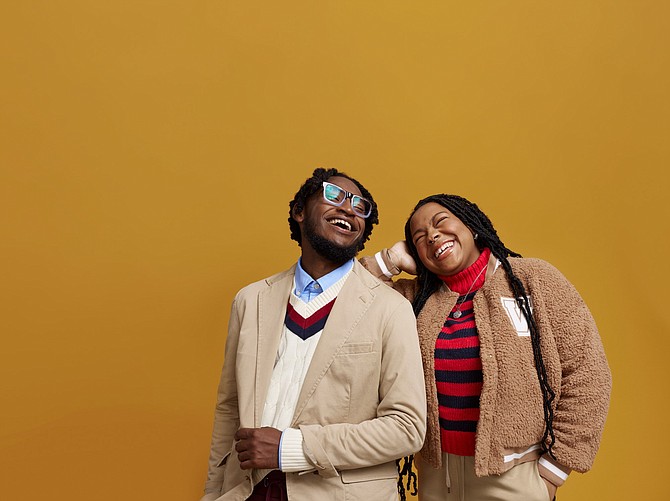 ---
Macy's Honors Black Stories and Creators in Celebration of Black History Month
This February, Macy's continues its commitment to the Black community through "Black History. Black Brilliance." with a give-back campaign with UNCF, the nation's largest and most effective minority education organization, benefitting scholarships and historically Black colleges and universities
NEW YORK -- (BUSINESS WIRE) -- Macy's honors the history, resilience and contributions of Black Americans through Black History. Black Brilliance. this February. Beginning February 1, Macy's will launch a special monthlong round-up and donation campaign in stores and online at macys.com to benefit UNCF (United Negro College Fund), raising scholarship funds for promising students attending historically Black colleges and universities (HBCUs). Additionally, Macy's, through its social purpose platform Mission Every One, will spotlight Black-owned brands, hosting online shopping events, and more in its ongoing commitment to take action to empower and support diverse businesses.
"This Black History Month, we're furthering Macy's mission of building a brighter future with bold representation for our colleagues, customers, and communities by spotlighting and celebrating the history, accomplishments, and resilience of Black Americans throughout our stores and across our brands," said Shawn Outler, Macy's chief diversity, equity & inclusion officer. "Through Mission Every One, we work with our communities and UNCF to raise critical funding that will empower the next generation of leaders, enabling growth and leadership through HBCU educational opportunities."
Community Give-Back
Mission Every One, Macy's social purpose platform, directs social impact work to the causes and communities that help shape a brighter future for all, breaking down barriers to equity and representation and empowering young people. In celebration of Black History Month, Macy's continues its partnership with UNCF the nation's largest and most effective minority education organization. Chartered to serve HBCUs, youth and the nation, UNCF supports college student education and development through scholarships and educational programs, aids and strengthens its 37 member colleges and universities, and advocates for the importance of minority education and college readiness.
From now through February 28, Macy's customers can directly impact and empower the next generation of Black leaders in local communities nationwide through a charitable round-up campaign to fund scholarships for students set to attend or already enrolled in HBCUs. Customers can donate online or round-up their in-store purchase amount and donate the extra change, up to $0.99, supporting Macy's Brighter Futures Scholarship Fund.
Since 2021, Macy's has raised more than $2 million for UNCF, benefiting more than 100 HBCU students through academic and emergency aid scholarships that support their degree completion. Funds generated from this campaign will continue to provide scholarship aid and academic support for Black youth across the United States.
Black Brilliance Takes Center Stage
This February, as part of that commitment to fuel accelerated growth and amplify diverse-owned brands, select Black-owned brands will be highlighted in-store and online via macys.com, in marketing and on Macy's social.
Black-owned brands featured this February include:
Aminah, a luxury shoe brand known for its bold yet feminine design aesthetic
Beauty Stat, premium quality skincare with ingredients that are scientifically proven to be effective combined with patented technology, that works fast
Buttah. by Dorion Renaud, a skincare line of products geared towards melanin-rich skin
Harlem Candle Co., a luxury home fragrance brand by Teri Johnson that specializes in scented candles inspired by Harlem's Jazz Age and its legendary residents
Healthy Roots, a toy company by Yelitsa Jean-Charles that works to create dolls that empower young girls
Nude Barre, a bodywear collection created by Erin Carpenter to reclaim and revolutionize shapewear featuring 12 unique shades that close the representational gap
OMA The Label, a jewelry line created by Neumi Anekhe to diversity fashion and beauty standards
Soap Distillery® by Danielle Martin, a sustainable line of cocktail scented soaps, candles and bath & body products that offer a unique twist on scent-based goods
SPGBK (pronounced 'Spring Break'), a vibrant and colorful watch brand by Kwame Molden that helps customers express their authenticity.
These brands' unique stories will also be featured as part of Macy's ongoing Black History. Black Brilliance. showcase via macys.com/purpose. In addition, "Macy's Live" will host a live shopping event on February 14 highlighting an array of Black-owned products, co-hosted by Dorion Renaud, owner of Buttah Skin.
Alongside this month's featured product, Macy's will launch rotating product pavilions in 275 stores nationwide, highlighting the company's social purpose work through Mission Every One. The pavilions will feature product from diverse owned brands throughout the year. Product on display in February will bring Black History. Black Brilliance. in-store by featuring exclusive products from Black-owned brands, Coco Michele and Puzzle Huddle.
In partnership with Harlem's Fashion Row, Macy's and Bloomingdale's have joined the organization's new shopping directory called HFR&Co., which provides curated lists of emerging Black and Latino-owned designers for consumers to shop. By providing a list of brands, the platform allows shoppers to easily find and support these designers. This partnership is another avenue in which Macy's is elevating and supporting Black-owned brands, a commitment reinforced by the company when it signed the Fifteen Percent Pledge. Since joining the long-term pact Macy's has increased its number of Black-owned brands by eight times, with product sold nationwide.
Black History. Black Brilliance. will also be on display in Macy's iconic Herald Square windows during the month of February. From February 3 to 27, customers can enjoy displays created for Macy's by Harlem's Fashion Row Designers, with images hand-painted by Brooklyn-based artist, Ashley Buttercup.
Partners for a Brighter Future
In addition to UNCF, Macy's, Inc. will continue to create positive change for the Black community through its longtime commitment to various nationwide and local organizations focused on education, economic development and social justice. This includes providing grants to a variety of organizations like 100 Black Men of America, Inc.; Black Retail Action Group (BRAG); National Action Network (NAN); NAACP – NY Chapter; National Urban League; Thurgood Marshall College Fund; and the National Museum of African American History & Culture.
New this year, Macy's has also committed $50k to support a survey piloted by The Steve Fund, an organization dedicated to supporting the mental health and emotional well-being of young people of color. In partnership with UNCF the survey will address emerging needs, themes, and priorities on HBCU campuses.
Additionally, Macy's Future of Style Fund, an initiative promoting bold representation in design, styling and sustainability, is supplying Clark Atlanta University with a $100k grant to provide deserving students with scholarships. The grant will also provide total programming support including funding hands on learning experiences, and updated technology.
Authenticity is at the heart of all Macy's social impact work. Leadership Development and representation are engrained into Macy's culture by the Black Employee Resource Group (ERG), ONYX. Serving as an important resource for the Black colleagues at Macy's, ONYX promotes career development while supporting company business priorities, objectives, and brand values. With a focus on the recruitment of premier talent and the retention/mentorship of Black executives, ONYX is committed to community service and volunteerism impacting Black communities.
This February, Macy's colleagues will have the opportunity to participate in an in-person learning event focused on leadership skills and colleague development, attend panel discussions on Macy's initiatives including S.P.U.R. Pathways - a funding program to advance entrepreneurial growth, close wealth gaps and shatter systemic barriers faced by diverse-owned and underrepresented businesses-, partake in volunteer mentoring opportunities with Figure Skating in Harlem, and join a discussion with JOY Collective on Black Beauty and The Crown Act.
For more information and to shop the collections visit macys.com/purpose.
---