ZUMBA® AND CRAYOLA PARTNER TO LAUNCH "COLORS OF KINDNESS" APPAREL COLLECTION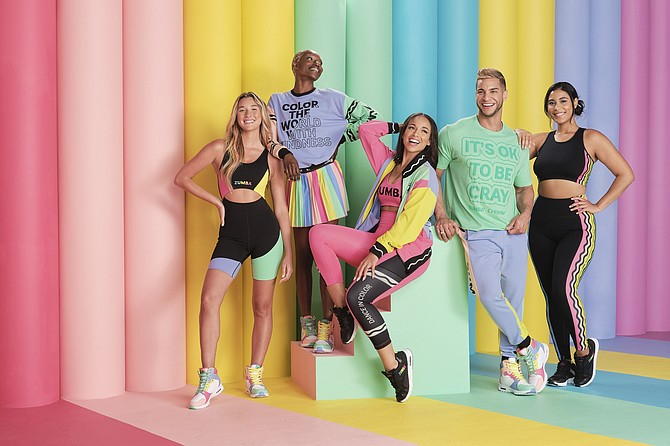 ---
ZUMBA® AND CRAYOLA PARTNER TO LAUNCH "COLORS OF KINDNESS" APPAREL COLLECTION    
The two powerhouse brands join together to promote hope, empathy and positive thinking
MIAMI, PRNewswire -- Zumba and Crayola are excited to announce a new partnership and the launch of their "Colors of Kindness" apparel collection. Inspired by Crayola's iconic crayon colors, the collection features vibrant, fun designs that embody the spirit of kindness and inclusivity.
"This partnership with Crayola is a natural fit for Zumba," shared Carolina Moraes, Chief Marketing Officer of Zumba. "The 'Colors of Kindness' collection is not only stylish and fun, but it also promotes a message of inclusivity and positivity, which is at the core of our brand. We're excited to see the impact this collection will have on our Zumba community and beyond."
The "Colors of Kindness" 40-piece collection has clothes and accessories that can help everyone shine in and outside of a Zumba® class. Graphic print tees included powerful expressions such as "Dance in Color," "It's Okay to be Cray," and "Dance Outside the Lines."
"Colors of Kindness encourages kids and adults to think positively, share words of encouragement, and celebrate kindness through all forms of artistic expression. We're excited about this colorful collaboration with a company that embodies the Colors of Kindness message by empowering people to become the best of themselves," said April Heeren, General Manager Outbound Licensing at Crayola.
A preview of the collection debuted exclusively at Zumba's annual Instructor Convention (ZINCON) in Orlando, FL, on Aug. 11. The "Colors of Kindness" collection is available globally starting today on www.ZumbaWear.com.
Founded in 2001, Zumba is the largest branded fitness company in the world – reporting more than 15 million weekly participants, in 200,000 locations, across 185 countries. Zumba® blends world rhythms with easy-to-follow choreography for an effective workout that empowers participants to become their best selves - mind, body and soul. In addition to its original Zumba program, the company offers 10 Zumba specialty classes – from aquatic-based to those specifically designed for active older adults and children. In 2016, Zumba launched its first non-dance, HIIT workout STRONG Nation®, where music acts as the main motivator. In 2023, Zumba launched CIRCL Mobility™, a revolutionary new program designed to unlock the body's full potential through flexibility, breathwork, and mobility exercises. The Zumba® lifestyle is rounded out by the company's many consumer product offerings, including the Zumba 6 Week Transformation Program, video games, original music, activewear and footwear, and interactive Fitness-Concert™ events. For more information about Zumba's programs and products, or to find a live class, visit zumba.com. Follow us on TikTok, Instagram and Facebook.
Crayola LLC, based in Easton, PA and a subsidiary of Hallmark Cards, Incorporated, is the worldwide leader in children's creative expression products. Known for the iconic Crayola Crayon first introduced in 1903, the Crayola brand has grown into a portfolio of innovative art tools, crafting activities and creativity toys that offer children innovative new ways to use color to create everything imaginable. Consumers can find the wide array of Crayola at major retailers. For more information, visit www.crayola.com or join the community at www.facebook.com/crayola.
---