Salaam Community Wellness Center to Host Its Annual Integrative Health and Wellness Expo Free event will offer cooking demos, chair massages, music, food, fun for children, and more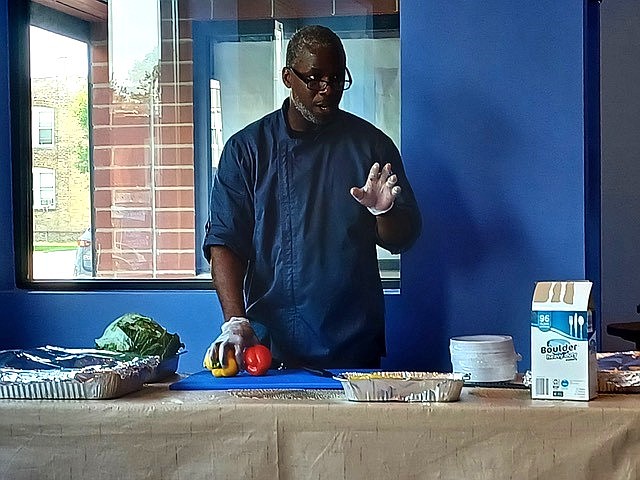 ---
Salaam Community Wellness Center to Host Its Annual Integrative Health and Wellness Expo Free event will offer cooking demos, chair massages, music, food, fun for children, and more

CHICAGO (July 26, 2023) – A relatively new jewel in the community, Salaam Community Wellness Center (SCWC) will host its 2nd Annual Integrative Health and Wellness Expo on Saturday, August 12, from 10 a.m. to 4:00 p.m. at 613 E. 67th Street. The free event is open to the public and will offer something for the entire family. Featured activities include Zumba, deep-breathing tips, meditation, yoga, chair massages, music, free food, healthy food demonstrations, jumping jack, and other family- and kid-friendly activities.

Salaam Community Wellness Center is a health and wellness center located in Chicago's historic Woodlawn neighborhood that offers a unique, innovative model of holistic healthcare that utilizes both western and non-western practices such as individual and group therapies, deep breathing, meditation, yoga, massage, acupuncture, Reiki and sound therapy, tai chi, qigong, and others. "Our approach to health and wellness is three-fold – mind, body, and soil. We believe the mental health of our clients is just as important as their physical health. Through our services, we support both," explains Dr. Constance Shabazz, SCWC founder and CEO. "Soil is the source of our physical being. Without its nutrients, we cannot gain and maintain our health. Our organic garden provides healthy produce, herbs, and flowers for both medicinal and nutritional use."

A special highlight of the day will be tours of SCWC's award-winning garden. With awards from Aetna Insurance and the Shirley J. Newsome Beautification Grant from the South East Chicago Commission (SECC), the "Paradise Garden" is well on its way to being enhanced. The grant will enable SCWC to transform the organic garden by designing and creating a walkable urban educational garden center. Last year's harvest produced between 25 and 30 varieties of fruits, vegetables, and herbs. With the new deeper and wider beds, SCWC hopes for more to share with the community. The project aims to educate visitors on the nutritional value of the produce in the garden. Aetna Insurance has committed to a new program supporting community gardens.

SECC's program aims to provide micro-grants to neighborhood organizations and groups to support beautification and revitalization projects that enhance the physical attractiveness and quality of life within Hyde Park, Kenwood, Oakland, Washington Park, and Woodlawn communities. 

"Our nutrition program incorporates and integrates nutrition counseling and a community garden. We have adopted the 'Food as Medicine' concept which educates individuals on how to use food as a way of preventing and managing chronic illnesses and diseases," says Dr. Shabazz. This therapeutic garden is a holistic healing space where individuals and groups can learn about gardening, conduct or participate in mindfulness activities such as deep breathing and meditation, yoga, tai chi, and chi gong. We're excited to share our space with the community and invite everyone to come join us at our health and wellness expo."

There's still time for vendors and sponsors to partner with Salaam Community Wellness Center at the health and wellness expo. Visit www.salaamcwc.org or contact us by email at info@salaamcwc.org or phone at 773-435-9493 for more information.
---