Gift of Hope dedicates building to Jack Lynch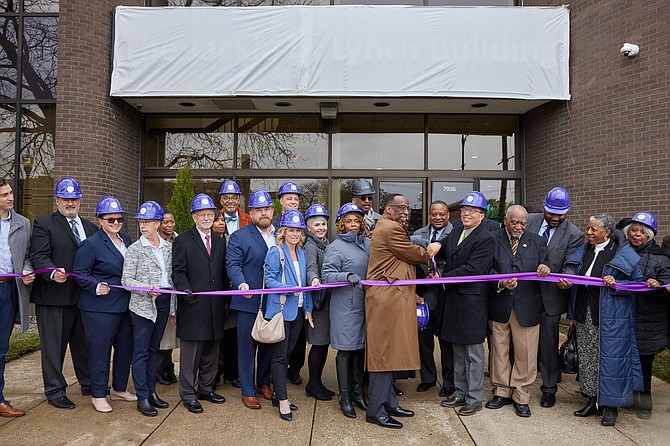 ---
Gift of Hope dedicates building to Jack Lynch

By Tia Carol Jones

Gift of Hope Organ & Tissue Donor Network hosted a ceremony to dedicate the building, located at 7936 S. Cottage Grove, to longtime civic leader Jack Lynch. The site was previously Independence Bank and Urban Partnership Bank. Lynch is retiring from Gift of Hope after 35 years of service. He led the effort to develop the Gift of Hope facility that now bears his name. The 48,000 square foot building was purchased by Gift of Hope in 2019.

Gift of Hope will occupy the entire third floor of the building, while Chicago State University will occupy space on the first floor and lower level. The Chatham site will be used for CSU's Department of Continuing Education and Department of Nursing. The University will offer educational and personal enrichment programs in the space.

"We, at Gift of Hope, feel like this is a place that will give a chance, for all of the things that we're going to do here. At Gift of Hope, our mission is to save and enhance the lives through the gift of organ and tissue donation," said Dr. Harry Wilkins, President and CEO of Gift of Hope, adding that he wants Gift of Hope to truly be part of the community.

The building is representative of the work Gift of Hope does in the community.  
Roderick Sawyer, 6th Ward Alderman, said it was surreal for him to attend the building dedication because it was where he had his first bank account.  "It's going to continue its use as a bank. There will be deposits made, there will be investments made, they will be investments in our humanity, investments in continuing the life of other individuals. I thank you for that Jack," Sawyer said. He also announced that he committed to be an organ donor.

Michelle Harris, 8th Ward Alderman, said Gift of Hope's new Chatham location is a beacon of light that will transform 79th and Cottage Grove and she credited Jack Lynch for that. "This building is going to be an amazing testament to what the right business can do and how the right businesses can come into this ward and transform a community in need of so much help," Harris said.

Leon Walker, Managing Principal of DL3 Realty, said the Gift of Hope building dedication was a long time coming. He called it the house that Jack built. "The Gift of Hope saves lives and now buildings, too.  And, ultimately communities," Walker said. "Today, when so many companies are questioning their commitments to communities of color, you have stood steadfast. This is what equitable development looks like."

Cook County Commissioner Stanley Moore remembered how Jack Lynch let Moore and Illinois State Senator Elgie Sims distribute masks at the Gift of Hope site during COVID-19. Sims reflected on the role of Gift of Hope.  "Hope is making sure someone has the opportunity to thrive, somebody has the opportunity to live. Right now, this is an investment in this community, this is an investment in making sure this community has all it needs to thrive," Sims said.
---