TWO NEW DEVELOPMENTS PENDING APPROVAL ON THE FAR SOUTH SIDE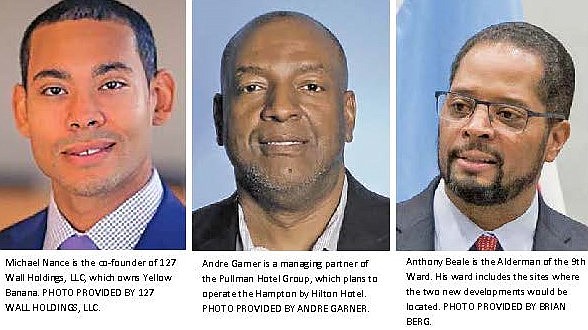 ---
 TWO NEW DEVELOPMENTS PENDING APPROVAL ON THE FAR SOUTH SIDE

BY TIA CAROL JONES 

Two new developments have chosen the Far South Side. A full-service grocery
store on 130th and Eberhardt and a 101-room full-service hotel at 111th
and Doty. The business owners and 9th Ward Alderman Anthony Beale are
hopeful both developments will approved by the Department of Planning and
Development and construction will begin.

The full-service grocery store will be operated by Yellow Banana, which operates six Save-A-Lot grocery stores in the city.

Michael Nance, co-founder of 127 Wall Holdings, LLC, which owns Yellow Banana, has been working collaboratively with World Business Chicago to identify the most important site for development on the South and West sides
of Chicago. Yellow Banana received $13.5 million in grant funding to develop and redevelop six sites on the South and West sides, five of which Yellow Banana already operates.

"The Far South side has been long neglected," Nance said, adding Yellow Banana has been using statistical data to target communities most in need. "The data showed the Altgeld Gardens community is actually the most geographically
isolated and that it lacks significant access to affordable healthy food options. That's why we are focused on this area."

Construction on the 130th and Eberhardt site depends on the City of Chicago's Recovery Grant approval, as well as Yellow Banana working to acquire the land at that location. Ideally, with an answer by the end of the year, Yellow Banana could begin work and finish work by the end of the next year.

Nance grew up in Cleveland in a food desert and is very familiar with the challenges that face Black communities. He is acquainted with the need and the potential solution. Yellow Banana did an interior and exterior remodel of the Save-A-Lot stores it operates and upgraded the product offerings to include quality produce.

"We don't think where someone grows up or where they're born should dictate the quality of food they receive. All relevant statistics indicate that if you don't have access to healthy food options, you're going to have an increase
incidence of diet-related disease and illness that too often plagues poor, Black and brown communities," Nance said.

Yellow Banana is excited to be independent operators and owners, closer to the ground and able to provide affordable food products and a product offering that is tailored to the community's needs.

Andre Garner is a managing partner of the Pullman Hotel. Building and operating a hotel has been a dream of his for more than a decade. Garner was excited about the opportunity to build a hotel in Pullman to accommodate
the new, exciting growth in the area.

Next steps for the hotel are to arrange financing, engineering, site plan approval and design work, as well as the Recovery Grant approval. Part of the plan also
includes the Pullman Hotel Group acquiring the former Ryerson Steel site from Chicago Neighborhood Initiatives to build the new 62,000 square foot facility.

Beale believes these new developments are a continuation of the Pullman Renaissance from the last 10 years. There is a need for not one, but two hotels in the community.

"We're all about growth and opportunity here in the 9th Ward. We've created over 2,000 jobs, invested over a billion dollars public-private investment, and these are just two more projects that we're really excited about," Beale said.
---