Mahalia Jackson Court opens to public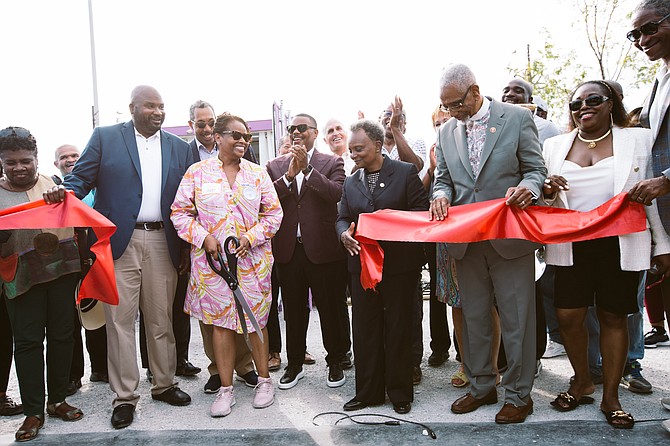 ---
Mahalia Jackson Court opens to public
By Tia Carol Jones
The Mahalia Jackson Court, located at 1 E. 79th St., is officially open. To celebrate the occasion there was a ribbon cutting ceremony on Friday, Sept. 2nd .
Mahalia Jackson, a native of New Orleans, called Chicago home from 1927 until 1972. During that time, she won Grammy Awards and sang at the March on Washington. She was known as the Queen of Gospel Music and the World's Greatest Gospel Singer. She was a resident of the Chatham neighborhood.

Mahalia Jackson Court is operated by the Greater Chatham Initiative, and the land is owned by the nearby Carter Temple CME Church, located at 7841 S. Wabash. It is Greater Chatham Initiative's second placemaking project.  The Artists on the 9 is the organization's first placemaking project.

Mahalia Jackson Court is part of the Department of Planning and Development's Public Outdoor Plaza (POP!) program. It was one of two finalists from the winter RFP and was constructed during the Spring. The Greater Chatham Initiative received $500,000 from the Department of Planning and Development for construction of the POP! Plaza and the Department of Cultural Affairs and Special Events provided an additional $50,000 for construction of the Mahalia Jackson Memorial.

The 8,500 square foot court includes an area for vendors to provide food and retail, as well as a Playscape, and leverages transit-oriented development, because of its proximity to the 79th Street Red Line Station.

Illinois State Representative Nicholas Smith, D. Dist. 34, said the opening of the Mahalia Jackson Court was a long time coming.

"We get to honor one of our pioneers of Gospel Music, Mahalia Jackson, who actually lived in this community. It's a great opportunity to honor her, as well as repurpose this vacant lot into a usable space that is open to the community, young people, as well as old," Smith said.

Smith hopes this development brings people together for positive engagements, with local artists coming to the space, to perform, showcase their art, gather, and perform poetry. With more positive engagements in the space, the hope is that it will cancel out any negative engagements in the surrounding community.

Illinois State Senator Elgie Sims, D. Dist. 17th, wanted to attend the event because it was a community driven project that benefitted the community.

"It's such a great day for our community. It brings everybody together. It shows the beauty of our community. It shows how dynamic this community is, it's all about the people, the history, the families who live here. I'm so proud of this community. I'm proud of us being able to make a positive impact in this community," said Sims, who is also a member of Carter Temple.

Nedra Simms Fears, Executive Director of Greater Chatham Initiative, talked about the open doors and opportunity that exists in Chicago.

"Mahalia Jackson Court is one of the doors that has just swung open for everyone in the community," Simms Fears said.
Mayor Lori Lightfoot called the site hallowed ground. Lightfoot talked about the Invest South/West and Chicago Recovery Plan and how those programs help communities.

"The Mahalia Jackson POP! [Public Outdoor Plaza] is one of 12 new public plazas that will create spaces for recreation, performances and pop-up shops, gardening and other neighborhood activities and amenities," Lightfoot said.

For more information about the Mahalia Jackson Court, visit mahaliajacksoncourt.com. For more information about the Greater Chatham Initiative, visit greaterchathaminitiative.org.
---