Dave East and droppLabs Offer Fans the Opportunity to Executive Produce His Next EP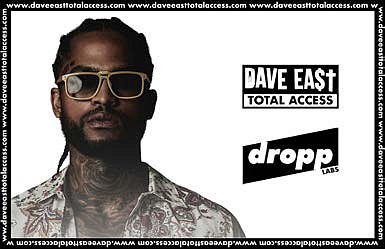 ---
 Dave East and droppLabs Offer Fans the Opportunity to Executive
Produce His Next EP

NEW YORK -- (BUSINESS WIRE) -- droppLabs, a leading subsidiary of dropp group ("Dropp"), a future-forward Web3 enabler, and Dave East, commercially and critically acclaimed music artist and actor in Wu-Tang: An American Saga, today announced the launch of the flagship program "Dave East Total Access." The program allows 5,000 members to collaborate with Dave East's team, become credited executive producers for his upcoming EP, and receive exclusive benefits.

"We are thrilled to work with Dave East on this Web3-enabled music experience that will turn fans and aspiring music industry professionals into credited executive producers on his next project," said Gurps Rai, CEO and co-founder of drop - pLabs. "This is the first experience of its kind that offers fans and those interested in the music industry real-world production experience and access to one of their favorite signed artists. As the digital age transforms how music is produced and consumed,
there is vast potential for creating new access to historically
gated knowledge and experiences."

As part of the program, Dave East Total Access Members will have exclusive access to a six-module interactive course with 21 hours of instructional content. The course will be taught by some of the biggest names in the business, including Dave and his cohorts, such as multi-platinum producer Buda Da Future, who has worked with some of rap's biggest superstars, Gunna, Juice WRLD, Rick Ross, and many more. The immersive program will prepare members to build & develop a career in the music industry.

The program will also utilize peer-to-peer learning with members working collaboratively with Dave East and his team. Members will also have the opportunity to be involved in various aspects of the EP production. The offering is designed to create a digitally democratized system of access to working in the music industry which was previously blocked. The Dave
East Total Access program highlights the tangible utility of  tokenized digital assets and immersive Web3 experiences that reimagine the relationship between artists and their fans.

"I'm excited to use Web3 technology to give my fans and aspiring music producers across the globe the chance to be a real part of one of my projects," said Dave East. "This is the only project that lets members learn Web3 technology and build a valuable community while doing what we love most – making great music."

Members will also receive a unique and tradeable Dave East NFT created by one of the industry' s most creative young artists, Marly McFly. "This is an innovative project combining the best of music, technology, art and education. I am thrilled to join Dave East and droppLabs to provide fans a truly unique experience," said Marly McFly.

Memberships for the Dave East Total Access and additional details are now available at www .daveeasttotalaccess.com.

For more info, please visit www .dropplabs.io.
---