Local Woman Looking For A Kidney Donor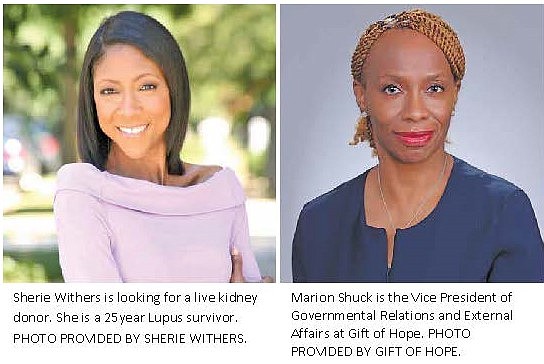 ---
 Local Woman Looking For A Kidney Donor

By Tia Carol Jones

Sherie Withers is looking for a living kidney donor. Withers is a 25-year Lupus survivor. She always had kidney issues because of her Lupus Nephritis. She was diagnosed with Lupus in 1998.

Withers received her first kidney transplant in 2005. Her brother was a perfect match. Seventeen years later, Withers is in need again.

"I know nothing lasts forever, but I just thought with me taking care of myself, during this process, taking my medications I have to take every day, I was doing well," Withers said.

She believes what might have happened is that she caught COVID in June 2021 and that caused a Lupus flare up. She was vaccinated from COVID-19 months prior to getting the virus. After she recovered from COVID, her Lupus numbers improved, but her kidney function did not.

Withers is a nutritionist at a medical center and was working from home during the pandemic. She did go to work one day a week. By November, her kidney function still had not improved. Her doctor told her that she would have to go through dialysis. She hadn't been through dialysis since 1998. She currently has a catheter in her chest. Wither is registered with the National Kidney Registry.

Marion Shuck is the Vice President of Governmental Relations and External Affairs at Gift of Hope. She is going through her own journey, as a living donor for her brother, who has Hypertension, if they are compatible.

Gift of Hope is one of 57 organ procurement organizations in the country. It is regionally focused on three quarters of Illinois, from Waukegan to Elgin, to 50 miles south of Springfield. Gift of Hope is responsible for coordinating the organ and tissue donation process. Gift of Hope goes in and talks to the family when their loved one has already signed up to be an organ and tissue donor, or to ask if the loved one could be an organ or tissue donor.

Shuck acknowledges the medical mistrust that some people of color have because medical practitioners took advantage of Black people, either through experiments or taking cells without authorization, and without payment, as well as sterilization of women of color.
"The problem presents when we then don't advocate for ourselves when it comes to medical healthcare, because our mistrust gets in the way. We arrive at the doctor too late, sometimes we wake up and we're on dialysis," Shuck said.

While Gift of Hope doesn't work with living donors, it does support living donation organizations and disseminates information about living donations.

According to Shuck, the State of Illinois does about 500 living donors a year. Shuck wants more people of color to advocate for living donations.

"Transplant is the cure, dialysis is the bridge to keep you alive until you can get a transplant. The transplant resets you. You go back to having your life, you go back to doing all the things you couldn't do because you had to do dialysis three days a week," Shuck said. "Living donation is a very important part of the overarching industry of organ and tissue donation. We want people to be registered and we want families to have the conversation."

For more information about Sherie Withers' transplant journey, visit nkr.org/CBS992. People interested in organ and tissue donation can visit giftofhope.org or lifegoeson.com.
---