UHCHI CELEBRATES GRADUATES OF THE CULINARY APPRENTICESHIP PROGRAM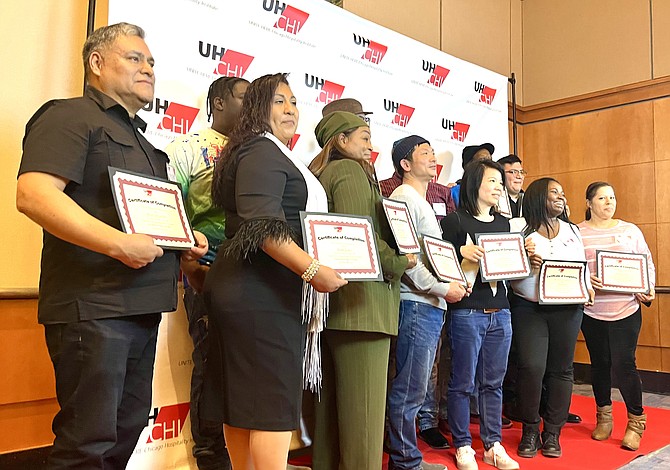 ---
UHCHI Celebrates graduates of the Culinary Apprenticeship Program
By Tia Carol Jones

During the pandemic, Geri Bleavings was on Facebook and found out about UNITE HERE Chicago Hospitality Institute (UHCHI). The restaurant that she was running was closed because of the pandemic and she was doing some catering out of her house. She signed up and was drawn to the Culinary Apprenticeship Program's professional structure. It sparked a passion in her.

"It's just eight weeks, it was free, so it didn't take anything out of my pockets. But, what it did do, was it I gave me a wealth of knowledge, I was enriched with knowledge," Bleavings said.

She immersed herself in the eight-week program. On Friday, Nov. 18th, Bleavings and other participants of the Hospitality Program were acknowledged in a graduation ceremony at McCormick Place.

"They cared, they push you, they expose you to the knowledge, they crack the code about kitchen codes. Next thing you know, you're able to articulate it, you're able to walk the walk in the kitchen and be in a professional kitchen. I'm at home in the kitchen," said Bleavings who works at the United Center and McCormick Place.

UHCHI launched its Culinary Apprenticeship Program in April 2021 with 15 apprentices. UHCHI is part of UNITE HERE Local 1. Hire360 and the Chicago Federation of Labor are core partners of UHCHI. Since then, there have been seven cohorts of apprentices who have completed the program. Graduates of the program have been placed at McCormick Place, the Waldorf Astoria Hotel and the United Center. According to UHCHI, 34 out of the 39 apprentices were placed in culinary positions with 16 different employees.

Between April 2021-April 2022, 46% of the culinary apprentices were African American, 40% were Hispanic/Latino, 8% were Asian/Pacific Islander and 46% identified as female or non-binary.

Being in the program made Bleavings feel confident about working in a professional kitchen. She received guidance from professional chefs and learned how to properly prepare food.

"It changed my life forever, I'm in a career. I'm very proud of that. I'm proud that this organization exists, and it only took eight weeks of my life to change the rest of my life," Bleavings said.

Her favorite part of the program was learning the kitchen math. It was daunting for Bleavings at first, but once she got it down, she felt confident about it. She also enjoyed learning the knife skills. She knows her way around a knife now.

She has advice for people: "If you have a passion just for cooking, watching TV shows and wanted to be a part of it, this is where you can actually get the stepping stones and get a bird's eye view of what it's like. Start with your passion, don't be afraid, it's free."

Bleavings wants people to take advantage of the Culinary Apprenticeship Program. She wants to reopen her restaurant, this time, using the skills she learned from the program.

During the event, Sheryl Morris, Executive Director of UHCHI, said as UHCHI is growing there are more Community Based Organizations coming online. She believes it signals that people are seeing the value in the program. "You being present to our work lets us see that you trust us with your clients. Your clients are our customers, and you are our customers, and we really want to continue that in our work," Morris said.

Morris said that UHCHI is taking a very intentional approach to building diversity, equity and inclusion within the hospitality industry. UHCHI also wants to provide trainees with high wages.

For more information about the UHCHI Culinary Apprenticeship Program, visit https://hire360chicago.com/unite-here.
---