Artist with Local Ties Receives A Grammy Nomination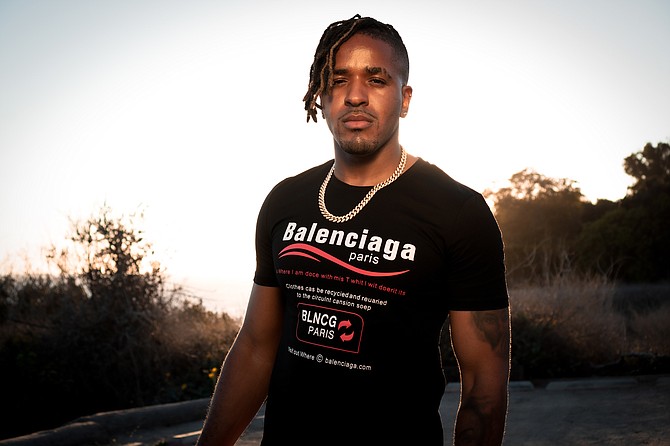 ---
 Artist with Local Ties Receives A Grammy Nomination

By Tia Carol Jones

Matt Benson, also known as Matt B, has been nominated for a Grammy Award for his song, "Gimme Love," that he recorded with Ugandan performing artist Eddy Kenzo.

Matt B was in Uganda performing the song when he found out that it was nominated for a Best Global Performance. It was his first time being in Uganda Africa and it was his first time performing before 100,000 people.

Matt B wanted to do an Afro Beats song and expand his musical footprint. While he is an R&B singer at heart Matt wanted to learn more about his African heritage and where he came from. He felt like the best way to express that was to do an Afro Beats project.

Because Matt B wanted the song to be as authentic as possible, he reached out to different Afro Beats artists to see if they would collaborate with him. Eddy Kenzo was one of the artists he reached out to. They met during last year's Grammy For Your Consideration event. They hit it off.

Matt B and Eddy Kenzo share a similar story of growing up in the ghetto, understanding what it meant to be at the bottom and clawing their way up to rise to the top.  "We both are just, God-fearing men, and we believe in love, and the goodness in people and I think we saw that in one another. I think that's what made us click," Matt B said.

"Gimme Love" is part of Matt B's upcoming EP, which is slated to be released Spring 2023. The first beat Kenzo played for Matt B was for the song. He was feeling it, but he wanted to hear more. Matt B's wife, Angela, told him it was the beat they should use. "I freestyled my verses, Eddy freestyled his verses and 'Gimme Love' was born," Matt B said.

The song is in English and in Luganda, one of the major languages spoken in Uganda. The song took 45 minutes to an hour to record. The intention was to make really good music and a vibe. Matt B believes that intention is captured in the music.

"Even when you can't understand what's being said, you can kind of feel it. You can feel it based on the inflections that are being put on the words, the cadence of how it's being sung or how it's being rapped. You can feel it just from the overall energy and the vibe of what's being laid down in the sound recording," Matt B said. "Regardless of what language anyone speaks, or what background or anything like that, music truly is the universal language and I think that shows in this record."

The video for "Gimme Love" also reflects an aim to create an authentic experience, with African dancers, to show the beauty of the Continent and the culture.

While Matt B has attended Grammy Award ceremonies before, this time will be different because he is a nominated artist. He can't put into words how it felt to hear John Legend announce his name for the nomination.   John Legend is an artist who Matt B has a lot of respect for.

"This time is extra special. It's one thing to attend and to absorb that energy of being in and around Grammy nominees and Grammy award winning artists, but to now be a peer, there's nothing like it," Matt B said, adding that he already feels like a winner being nominated.

Matt B wants other people who grew up in extreme poverty, to keep their head up, keep fighting and never give up. He parents did the best they could, he was surrounded by love and knowing he and his siblings could be and do whatever they wanted to in life.

"I'm living proof. I'm no one special. God has just blessed me enough to make it to where I am. If He is willing to bless me enough for me to make it to where I am, then surely, He is willing to bless others and I hope this will be hope for others who come from that situation and they can see their way out of it, like I have seen my way out of it," Matt B said.

The Grammy's air on Feb. 11th on CBS. For more information about Matt B, follow @mattbworld on Twitter and Instagram.
---